I've gotten into the habit of using PayPal for my invoicing. Works great, but now I have a new client who wants a link to the invoice for their records, not just the invoice emailed to them. To make it more complicated, they want me to bill them in Euro too, not USD. How do I accomplish these things, Dave?
I have to admit, I've been a big fan of PayPal since the very beginning; I remember visiting the Confinity offices on University Avenue in Palo Alto, California circa 1998 when the company had just launched. About a dozen people in an upstairs office, near one of my favorite Chinese restaurants. Then they acquired X.com, another payment company, renamed the new merged biz PayPal, were bought by eBay and have grown to being one of the biggest online financial sites on the Internet. Did you know that Venmo is a PayPal company too, along with the handy Honey browser extension, Xoom and HyperWallet?
While PayPal is super convenient for person-to-person transactions through eBay, Etsy, Craigslist, and more, there are quite a lot of business features cooked into the PayPal system too. One of the most useful is invoicing. By using the PayPal invoice system, you can easily send formal invoices to clients and customers, track if they've been paid, send reminders, even archive them for future utilization. You can even set up recurring invoices if you have a weekly, monthly, or quarterly invoice system. Prefer a subscription model? PayPal can do that too.
But let's get to your specific query about using different currencies and finding a shareable invoice link once you have created the invoice!
HOW TO CREATE A PAYPAL INVOICE
To start out, it's easiest to work with your Mac or PC, so go ahead and log in to your PayPal account, then go to the invoicing section. As a shortcut, you can also just go to paypal.com/invoice/s/ if you can't find the invoice button.
Note: That's not a clickable link because you shouldn't be trusting external Web sites to have legit PayPal links. Learn to type in the URLs of financial sites rather than trust links, even in your email. It'll keep you much safer.
The invoices page shows the invoices you've sent, as always:

As you can see, I've issued two invoices in the last fortnight, one of which has been paid and the second of which is status SENT and awaiting payment from the client.
To create an invoice you can click on the "Create Invoice" blue button, but click on the adjacent "V" instead: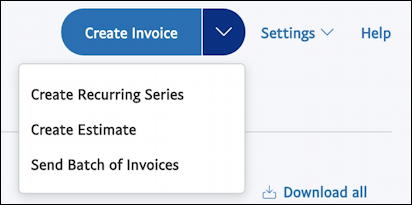 Did you know you could send estimates of jobs via PayPal? I suspect it's an underutilized feature, but it's good to know. Also note that there are Create Recurring Series and Send Batch of Invoices as other options. Handy.
For our task, however, proceed as usual with "Create Invoice".
A new, blank invoice appears: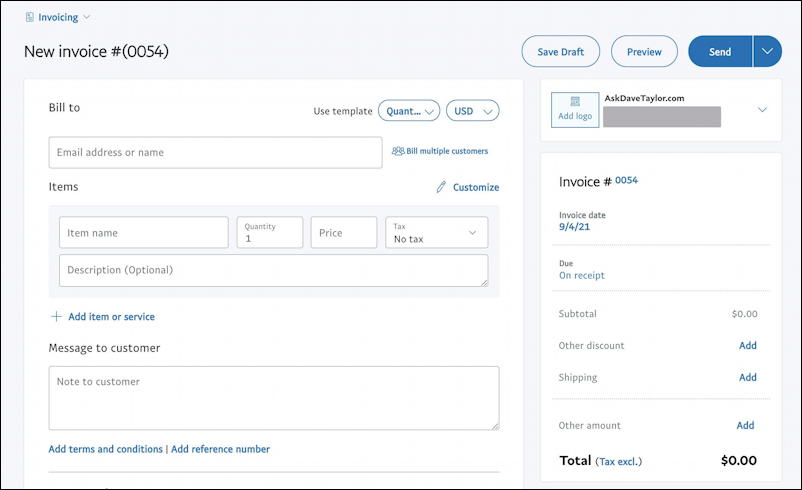 Nothing new or groundbreaking here, so how do you change currency?
HOW TO CHANGE CURRENCY ON PAYPAL INVOICE
You probably are used to just jumping to the "Email address or name" field, then typing in the amount they owe you (which is, after all, the best part of an invoice, right?), but this time notice the "USD" on the top right of the "Bill to" area. Click on it and you'll find you can invoice in any major currency you'd like: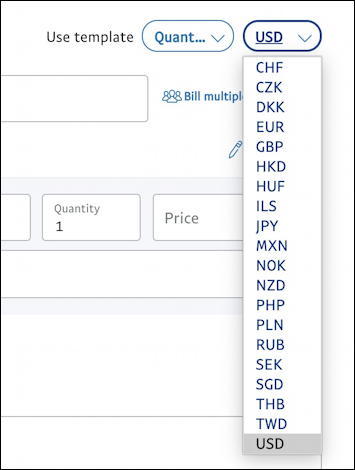 These are listed as international currency abbreviations, which you can read more about on the ISO Currency Codes page. The Euro is known as EUR and is the 4th entry on the list above.
PAYPAL INVOICE CHANGE DUE DATE
While we're looking at settings and options, on the right it shows Due / On Receipt, but that's actually something you can change if you have other terms you prefer: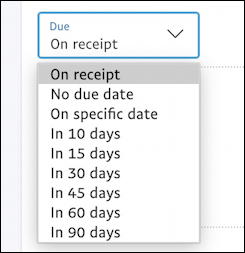 Notice you can specify a date that the invoice is due, handy in some situations, but personally, I just leave it as "on receipt" and hope to get paid in a reasonable amount of time. Most clients are great with prompt payment, but sometimes… well, that's a whole 'nother story!
SHARABLE LINK URL FOR PAYPAL INVOICE
This brings us to the original question of how you get a sharable link for the PayPal invoice you just created.
One way to do this is to click on the "V" adjacent to "Send". It shows a couple of options, one of which is "Share link to invoice":
I have to admit this is not my preferred approach, however, as I like to email the invoice to the client then get the shareable link. To do that, click on "Send" as you would any other invoice.
Find the new invoice on your invoices summary page and click on the "•••" (vertical) button to the right. A menu with a lot of options appears:
Lots of good features to notice here, starting with the helpful "Remind" to send another email to the payee reminding them about the outstanding invoice. If you receive payment through another channel (a check in the mail, for example) you can "Record payment" to mark it paid and, of course, you can "Share link". Chose that option and a window pops up: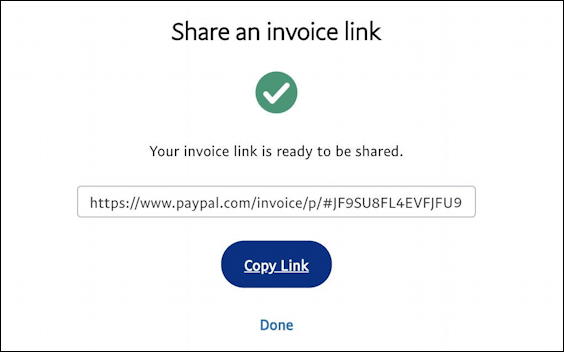 A click on "Copy Link" and you can easily paste it into an email to the client or customer, text them, send it via Facebook Messenger or WhatsApp, whatever you prefer. And that's it, now you know how to produce more sophisticated PayPal invoices, change currency and payment terms, and then produce a sharable invoice link once you're done!
Pro Tip: I've been writing about PayPal since the beginning of the company. Please do check out my PayPal help area for more tutorials and how-to guides. Thanks!