As I travel about, I often take photos of things I'd like to know more about or purchase for my home. Is there a way to upload those photos to Amazon and have it match them with products?
Not only is Amazon the 800-pound gorilla of the retail world, but it turns out that the savvy engineers at the company have continued to make it ever simpler actually to shop using the site and its enormous product database. Used to be that you needed to know the ASIN (Amazon Stock ID Number) or ISBN for books, etc, but nowadays Amazon's competitor to Google Lens (ingeniously called Amazon Lens") makes it all ridiculously easy.
The key is to get the Amazon Shopping app for your smartphone. It's available for iPhone or Android, and has a lot of sophistication jammed into the modest app, including a full voice interface based on Alexa! You will need to grant it permission to use the camera and mic on the device, but that should be relatively safe if you're concerned about privacy (and you can always delete it if you're unsure, then re-install it each time you want to ID a series of product photographs).
I have it installed on my Apple iPhone and tied into my Amazon account, so it's ready to go at a single tap. As it happens, I was visiting a friend and saw a big, unlabelled black speaker and was curious about it, so took a photo. Amazon Shopping can help me identify what it is…
FINDING AMAZON LENS IN THE SHOPPING APP
The default behavior for the app is for you to take a photo with the app when you want to ID something, but you can also use it after the fact with stored photos… Start up Amazon Shopping and it'll show products related to your own purchases, what you've been searching for, and so on:
On the searchbar is a small square with a circle inside (I've highlighted it in the above photo); tap on that to do a search-by-image. It'll display what your smartphone's camera sees, in my case a couch with cushions:
I could ostensibly search for a replacement cushion at this point, but instead, I'm going to tap on "Shop the Look" along the bottom instead. This moves the app into "Amazon Lens" photo scanning, rather than a live image analysis. You can browse by image to explore Amazon's inventory, as highlighted by the below model with a t-shirt:
Instead, tap on the yellow "Shop your photo", and don't worry if it isn't fashion related; clothes might be a great use case for the technology, but it's a lot smarter than just analyzing styles and colors…
SHOPPING ON AMAZON BY PHOTOGRAPH
At this point, the app will display the contents of your camera roll. As you can see below, I have a photo of that black speaker as pic #4: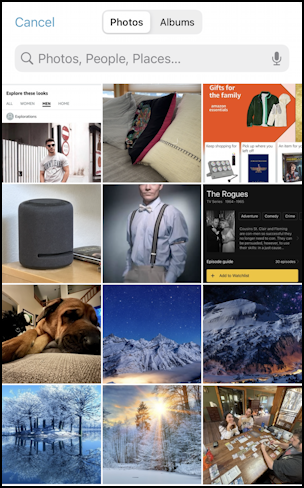 A tap on the photo in question and Amazon Lens will begin its analysis.
TIP: It's helpful sometimes to use the photo editing tools on your phone to crop the image to be just the item or product in question for the best results.
The analysis process is interesting because dots show up all over the image and move about for just a few seconds as it assesses the photo: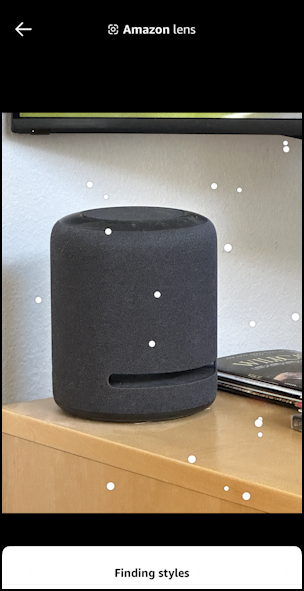 Is that a pair of sneakers? A bag of tortilla chips? A can of oil? Amazon Lens will analyze and compare the image against its database of millions of product images to try and find the best matches. In this instance, since it's actually an Amazon product, it nails it perfectly: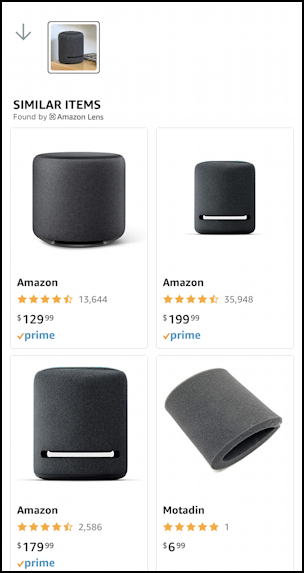 Products #2 and #3 seem to be the same, so why is one $199 while the other is $179? A bit of investigation reveals that the less expensive option is refurbished, while the more expensive is a brand new speaker: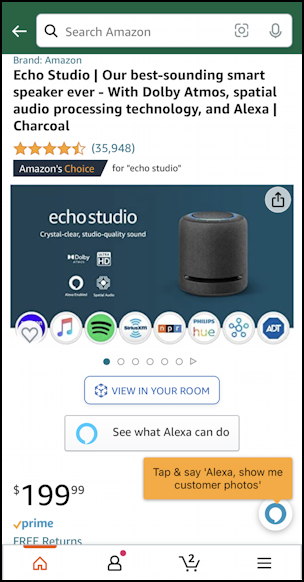 Notice the blue circle on the lower right: That's how you can tap and access Alexa so you can talk to the app if you prefer. Or swipe and learn more about the Echo Studio, or even buy two, pair them as a stereo pair for music, and add them to your living room as I have done.
SEARCH FOR PRODUCTS BY BARCODE
The app has another really slick feature too, one that's particularly helpful if you're at a friend's place and find they have a product you just love. For example, Blue Diamond Almond Nut-Thins, Sriracha flavor! All you have to do is go back to the initial live camera view and tap on the barcode image near the bottom. It then can directly scan a product bar code, like the one on the product box: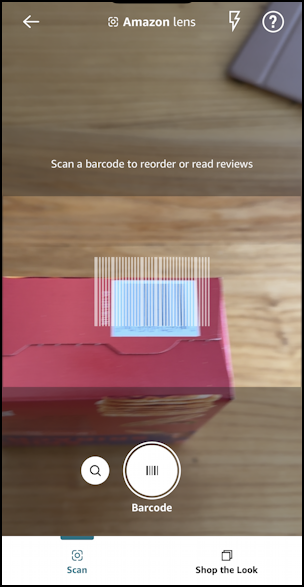 Just move the product so that its barcode first within the indicated area and faster than you can say "yay for barcodes" it will show you the matching product: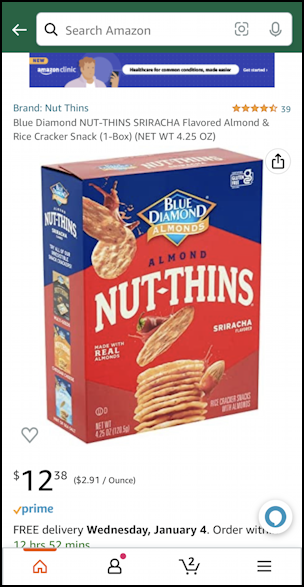 Easy enough, though this is no great bargain as prices for the product go. But that's another story entirely.
Suffice it to say, you can see that the Amazon Shopping app has a lot of features and capabilities, and even if you just add things to your wishlist to buy at your local bodega, it's darn helpful to have on your phone, and doubly so as you travel.
Pro Tip: I've been writing about iPhone and Android apps since the beginning. Please check out my extensive iPhone help and Android help areas while you're visiting for lots more useful tutorials and guides! Thanks.