I seem to recall that when it was Google Hangouts there was a "schedule a meeting" button. Now that it's changed to Google Meet, Google Chat and Google Spaces, none seem to offer this feature. I can *start* a meeting, but how do I schedule something for the future?
Scheduling seems like such a basic function of online chats and meetings that it's startling how non-obvious it is to set up a meeting within Google Meet. This didn't use to be the case, as you observe: it was pretty easy in Hangouts to set up and schedule a Hangout with friends or colleagues a few hours, days, or even weeks into the future. Very handy. What's even more surprisingly is that in the last few years video conferencing has become more important to both business and our personal lives, thanks to the pandemic, with a resultant increase in the functionality of Skype, Microsoft Teams, Zoom, and similar.
Ah well, be that as it may, you can indeed schedule a Google Meet – since they no longer call it "hangouts" in a bid towards making it more formal and businesslike – but you can't do it from Gmail's Chat/Spaces/Meet area, though you can if you start at Google.com/meet (but who does that?). Anyway, let me show you how it's done…
HOW TO START AN INSTANT GOOGLE MEET SESSION
To start out, if you click on the Chat tab within Gmail, you can easily get to Chat, Spaces, and Meet, but choose Meet and while there's the ability to choose a "New meeting", it doesn't let you schedule that meeting:
On the other hand, if you want to instantly fire up a video chat with one or more other people, it's easy to choose "new meeting" and share that URL with others via text message, email, or similar.
To schedule that meeting in the future, however, you'll need to either go to Google Calendar or, as I said earlier, Google Meet itself. I'll choose Google Calendar, which you can access by going to google.com/calendar easily enough.
SCHEDULE A MEETING THROUGH GOOGLE CALENDAR
Once you're in Google Calendar, the easiest path is to go to the day and time you want for the meeting…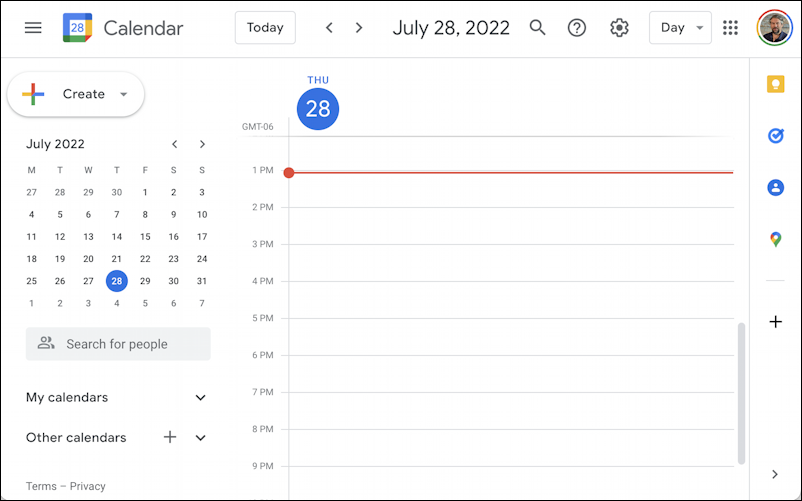 You can click on the time slot you want and it'll pop up a new event template (you can also just click on "Create" on the top left too). The pop-up window will look like this:
Add a title that will be meaningful to everyone involved with the meeting (since they'll see that title both in the email invitation and subsequently when they join your meeting), make sure the time and date are exactly correct, then click "Add Google Meet video conferencing".
Surprisingly, it doesn't seem to do much, just change the blue button to "Join with Google Meet" and add some small print below it with the meeting URL:
You can see that it's assigned a unique URL that can be easily copied and shared with people. But smarter is to use Google Calendar to do the notification too. Click on "Add guests" and you can type in the names of anyone who would be in your Gmail address book. Like my colleague Jim P:
If Jim used Google Calendar, I could potentially also see his available time slots (if he shared that info) so I could ensure that the meeting didn't collide with something else already on his calendar. He doesn't, so I'll just hope the time and date work.
Click on "Save" once you have everything set up correctly and Google Calendar will prompt to confirm you want to send email invitations for the meeting:
You do? Great. Click on "Send" and Calendar will automatically send a meeting reminder email with clickable "join meeting" link to everyone you've listed as attending the meeting. Super easy!
And now, on your own Calendar, you'll see the event:
Notice that there's no visible indication that it's a Google Meet live online meeting, but hopefully you'll remember when the time rolls around. If you click on the event you will get that "Join with Google Meet" button, so it's pretty easy to join.
Why Google doesn't have "schedule meeting" as a link from the Chat / Spaces / Meet area in Gmail remains a puzzle, but at least now you know how to schedule those Meet events for however many people need to be involved.
Pro Tip: I've written quite a bit about Gmail and Google services. Please check out my Google Docs, Chrome and Gmail help library for plenty more tutorials while you're visiting!