I've been using a Chromebook for some writing and am wondering how I can edit and save my files directly onto the computer, rather than in the cloud. Is it possible? I want to be able to work offline.
Through a process that is basically indistinguishable from magic, Google has actually added offline accessibility to all of your files in Google Docs. In fact, while your Chromebook is designed for an always-online world, it actually works pretty well even when you aren't able to connect to the Internet. Even better, it should be automatically set up to work with offline files, which can easily then be saved on your Chromebook. Want to actually have easily accessible versions on your device that you can edit directly? That's doable too.
Since you are running ChromeOS you already know that the office utilities suite is supplied by the Web-based Google Docs, Google Sheets, and Google Slides, the analog to Microsoft Word, Microsoft Excel, and Microsoft PowerPoint. Mac users might be used to Pages, Numbers, and Keynote, and if you're a Linux person, you'll be using LibreOffice's suite of Writer, Calc, and Impress. What's perhaps most amazing is just how interoperable all these tools are, typically using Microsoft's document formats as a common ground. But let's stick with Google Office…
DOWNLOADING A DOCUMENT IN GOOGLE DOCS
I've been working on an article about vehicle on-board diagnostic systems, which gives us a convenient starting point. When viewed in Docs running within Google Chrome  on my Chromebook, it looks like this: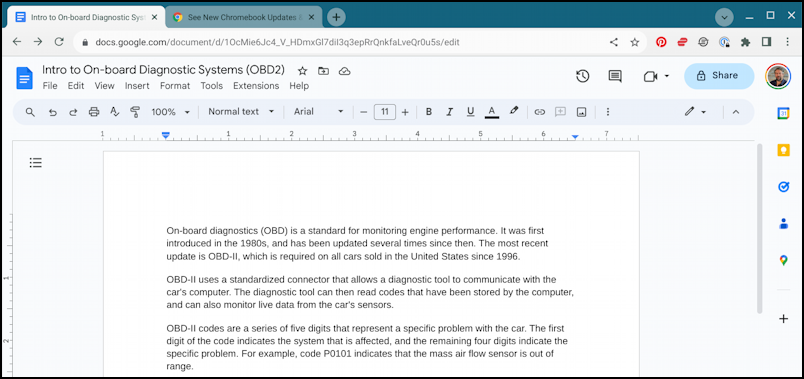 There are a million buttons and icons to figure out, so it's no surprise most people can't find the "save a local copy" button. In fact, there is no button to do that task! You might think it's related to the cloud icon approx in the middle of the top toolbar, but that just confirms it's saved to the Cloud:
Importantly, this is also where you will see the confirmation that "This document is ready for offline use". So you can proceed with edits even when you're disconnected. What you can't do, however, is open it up if it's closed, so this is more for being able to keep the window open and keep working when offline.
Want to Download a copy of the document onto your Chromebook? You can do that through a convoluted menu sequence off the File menu:
You can see File > Download > Microsoft Word (.docx) is the sequence here, but what if you don't want to hunt for this particular option in the menu system? Turns out that Google Docs has a pretty slick menu help system…
FIND OBSCURE MENU ITEMS THROUGH HELP
The Help option brings up a menu of different options, including the privacy policy and terms of service, but what's most interesting is the "Search the menus" option:
Choose that, then type in "download" as your search term. It will show you every match, regardless of where it's located in the (complicated) menu system for Docs: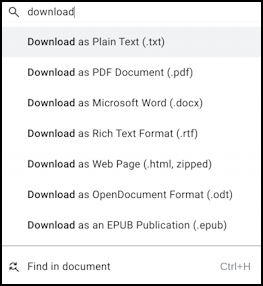 Easy enough. Choose "Plain Text (.txt)" or "Microsoft Word (.docx)" and you've saved a local copy of your document.
FINDING LOCAL COPIES OF GOOGLE DOCS
All well and good, but where is the document? Open up the file browser and it's not on your Desktop (in fact, in ChromeOS, you can't save files, folders, or app shortcuts on your Desktop, unlike Mac or Windows). It's in "Downloads":

I have a lot of screenshots in my Downloads folder but you can see it as "Intro to On-Board Diagnostic Systems (OBD2)" with a "W" icon that looks suspiciously like Microsoft Word!
Right-click and choose "Show Info" and, interestingly, you'll learn that it's actually a ZIP compressed archive copy of the file that's automatically uncompressed when you want to access it: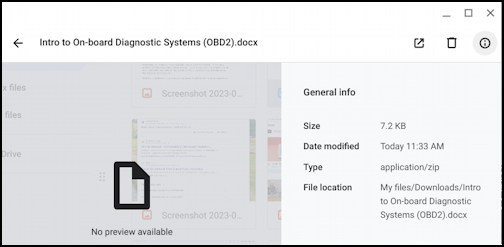 If you copy it to a Windows or Mac system, it will probably show up as a ".zip" file: Double click and it'll be unzipped to the .docx file you're expecting. Oh, and when you do open up the .docx "Microsoft Word" format file in Google Docs, you'll learn: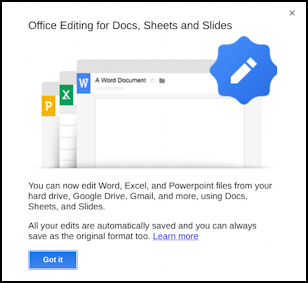 It says: "You can now edit Word, Excel, and Powerpoint files from your hard drive, Google Drive, Gmail, and more, using Docs, Sheets, and Slides. All your edits are automatically saved and you can always save as the original format too." Pretty darn cool!
Pro Tip: I've been writing about Google's office suite and tools since the very beginning. Please check out my extensive Google Help Library for lots of useful tutorials while you're here. Thanks!