I read that Adobe Flash has been EOL'd (whatever that means) as of January 1, 2021, and must be removed to avoid security problems. Okay. What is Adobe Flash, will it impact my Web experience and how do I safely remove Flash from my Windows PC and Mac system?
It's hard to believe, but Adobe Flash has been around since it debuted in 1996 as "Macromedia Flash". It added animation and a much higher level of interactivity than the then-current HTML used for Web page markup. Flash also allowed sites to embed video content and even create slick, highly interactive games too. In its heyday, being a Flash developer was a skill much in demand. But Flash has always been plagued by security problems and about a decade ago, Apple announced that it would stop supporting Flash entirely, deferring to JavaScript, CSS and HTML 5.0 interactive features. Most users probably never even noticed, and in 2017 Adobe (who had acquired Macromedia) announced that Adobe Flash would reach its EOL (end of life) on January 1, 2021.
Four years later and that's today! Which means that it's important you spend a few minutes and make sure that you don't have Flash on either your Mac or PC systems. Why? Because once software goes EOL the company completely stops supporting it, even if there are exploits and hacks that show up. It's the same reason I really hope you're not running Windows 95 at this point, actually!
Worse, Adobe hasn't done much in the way of user education, nor have Apple or Microsoft, so I'm confident that smart hackers are right now deploying "flash removal tools" that will actually infect your computer with malware, the exact opposite of what you want. It's important to pay attention to where your uninstaller comes from for just this reason. The official place to head for both the Windows and Mac Flash uninstallers is helpx.adobe.com. Do NOT download it from any other source, and do NOT click on a "convenient link" in an email you receive.
HOW TO UNINSTALL FLASH FROM A MAC SYSTEM
First off, let's go through the process with a MacOS system. This should be easy because if you have Flash on your system at all, it's probably within a Web browser and all the major browsers should already have internal code to warn you and then delete any Flash plug-in or extension. Easy.
But you can also ensure you don't have a stray copy laying around on your Mac too with the Adobe Mac Flash Uninstaller. Grab a copy from the official Adobe site here:
https://helpx.adobe.com/flash-player/kb/uninstall-flash-player-mac-os.html
Practice being safe and untrusting by copying and pasting that visibly safe URL rather than clicking on it. 🙂
Once you download the uninstaller and open the DMG disk image, you'll see this icon: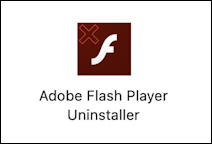 Click on it to open the program and you'll immediately be prompted from MacOS whether you really want to run the program or not:
Again, double check you got the right app from the actual Adobe.com site. If so, click on the blue Open button.
Click on the "UNINSTALL" button on the lower right and after just a few seconds you should see:
Done. You can now delete the uninstaller and its disk image (DMG) file, empty your Trash and get on with your day. Well done. Unless you also have a PC, in which case here's how to proceed…
HOW TO UNINSTALL FLASH FROM A WINDOWS SYSTEM
If you're running Windows, you have to be even more careful of the source of your uninstall program because PCs are more susceptible to malware. You want to go to this URL to get the Windows Flash uninstaller:
https://helpx.adobe.com/flash-player/kb/uninstall-flash-player-windows.html
Again, copy and paste rather than trust my link, and then verify you're on the helpx.adobe.com site:
Verify you're on the right site and look for that padlock icon too (highlighted above). It will confirm you're on the right page. Then click to download the Uninstaller as indicated. Once downloaded, launch the resultant EXE executable and you'll promptly be asked to confirm you trust this app:
Notice in particular the Verified publisher and File origin. if you see something different, click "No" and double check you aren't already infected by malware that's delivering up a different "uninstaller" from a different place.
Hopefully it all matches up, however, so click on "Yes" to proceed.
The program starts up and looks rather remarkably similar to the MacOS version shown earlier:
To proceed simply click on the "UNINSTALL" button. It's a smart idea to quit all your Web browsers prior to running this uninstaller, by the way.
Again, it takes just a few seconds to remove the files needed and clean up the registry for files of type .swf and similar. Then you'll see this:
Please immediately restart your computer – after saving files in any of the programs you have running, of course – and you're done. Adobe Flash removed from both your Windows PCs and your MacOS system. Well done.
Pro Tip: I've been writing about how to stay safe and keep your Mac and Windows computers running great for quite a long time. Please check out my Mac help area and Windows help area while you're visiting for lots of additional tutorials and insider tips. Thanks!