My brother-in-law recommended a Mac app that his buddy wrote but when I download it and try to run the program, I just get an error "can't check for malicious software" and my Mac refuses to run the program! How can I get around this feature?
Mac systems have always kept an eye on malicious software, malware, viruses, and other bad programs that could corrupt your data or take over control of your computer. That's one reason that the app store is so beneficial: The apps are checked to ensure that they're trustworthy, not malware or some sneaky scamware waiting to wreak havoc on your MacBook or iMac. Sometimes, however, it can be a bit overzealous, and that's what you're experiencing.
There are ways to circumvent it, as I'll show, but I do feel it's appropriate to begin this by saying be careful and thoughtful about what you're about to do. Are you sure this "friend of your bro" is a trustworthy person? If it's a program you're downloading from an unknown developer or some site that promises "game cracks" or "free copies of Microsoft Office", it's probably better to not complete that install, even though Macs are generally known to have fewer malware issues than Windows computers.
Still want to proceed? Okay! For this demo, I'm going to show how I got the slick menu background noise generator utility Noize up and running on my MacBook Pro running MacOS 14.1 Sonoma…
DOWNLOAD THE APP
Noize is one of those simple but really useful utilities; it's a white noise generator that lives on your Menubar, ready to produce any of thousands of different layered ambient noise streams to help you focus and block out your own environmental noise. You can find it at mynoize.app: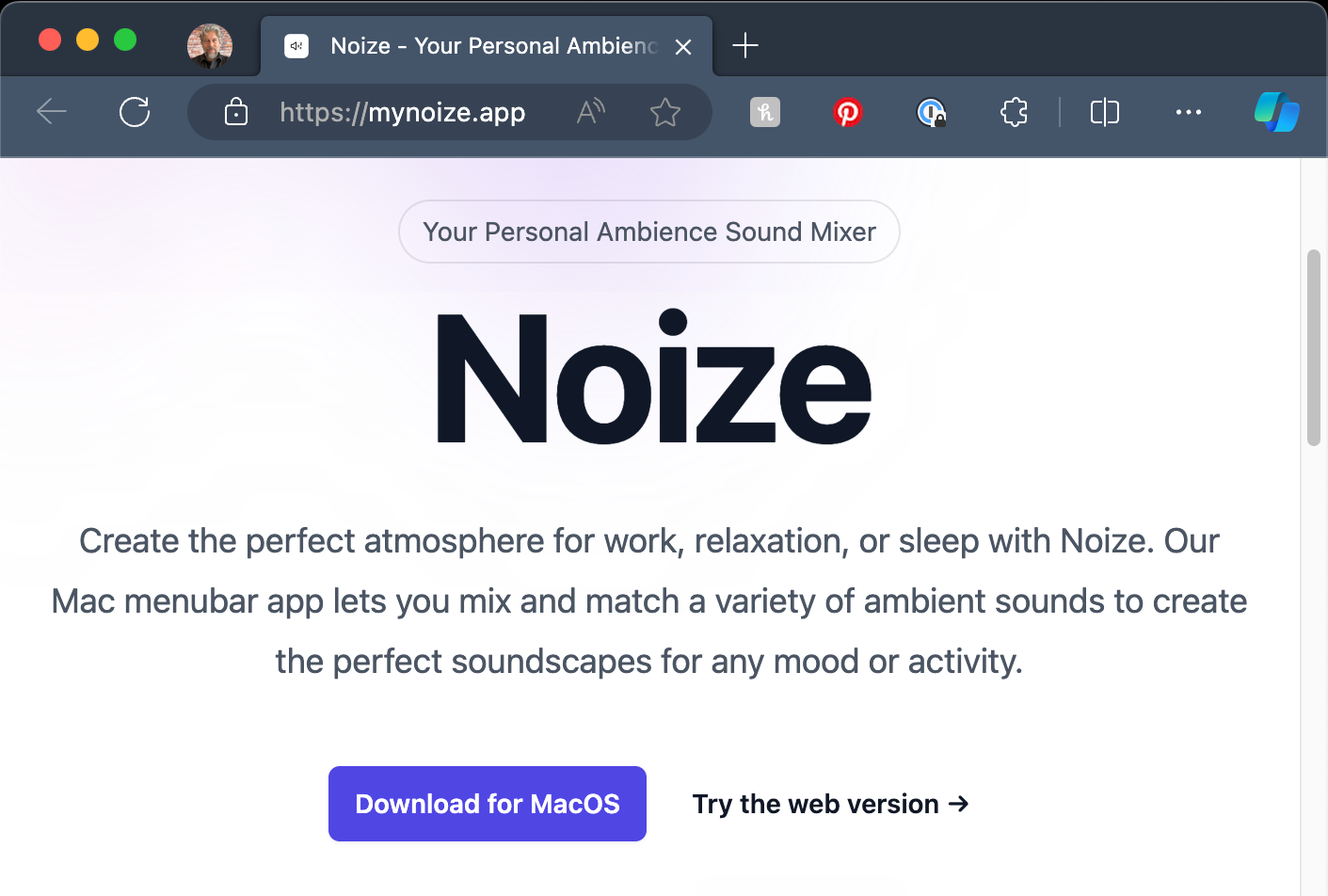 Easy enough, a click on "Download for MacOS" and it'll do exactly what you expect, download an archive file that's either an installer or, in this case, the app itself:

Pretty typical sequence. This is in Microsoft Edge, which is basically Google Chrome with a different interface layer. To run the app, I need to unpack the ZIP archive, which is easily done with "Open File". A click, then a quick visit in Finder to double-click and try it, and…
Notice that there aren't any buttons or links that give you the option of launching the app. So what do you do at this point?
OPEN UP SYSTEM SETTINGS > SECURITY & PRIVACY
To get the app running, you need to now open up Security & Privacy in the Settings app on your Mac. It's most easily accessed from the Apple menu on the Menubar. Just choose "System Settings…" and navigate to the correct spot. You'll have to scroll down a bit to find this:
Notice in the middle of this window: "Noize was blocked from use because it is not from an identified developer.". Even more important, notice the button: "Open Anyway". Ready to proceed? Click the button. You'll need to verify you have administrative access to the computer…
Apple's pretty serious about security, as you can tell. Either use your login password or biometrics (I have Touch ID on my MacBook Pro so it's pretty easy).
Now it'll offer up that same "can't be opened because…" message, but this time the options are different:
In terms of the software needing to be "updated" I think that's just a way of saying that the developer should register with Apple to avoid customers having to deal with this in the future. Fair, but not a warning sign.
FINALLY, RUN THE APP
What is a warning sign is if when you launch the program it starts requesting permission to access various facets of your computer that don't make sense. In this case, it's a sound generator utility, there's no reason it should need access to a camera, microphone, my Documents folder, etc. Noize does not do any of that, fortunately, so the next thing I see is the running app:
Now I can generate one or more ambient sounds at five different volume levels to create a perfect background soundscape. The "magic wand" can also automatically create interesting combinations of sound layers too, as desired. Pretty darn cool, actually. And that's how you get past the "cannot launch app because can't scan for malicious software" message in MacOS!
Pro Tip: I have been writing about MacOS since the very beginning and have hundreds of helpful tutorials and how-to guides here on the site. Please check out my Linux help library for lots more useful articles while you're here!