I'm running VMware Fusion on my Mac system and it works great with Windows and Linux systems. But can I run ChromeOS for testing purposes? If so, how can I get it up and running?
You ask a great question and the answer turns out to be no, but yes. No,  because you can't actually run ChromeOS on a non-Chromebook computer. That's part of the licensing deal from Google's ChromeOS development team. On the other hand, there is an open source version of ChromeOS that has 99% feature and function overlap called ChromiumOS and that you can install and run as a virtual machine. Well, sort of. A company called NeverWare has a pre-compiled, VM-friendly version of ChromiumOS it calls CloudReady that you can download for free directly from their Web site. Is your head spinning yet? 🙂
Stepping back from the confusion of all these versions and variations, the short answer is yes, you can indeed install and run ChromeOS (in essence) within VMware or VMware Fusion, and it's actually not too difficult. In fact, you can spend more time trying to figure out what to call it (CloudReady? ChromiumOS? ChromeOS?) than getting it up and running on your Mac system!
It's important to note before we start that this is a bit of a different install for VMware Fusion too; it's a .OVA file ("open virtual appliance") that you hand to Fusion, not a more common .ISO disk image that you install into a virtual machine. Ready? Start by going to CloudReady Home Edition OVA Image for VMware at neverware.com and download a copy of the .OVA from the link near the bottom of the page. You'll get a pretty big file like this when it's done:
Notice how it has the VMware Fusion logo on the file icon? That's your hint. Simply double-click on the file and VMware Fusion will launch and read the open virtual appliance file set, figure out what's going on, and prompt you with this window: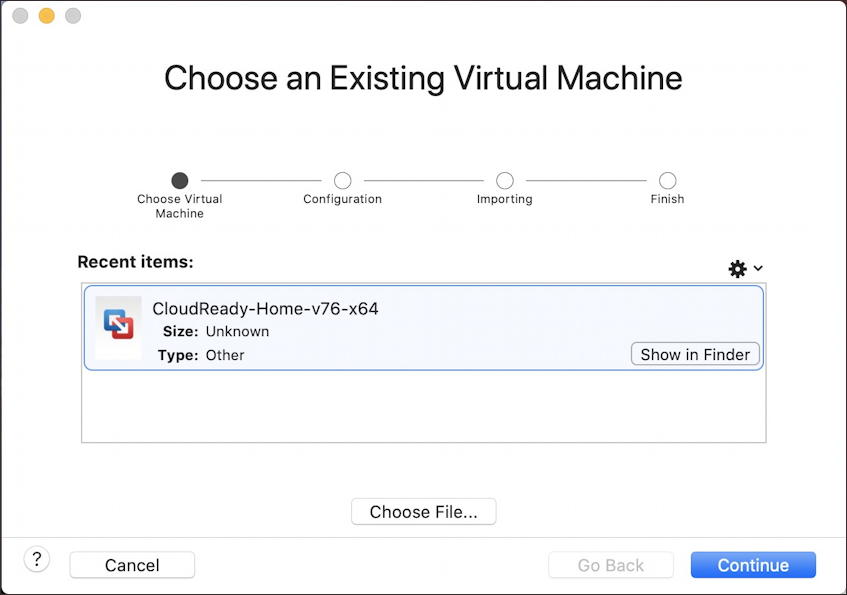 It's a smidge mysterious without any specific size, a foreign system name (not "ChromiumOS") and all, but that's what you want. From here, simply click on the blue "Continue" button to proceed.
Next step is to name your VM or virtual machine. You can use the default, but I changed mine to "Chromium OS" so I know what it is…
A click on "Save" lets you proceed with the import and build…
Since it's all digital with no required downloads, things move pretty quickly and before you know it, you'll be looking at this: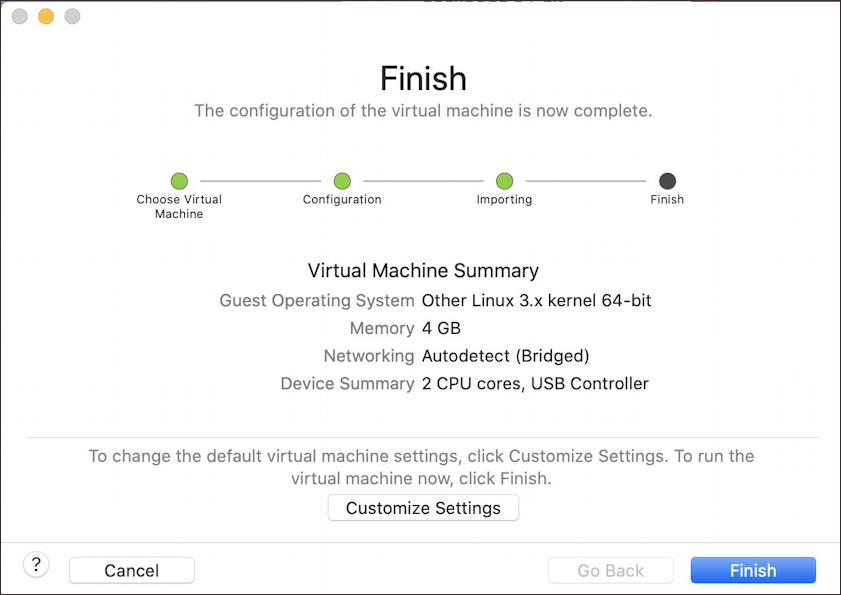 Done. Woot! But does it work?
That's easily ascertained by clicking on "Finish" to proceed. If your install is like mine, you'll find that the CloudReady virtual machine image is darn helpful, but not entirely up to date. No worries, VMware Fusion has ya covered: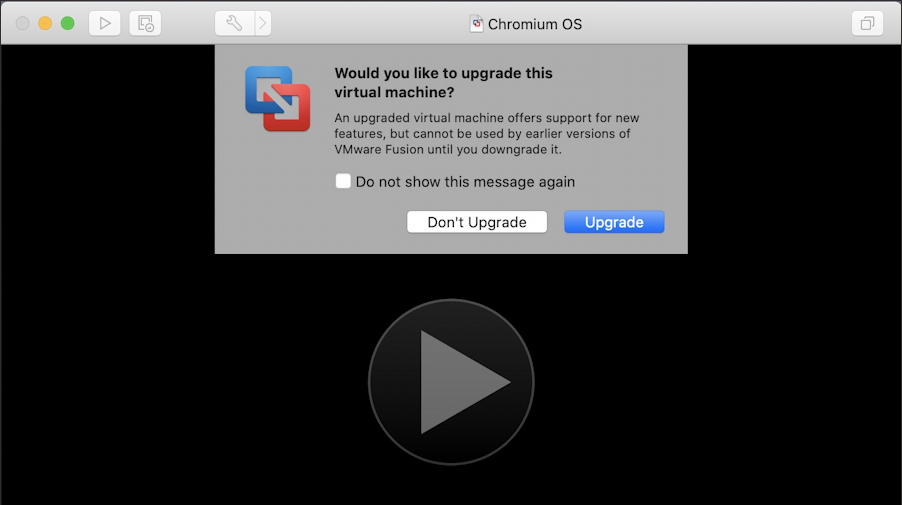 Ready? Click on the 'play' button to get the VM to boot up and in just a few seconds you'll be running ChromeOS (uh, Chromium OS) and looking at this screen: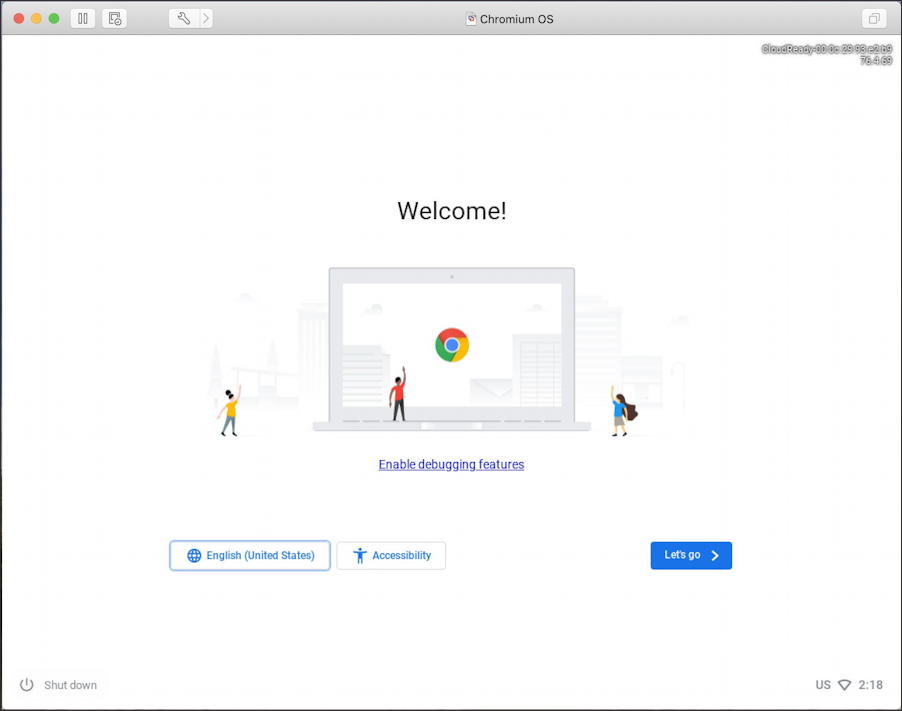 I have to admit that I had some problems with networking and found that the default of "Automatic (Bridged)" didn't work for the VM network connection. Instead, I switched to NAT as the Network Adapter type in the VM settings: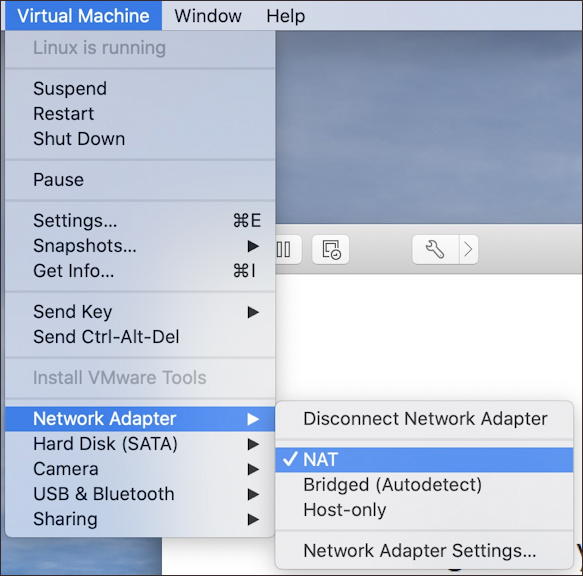 With that change, all was good on the networking front and I got to the first step of logging in to my Google account.
If you don't have a Google account (is anyone left who doesn't have a Google account?) you will need to set one up before you can log in successfully to ChromeOS.
Either way, you'll end up here: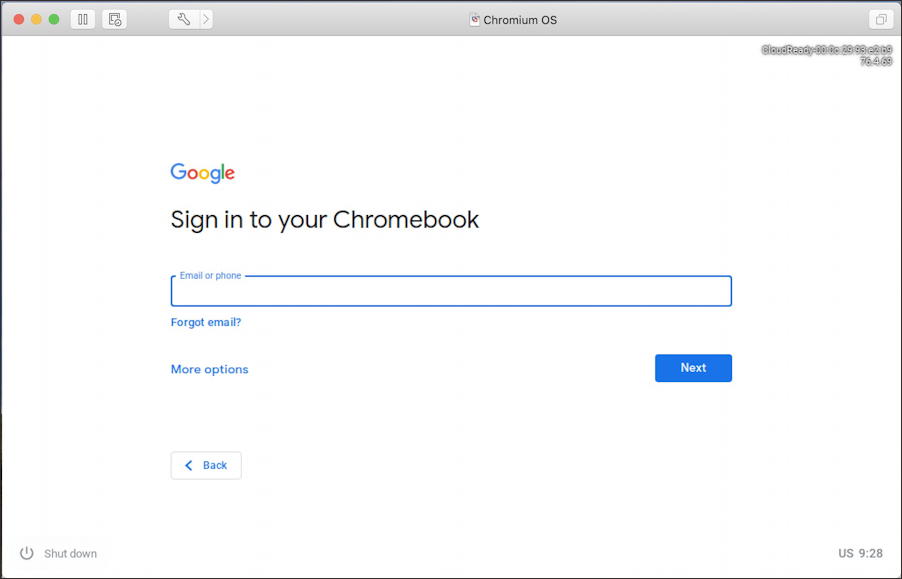 Sign in, including using any two-factor authentication you have set up (and you really should have that set up for your account security!) and you'll be ready to go with ChromeOS on your Mac. Log in, set up everything you're asked to setup, log out again, and you'll be ready to proceed with your testing or experimentation: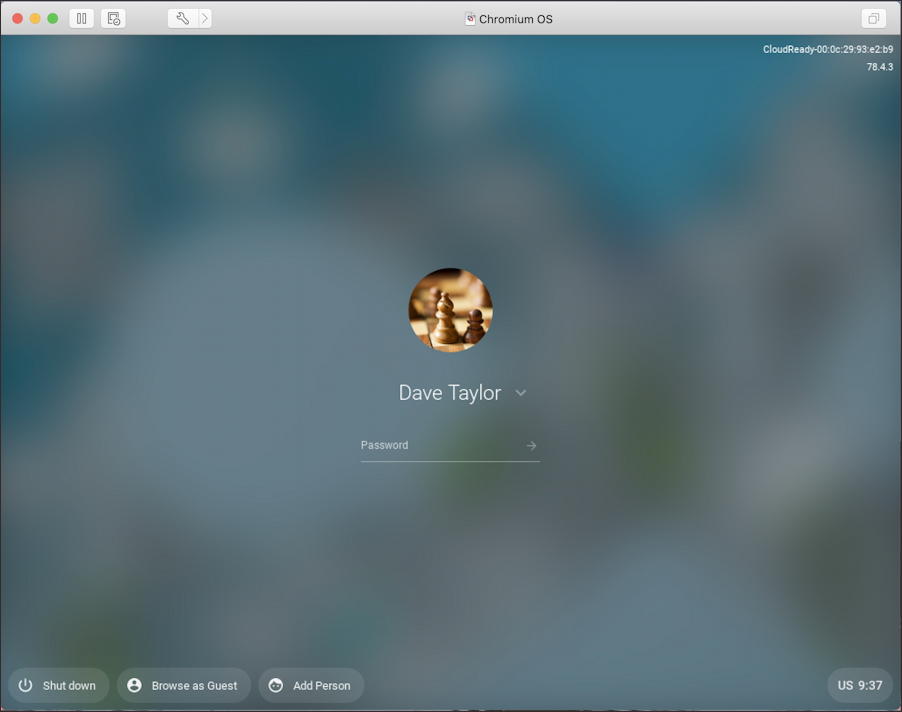 And that's it. Really super helpful that NeverWare has that OVA file ready to download and use, makes things pretty darn easy. Now, why would you run ChromeOS when you have a Mac at your fingertips? 🙂
Pro Tip: I've been writing about the Mac for years. Please check out my extensive Mac help area for tons of useful tutorials!