Dave! Help! Do I need to be in a Zoom meeting to change my name on the picture frame?
The short answer is no, you don't need to wait for your next meeting to change your name in Zoom. But I'm a bit confused because my version of Zoom (MacOS) automatically resets my name to my full account name at the beginning of each meeting, so it's not an issue. Perhaps you're on a different platform so things work slightly differently. The good news is that Zoom has a way you can not only launch a one-person meeting so you can change your name, but you can also experiment with new features, camera placement, backgrounds, and lots more. I actually use it all the time to learn more about how to get the most out of the Zoom platform.
Just keep in mind that the easiest way to rename yourself is from the "Participants" pop-up window in Zoom and you'll always be able to fix things up. Let's go through the steps, however, starting with the basic window that you'll see when you fire up Zoom on your computer or other device:
If you look at the upper right corner, you'll see my profile photo; this means I'm logged in. Good!
Now instead of joining a meeting, click on the orange "New Meeting" button. No worries about the menu and options, just click on the button. A new "meeting" starts up with just you attending: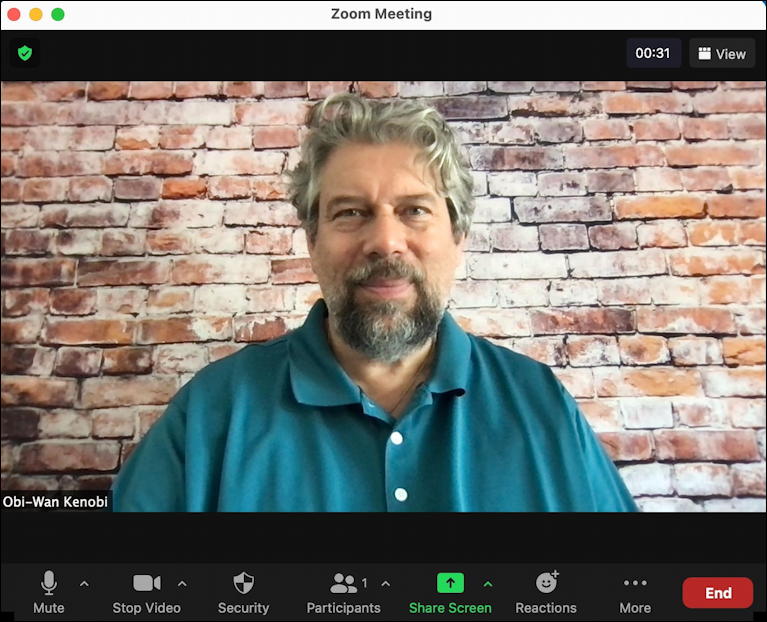 Didja notice on the lower left I'm listed as "Obi-Wan Kenobi"? Probably not the name I want when I attend my next big work discussion, so let's change it…
HOW TO CHANGE YOUR NAME IN ZOOM
As I said earlier, the key is the "Participants" area. Click on "Participants" on the lower toolbar and a new information pane will open up on the right side of the window. It'll contain participant info for the lone participant; you!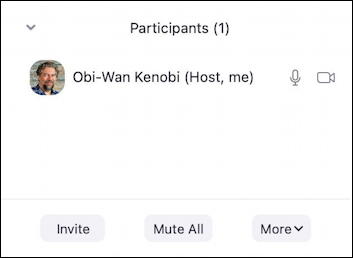 You can't tell without already knowing, but there are buttons hiding on top of the mic and camera icons (that denote I have my microphone and camera enabled). Move the cursor over those icons, however, and two blue buttons appear:

Click on "More" and one of the options, as highlighted, is "Rename". Choose that and a tiny window pops up:

You can, of course, fix it and have your name with any honorifics, titles, etc. Or you can go in an entirely different direction…

Will that stick across meetings? If you're asking me about how to change it, then perhaps on your version of Zoom it will do just that. For me, every time I join a new meeting or fire up a new meeting of my own, the name resets.
SERIOUS ZOOM MEETING, SILLY ZOOM NAME
Until then, however, I can be green and angry, right? With apologies to Dr. Banner, of course…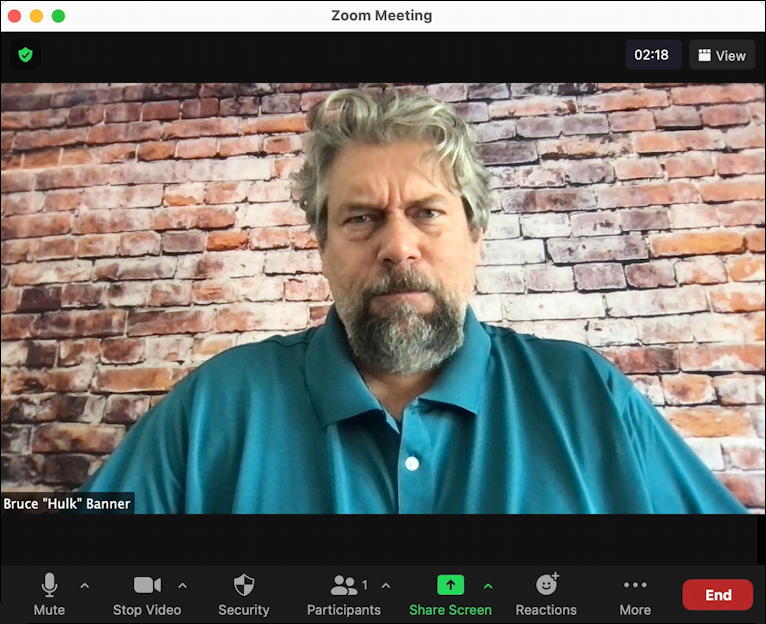 And that's it. Easy enough. Now, while you're in a Zoom meeting without anyone else watching, why not explore some of the best features in the latest version of Zoom so you can learn all the cool tricks and wow your colleagues (and friends and family) for your next meeting?
Pro Tip: I've been writing about Zoom and video conferencing systems for years. Please do check out my growing Zoom help area for lots more useful tutorials while you're visiting. Thanks!