When I set up my Alexa Echo Dot somehow I forgot to give it a good name. Is there a way to rename an Amazon Echo device after it's hooked up and part of my Alexa network?
First off, let's clean up some of the common naming confusion. What you're talking about is officially known as an Echo Dot with Alexa from Amazon. Lots of people refer to the class of products as "Amazon Echo" devices and of course third parties that are part of the ecosystem say that their products are "Alexa compatible". It's not just your confusion!
Anyway, the good news is that you can (and let me get this right) rename your Echo Dot by using the Alexa app from Amazon on your smartphone. Not only that, you can ask any Alexa enabled device what it's currently called. Just say "Alexa, what's your device name?"
Actually, if you haven't had a look at the Alexa app, you'll be surprised because it's gone through a major redesign and while it's still not hugely important on a day to day basis (kind of the point of having voice activated devices, right?) it's still quite an improvement. Further, I bet that a lot of people who own Echo devices have never realized some of the tweaks you can make from within the Alexa app, including adjusting EQ for music.
But let's start with the most basic. Launch Alexa on your iPhone or Android phone. As you'll see, it's a nice display with current weather and the current date both:
To proceed tap on the three horizontal lines on the top left to reveal the main app menu:
Lots of features and capabilities, the ability to add Skills & Games (you have tried a few games on your Echo device, haven't you?) and even the always cool "Things to Try" so you can keep up the constant changes and enhancements to the ecosystem. To rename a device, however, you need to go to "Settings" at the very bottom of the list.
Tap on "Settings" to reveal the many ways you can tweak and fiddle with your own ecosystem. So many choices!
No surprise, you'll now want to tap on "Device Settings" to make chances to your device (and perhaps a few others while you're poking around). While we're here, tho, notice the Flash Briefing option above. I like to wake up to the Alexa Flash Briefing (a 2-3 minute summary of the day's news) and here's where you can adjust what news sources you'd like and what order they should be spoken. Good stuff, y'all.
Now, back to Device Settings:
I imagine that I have a lot more devices than most people because I constantly test and review smart home products and never remember to delete them once unplugged, but for me, the device named "Spot" is the one I want anyway, and it's at the top of this particular list.
To rename Spot from this area of the Alexa app, I simply tap on that entry on the list.
You can easily guess from here that to actually rename the device you need simply tap on "Edit Name" and enter a new one. But also notice here that there are a lot of other settings you can change, including Sounds and – as referenced earlier – Audio Controls. In fact, once you've renamed your device, tap on "Audio Controls" just to see what you can tweak: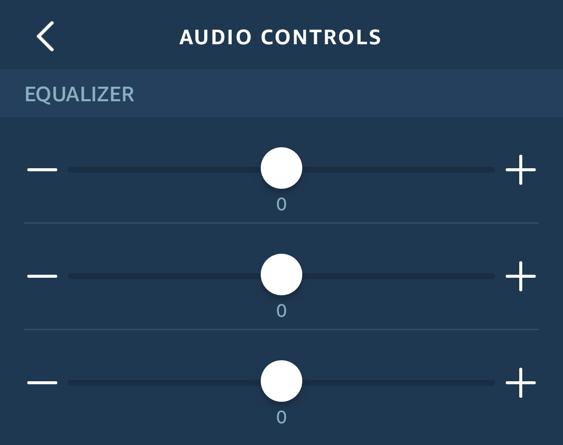 The Spot isn't really much of a speaker, but if you have it plugged into something better (as I do) then being able to tweak the audio equalizer might just be a blessing, and this control is available for any and every Amazon Echo device too. Handy!
Pro Tip: I've written quite a few tutorials about the Amazon Echo ecosystem. Please check 'em out while you're here!