My friend typed in the password to our office wifi network on my Mac and now I want to see what it is. I could ask, but I'd rather just dig it out. I'm sure it's stored somewhere on my Mac! How can I find it, Dave?
It turns out that all system passwords on a Mac system, whether for wireless wi-fi networks, shared servers, or anything else that prompts you to enter a secret word or character sequence, are stored in something called the Keychain. You might have noticed it as one of the things you can sync through iCloud when setting up your network preferences. It's not really user friendly, per se, but it's also not too incredibly hard to dig into it and retrieve any password you might have forgotten.
You can find the Keychain Access app in Utilities in the Applications folder on your Mac system running MacOS 12 or earlier, but there's an easier way to get to Keychain. It takes advantage of one of the very best features of MacOS: Spotlight.
Let's check it out…
HOW TO LAUNCH KEYCHAIN ACCESS
On your Mac system, open up Spotlight (I use the Command-Space shortcut keystroke, but you might have it on your menubar too). Search for "keychain":
The first entry is what we want – handy, eh? Click on "Keychain Access" and the program launches with its complex, programmer-friendly user interface:
Notice it stores passwords, secure notes, certificates, keys, system roots, tons of stuff. Everything you'd want to keep private and secure, that's all tucked away somewhere in Keychain Access.
What many people don't realize is that it also has a built-in search feature. Click on the Search box on the top right, then type in the name of the wifi network in question. For my example, it's "Brewing Market Coffee":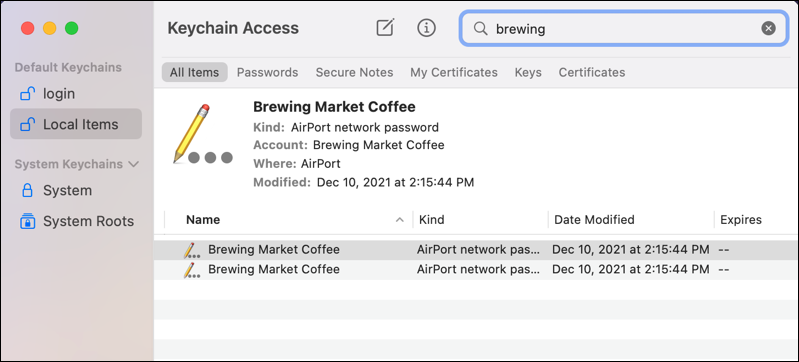 There they are. Listed as "AirPort network passwords". Double click on the one most recently modified (in this instance, they have the same timestamp so it doesn't matter)…
HOW TO RETRIEVE A PASSWORD FROM KEYCHAIN ACCESS
Once you open up an individual Keychain record, it appears that the password's missing:
Click on the tiny checkbox adjacent to "Show password:" though and it'll prompt you to enter the administrative password for your Mac system:
Enter the user name and password and the password for this particular wifi network magically appears in the window:
Mission accomplished, mystery solved. Now you know! Remember, however, to only use this power for good. 🙂
Pro Tip: I've been writing about MacOS since the first Mac was introduced. Please do check out my substantial Mac help library for hundreds of useful tutorials and how-to guides while you're visiting. Thanks.