Dave, I am a huge Wordle fan and want to learn how to play the new game "Keyword" from the Washington Post. But their help is unhelpful and I can't quite figure it out. Can you explain how to play this online game? Thanks!
The New York Times scored an unquestionable coup when it bought Wordle from the indie developer who had created the simple, but highly addictive word game. Almost 18mo later, I still see people sharing their daily Wordle scores on Facebook, which is impressive longevity for a society that's endlessly questing for the next new shiny thing!
It's no surprise that the Washington Post has also come to realize that online casual games might just be a path for new subscribers to its publication, and the first of its new word games to be introduced is called Keyword. It's simple, actually, perhaps even simpler than Wordle, but while it seems well implemented, the help system included is awful and doesn't really explain anything at all. Fortunately, I sacrificed my first game to figure things out. Herein is my second game of Keyword, which I'll talk you through.
This article is also a spoiler for the Monday, June 19, 2023 puzzle, so please proceed apace.
FIND KEYWORD AND START PLAYING
I believe you need a subscription to The Washington Post to play the game, but either way, start by going here: washingtonpost.com/games/keyword/ and hopefully you'll be able to click on "Play" to get to your first puzzle: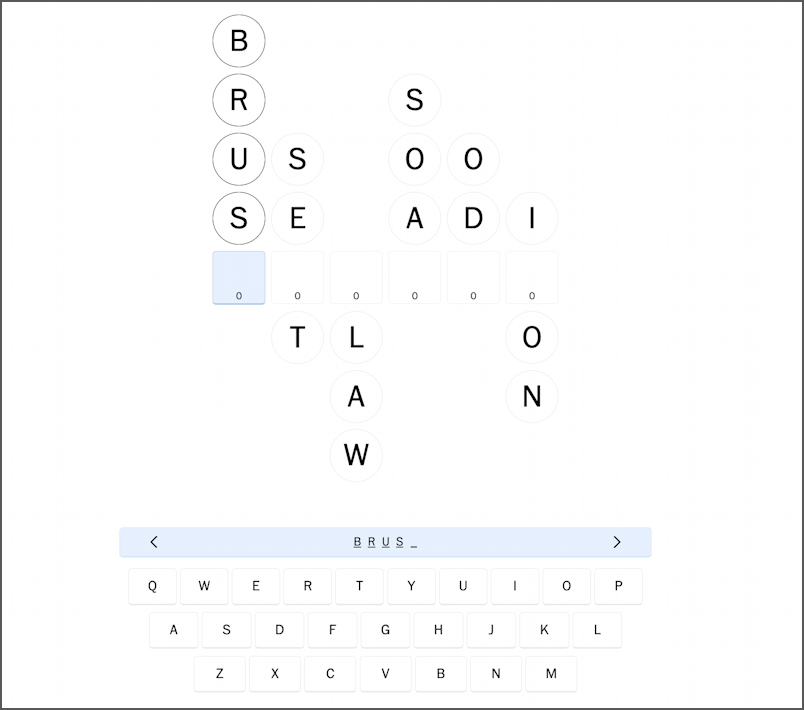 You can see that there are two parts to this display: The top portion shows the acrostic-style vertically-oriented words, each minus a single letter, and the horizontal "keyword" that we're trying to figure out. The lower portion offers an on-screen keyboard that shows what letters you've guessed already for that spot and the word itself, minus the missing letter.
If you imagine this as pulled straight out of a crossword puzzle, you'd be spot-on. There are just no clues to help out, so it's about analysis of the vertical words and lucky guesses. My approach is to scan the vertical words and identify the one with the least number of possible correct answers. "B R U S _" doesn't have many possible correct guesses, for example. There are three: brush, brusk, and burst. I'll start by guessing the most common of these three (though puzzle designers love to use obscure words).
KEYWORD GAME: FIRST GUESS
To enter a guess in Keyword, you can click on the corresponding key in the virtual keyboard, or simply type the letter on your computer screen. Make sure you've clicked or tapped in the box that you intend to fill in with that letter (denoted by a blue background). This time I get lucky!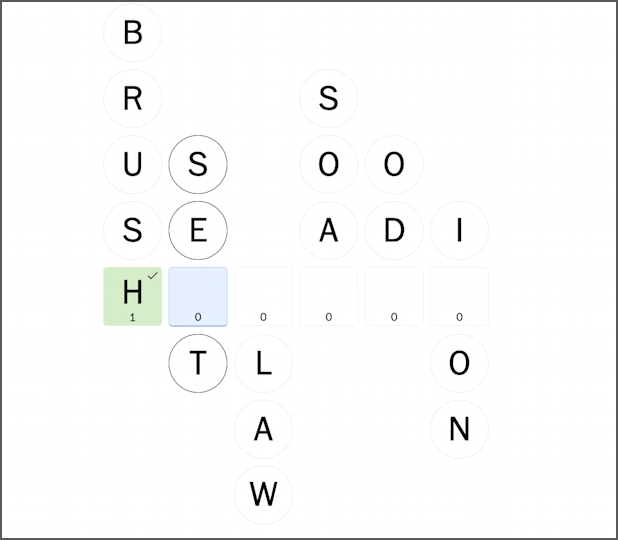 Correct guesses are denoted by the green background. My second guess is correct too, because there are very few letters that will complete both S E _ T and work as a letter following an "H":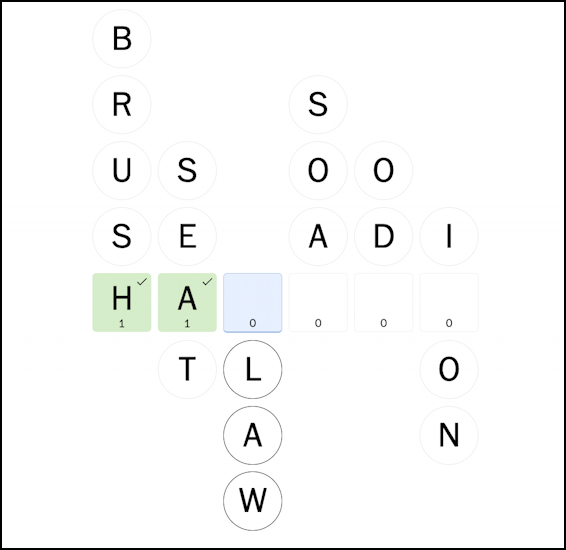 In fact, it gets easier as you go because now we want a letter that completes the word "_ L A W" and works following "H A " too. My guess? "C". Correct!
KEYWORD GAME: WRONG GUESS
But then for the fourth letter, I get overzealous, figuring that "S O A _" could be soap. Nyet: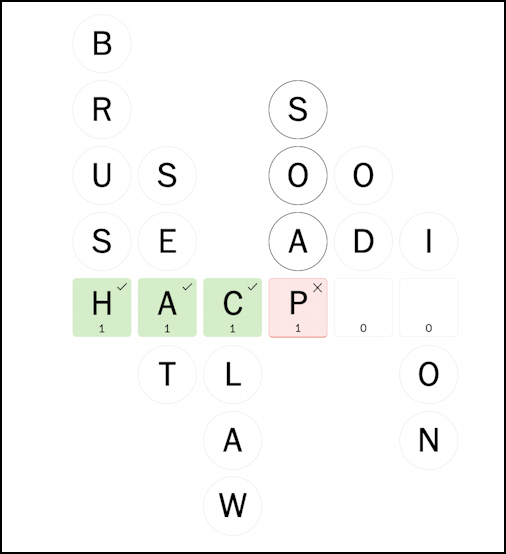 Of course "H A C P _  _" isn't going to lead to a valid word, so that was daft on my part. But the challenge of word puzzles is that there often are letters that make sense both horizontally and vertically, but are wrong anyway. You can see the wrong guess is denoted with a pink background. Since there's no box with a blue background also shown, your focus is still on the fourth letter, so you can simply try again.
You are being timed and the total number of guesses counted. I do finally figure it out…
GREAT JOB, YOU WON KEYWORD!
With the correct entry of the last letter in the word, a window pops up with your stats: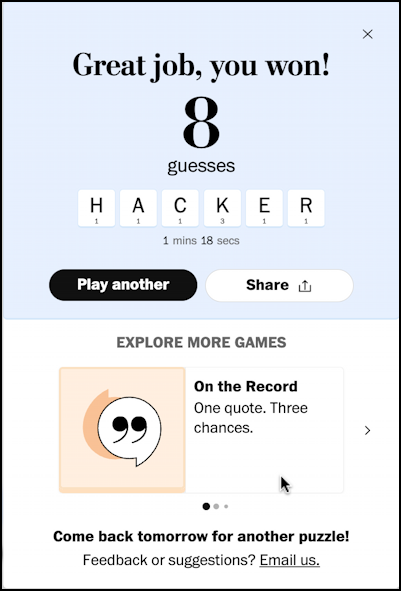 Notice you can "Share" your results on social media just like you do with Wordle, if you're so inspired. Want to try another Keyword puzzle? Click on the black "Play another" instead.
A FEW MORE KEYWORD TRICKS AND TIPS
In addition to my suggestion for you to start by picking the longest or most complex of the vertical words to start guessing letters, it's worth clicking on the tiny gear icon on the top right of the Keyword window too.
Choose "Scores", for example, and you can see how you're doing (and what the words were for each day, so this is yet another spoiler!). My first game was just an embarrassment with 25 guesses, but it turns out that's the average number of guesses for that word. 16 is my overall number of guesses, which will hopefully go down as I solve more and more Keyword puzzles: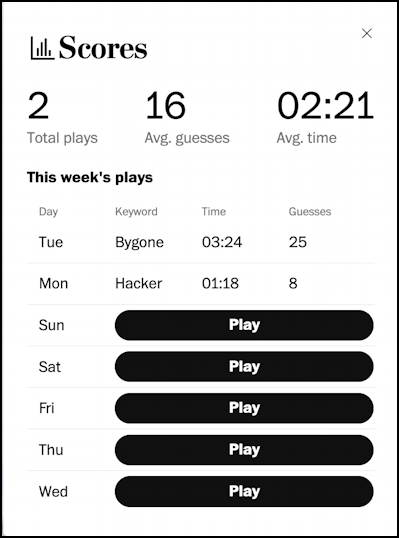 You can easily try more puzzles from this pop-up, so this could also be a puzzle you play 7 times once per week if that's more your speed. I generally track my number of guesses with these sort of games but ignore the time because I find it stressful to have to be fast and often get distracted – where's my cup of coffee? let me grab a sip – which adds time too.
Finally, the user interface could do with a bit more contrast, so you might find "dark mode" better: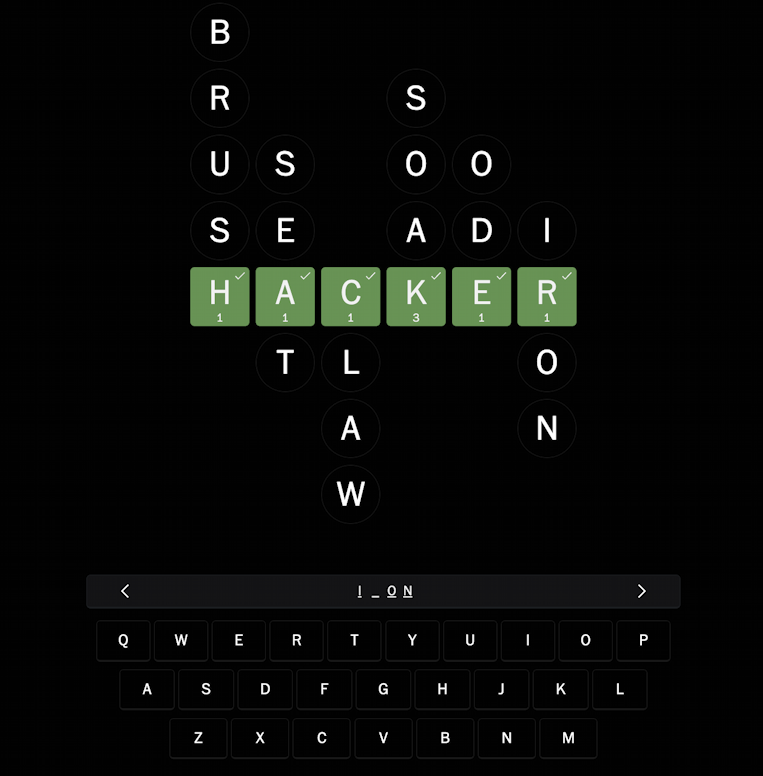 That's it. Go play Keyword and have fun!
Tip: I've been writing about games and other computer basics for years here on the site. Please check out my Computer and Internet Basics for lots more tutorials on fun and interesting topics while you're here!