There are dozens of apps on the iPhone app store that purport to give you instant access to the popular AI tool ChatGPT, but only one official app from OpenAI. Here's how to find it, install it, and use it on your Apple iPhone…
Few programs have been introduced in the last decade with such fanfare and press coverage as ChatGPT. From a research group called OpenAI it has transformed how people work with text, create prose, write stories, produce essays for school, and much more. It also turns out to be quite interesting to interact with ChatGPT and its large language model. The challenge up to now has been how to interact with it, smoothly and gracefully when you're on a mobile phone.
Turns out that it's also the gateway to some pretty annoying scams in the app developer world too, with too many programmers publishing "ChatAI" and similar apps that allow you to interact with the AI, but have exorbitant subscription fees that you inadvertently opt in for when you download their apps. That's why the official OpenAI "ChatGPT" app is a big deal for the iPhone and iOS world: While it has in-app purchases if you want to upgrade to a commercial access license, it works just fine without any subscription right out of the proverbial box. The biggest challenge will be to find the real app!
FINDING AND INSTALL CHATGPT FOR IPHONE
Search for "chatgpt" or even "openai chatgpt" in the iPhone app store and it's shocking just how many apps appear, all of which seem legit and most of which are probably straightforward utilities to help you interact with the GPT3 powered large language model AI from OpenAI. The fast way to find the real app? Click on this link: OpenAI ChatGPT. You should see this: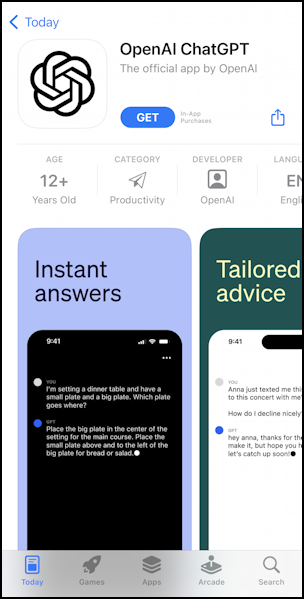 Note the use of the word "official" in the description, that should help you ensure it's the real thing! Tap on "GET" then confirm your identity (if needed). It's a quick download and once it's done, you can open it up by tapping on "OPEN" or just launching it from your home screen!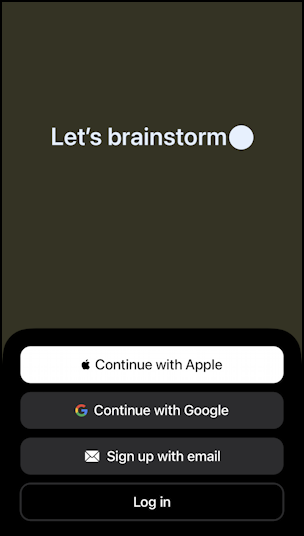 I've already set up an account for myself on openai.com but you can sign up from here with email, use your Apple account, or use your Google account. Once you're logged in, it's perhaps the most austere app home screen ever:
Before we start chatting with the AI, let's have a quick peek at something important: Settings.
SETTINGS IN OPENAI CHATGPT FOR IPHONE
Tap on the "•••" link on the top right, then choose "Settings" from the menu. Here's what you'll see: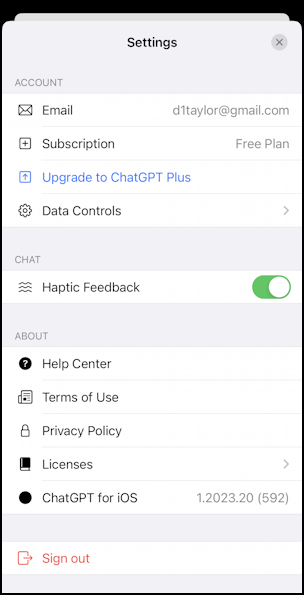 Not much you can change – I disabled haptic feedback, personally – and if you're interested in data privacy, the two options are "Export Data" and "Delete Account". Not much else to see at this early stage in the app's development, but I expect that as it matures there will be more options (including more accessibility preferences) and interface tweaks you'll be able to apply. For now it's about as austere as the home screen interface.
INTERACTING WITH OPENAI CHATGPT FOR IPHONE
Moving back to the home screen, there are two basic ways you can interact with the program. The easiest is to treat it as a text messaging pal by just typing in questions and prompts directly. I'll do so by asking it "why would I use ChatGPT on my phone?" to which it immediately starts to respond: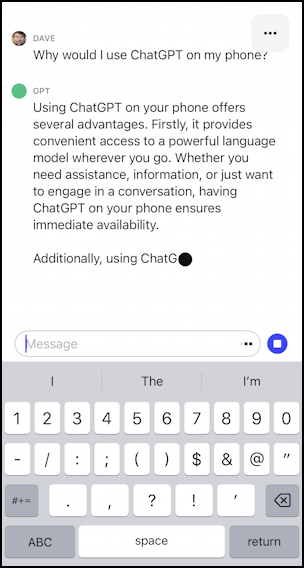 It's fun to see it "type in" the response word by word, and its responses are typically quite interesting. I expect that one interface element we'll see quickly added is a "copy" option to the side of the response to make it easy to copy and paste it into other apps like Messages and Mail.
You can also ask it about itself. I'll ask "Are you running on GPT3 or GPT4?" by using the iPhone's built-in dictation system. To do that, I simply tap on the microphone icon on the keyboard. The result: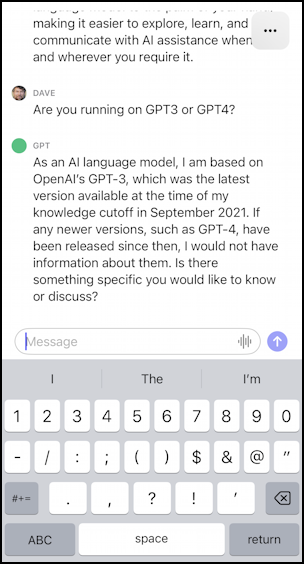 Fair enough. But what about that second way of interacting with it?
HOW TO TALK TO OPENAI CHATGPT FOR ISO16
Instead of tapping and typing into the "Message" box, tap on the vertical lines in that box. The very first time you do so, it'll request permission to access the microphone: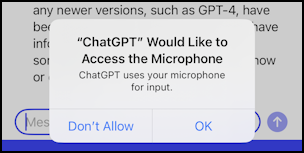 Grant it and you'll get a big purple box on the bottom that's listening to what you say: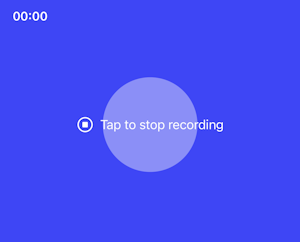 I find it a bit reminiscent of the Shazam app, actually, and it's easy to work with: Simply tap on the graphic when you're done asking your question or specifying your prompt…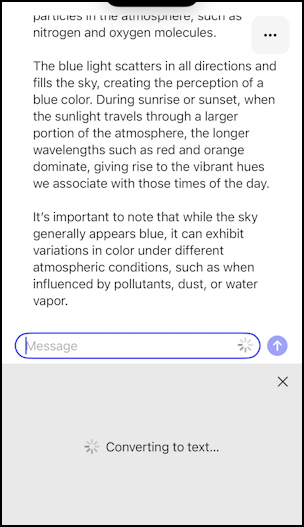 It takes a moment or two to convert what you said into text that it can submit to the AI system, but once it does, the process is all automatic. In fact, you'll be chatting with ChatGPT in no time and finding that it's a revolutionary and far superior way to search for most information on the Internet when compared to the crude search engines we've become used to utilizing. Try some far-out questions and some highly detailed ones to see how it can handle just about anything!
Pro tip: I've been writing about the iPhone and computer and Internet basics for many years. Please check out my iPhone and iOS 16 help area and computer and Internet basics help area for lots more useful tutorials on AI and much, much more!