Tired of turning on your phone in the morning just to see a floating bubble informing you that you've gotten yet another spam message via SMS text? It's time to start blocking those spammers, but you can also turn off what Android calls "Message Bubbles". Here's how…
There are laws against spammers sending us unsolicited emails and text messages, not to mention the laws prohibiting junk calls, but laws don't magically make things better all by themselves. While we wait for better and more consistent enforcement, the sad fact is that too many of us are plagued by scammers, spammers, and other junk showing up on our devices. Each system has its own way of dealing with things, and Android does make it easy to note something as spam, but let's talk bubbles…
You know what I'm talking about if you have an Android phone because this is a peculiarly Android feature: Receive a text message via RCS, MMS, or just plain text (known as SMS), and a tiny bubble will show up on your screen with a shortcut to that message. It's not a notification, it's persistent, which is why when you turn on your phone in the morning there's often one sitting there on the home screen.
If it's a buddy or family member, that's probably okay and it's an easy way to ensure you don't overlook an important message, but if it's a spammer? Well. Then it's annoying.
SMS TEXT MESSAGE BUBBLES IN ANDROID
Perhaps you don't get a lot of text messages so haven't seen these, but because they're persistent and "float", they're hard to ignore. For example: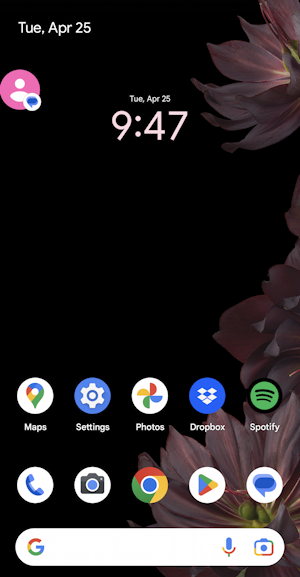 See that pink circle? It's a "bubble" notification and it'll sit at that point overlaying the screen even if I go into an app or switch screens. This makes it annoying!
You can tap to read the message, often the way people get rid of it, but what if you just want the notification bubble to go away? Tap and start dragging it towards the lower portion of the screen and…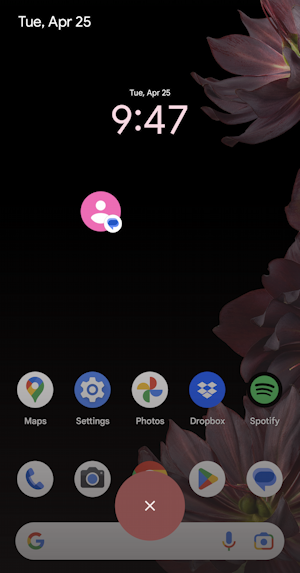 As you can see, a delete target circle has appeared with that white "x" in the middle. Tap and drag the bubble to that spot and it'll vanish. The message won't be marked as read, however, and next time you get a message, the bubble will return. Fortunately, you can actually change settings to permanently disable bubble notifications…
HOW TO DISABLE BUBBLE NOTIFICATIONS
Go into "Settings", then choose "Apps", find "Messages" and choose that. You'll get to a spot similar to: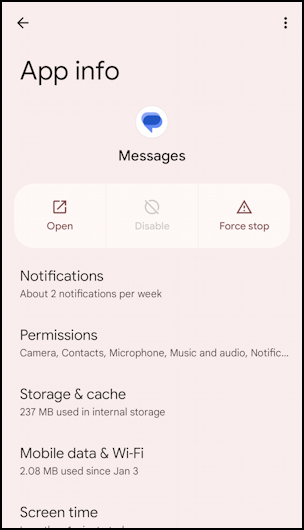 You can see that I get about 2 notifications per week on this particular phone, so it's not a huge hassle, but if I got 50+ notifications/week it'd be a different story! In fact, tap on "Notifications" and another screen is revealed: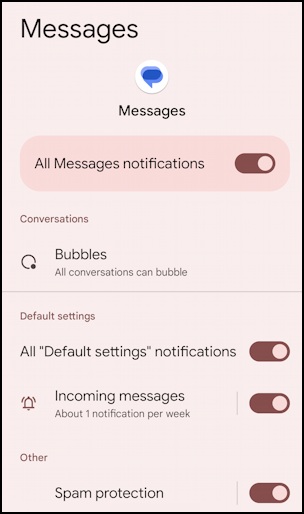 You can bulk disable all notifications for Messages with the top switch, but that's probably a bit heavy-handed for our task, so instead tap on "Bubbles". Before we move on, though, make sure you have also enabled "Spam protection" at the bottom of this cluster of settings. Now, onward to Bubbles!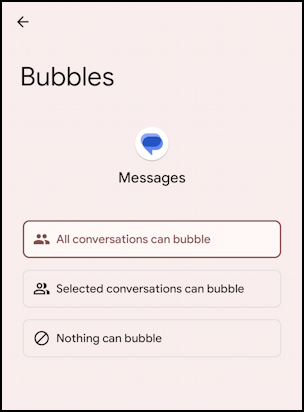 It's rather a convoluted journey to get to this setting, but now, finally, you can choose whether you want to allow all conversations to "bubble", select conversations from your personal VIPs, or what I prefer, "Nothing can bubble". Tap the appropriate choice and you're done.
MARKING SMS TEXT MESSAGES AS SPAM
What about if you get a spam message through the Messages app? Right from that bubble notification – or in the Messages app itself – you have some options: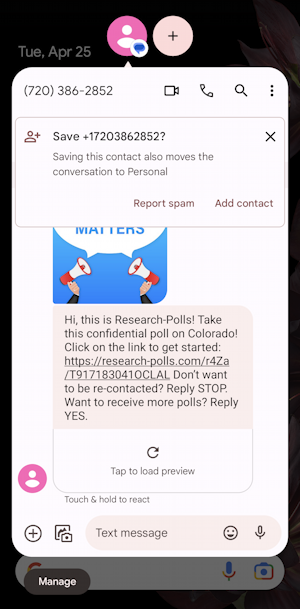 Research Polls? Yeah, that's a scam for sure. Don't bother responding STOP, however, because like most spammers, they'll simply note that as a response and mark your number as "actively responds", which will then mean you'll get even more junk messages. It's the same reason you should never click on "unsubscribe" on a spam email.
Instead, utilize Android's features by tapping on "Report spam". It pops up the following: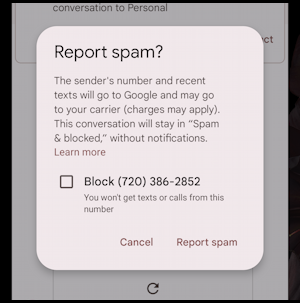 At this point, I'm going to both check the "Block" box to ensure that this particular number never texts me again and then tap on "Report spam" so that I help the Android shared spammer list grow too. Well done.
Power Tip: I've been writing about Android for many years and have an extensive Android help library here. Please check it out while you're visiting. Thanks!