I spend a lot of time on Facebook every day. I admit it. Mostly the advertisements I get are fine, but sometimes they're just the same company over and over again. Worse, though, are the ones I think are crude, tacky, or offensive. Is there some way to block ads or even report them to Facebook if I think they're offensive?
Facebook has gotten grief about the amount of data it collects on each user for years now, but the secret truth is that we give the site all that data when we sign up and use the popular social network. The end result is that it's an extraordinarily rich ecosystem for advertisers to not just target us with ads, but micro target us using very specific criteria. This presumes that the advertiser actually puts in the effort to properly target their advertising, of course, and sometimes that's just not true. I think the most egregious offenders in your news feed stream are likely companies that did a particularly poor targeting job, but either way, it can be really annoying.
Worse, there are also ads that can be downright offensive or even seem like they might be illegal or certainly against community decency standards. While adverts that feature a semi-clad attractive young person might garner lots of clicks, it doesn't mean that's the right imagery for the ad or that you're a good match for that sort of often-crass marketing! Fortunately, the team at Facebook has a variety of ways you can manage the ads you see in your newsfeed, primarily broken down into hiding ads and reporting ads.
HOW TO HIDE ANNOYING FACEBOOK ADS
You might be tempted to report every advertisement you see on Facebook but I feel like that's akin to calling 9-1-1 on noisy kids riding past your house on bikes: probably entirely unnecessary. The better approach is to simply hide the ad – or advertiser – from your newsfeed. Let's pick a random ad out of my own newsfeed as a demo:
In reality, I imagine that Wildfish Cannery is a perfectly good business and might well be doing a good job targeting their ad campaign on Facebook, but I have seen this ad too many times and I've yet to click on it, nor am I likely to do so. Instead, I'm going to hide it.
That's done by clicking on the "•••" button on the top right, which brings up a menu: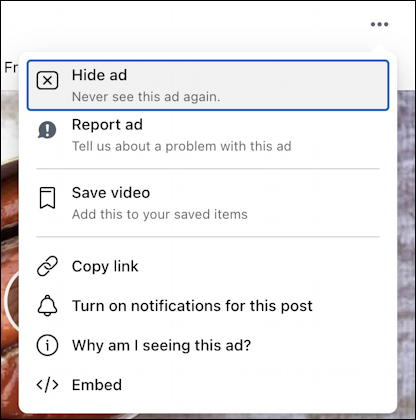 There are a lot of choices here, including an easy way to copy the link so you can share the ad with colleagues or family and even the ability to turn on notifications if you're curious what other people are saying about this campaign. For our purposes, however, choose "Hide ad". Now you'll get to specify why you want the ad hidden, data that can be quite helpful for both the advertiser and Facebook itself:
Most of the time I choose Repetitive because I really don't much like seeing the same ad again and again for days – or even weeks – on end. You might want to notify an advertiser that their campaign worked and you've Already purchased or any of the other possibilities. Choose one or more, click on Done and you'll get to the confirmation window: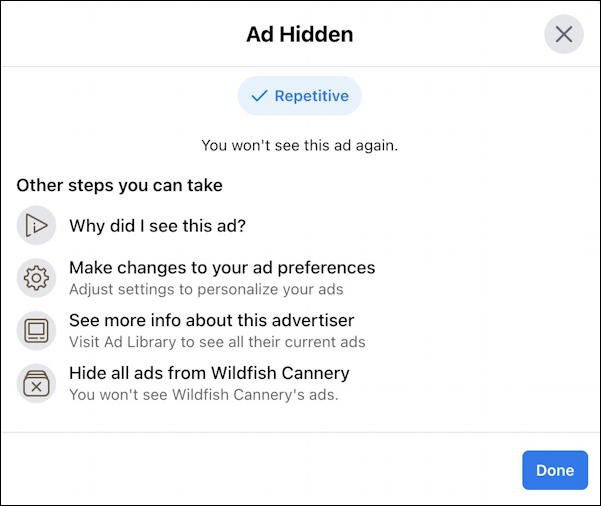 If you're curious about whether you actually click on Facebook ads (since most people swear they never click on ads online) choose "Make changes to your ad preferences" and instead of going to ad preferences, you get to an ad history listing: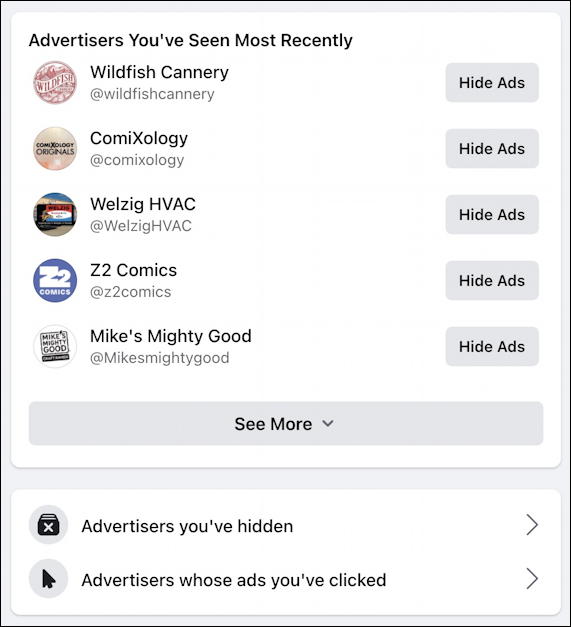 Comics and food, along with an HVAC company (which is an example of poor targeting since I am not in the market for HVAC gear or service). Now click on "Advertisers whose ads you've clicked" and you'll see that you probably do click on ads, like me:
Unfortunately, it doesn't show when I clicked on those ads, which would also be quite interesting, but that's the basic process for hiding adverts that are boring, repetitive, annoying, or for products or services you've already purchased. But what about if it's offensive?
HOW TO REPORT INAPPROPRIATE FACEBOOK ADS
Not every advertisement is properly screened before it's shown and, of course, each of us have different tolerance for potentially concerning aspects to advertisements on Facebook. If you do see one that you feel is fake news, misrepresentation, a scam, or similar, click on "Report Ad" off that same "•••" menu adjacent to the ad itself. The window that pops up is definitely different: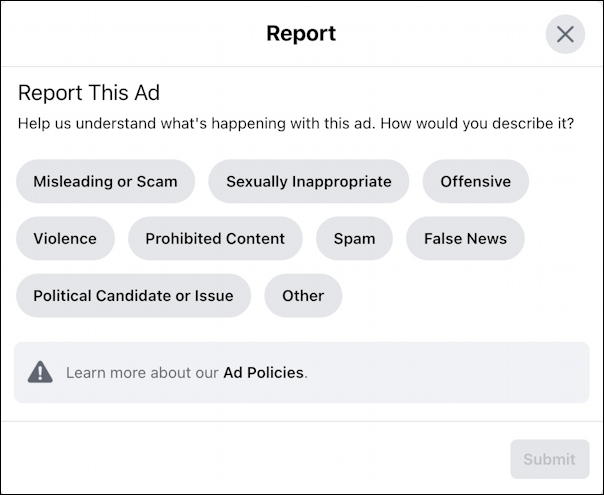 Don't hesitate to use this tool if you do see ads that encourage violence, are offensive to you, are focused on false news, scams, or even sexually inappropriate.
Between reporting an ad and hiding an ad, you should really be able to improve the type of advertising you see on your Facebook newsfeed!
Pro Tip: I've been writing about Facebook since the very beginning of the service, and encourage you to follow AskDaveTaylor on Facebook. Not only that but please do check out my extensive Facebook help area with hundreds of other helpful tutorials and guides! Thanks.