I've noticed that when I go through my LinkedIn feed I see the same half-dozen irrelevant advertisements day after day. Is there some way to make the ads more relevant to me or at least get new ones to show up?
Ad targeting is at the forefront of the privacy versus data analytics war nowadays and that's really what you're talking about. The more information you're willing to share with sites like LinkedIn, the more accurately it can target adverts to match your interests, experience, plans and demographics. But to do that, you give up quite a bit of privacy: do you want advertisers to know when you're on a date, where you go on holiday, that you and your spouse are involved with an IVF procedure or that your parents have dementia? If you're posting about these things – even on another site – then that's also getting into your data set and therefore can probably be utilized by advertisers.
When done well, it's actually not too bad; if you're planning a trip to the Bahamas, getting adverts for places to stay or tourist attractions in that area might be a boon and much appreciated. But conversely if you block all information, you might be getting invitations to travel to countries or areas that you absolutely don't care about. Trade offs. And it's based on how you configure your privacy settings.
But there's more you can do to improve your LinkedIn advertising experience. Let's start with the most basic, here's an ad that showed up in my LinkedIn feed from Verizon:
How do you know it's an advertisement? The big tip off is the presence of the word "Promoted" at the top, but it's still pretty subtle. I'm convinced that if they could get away with it, social sites like Facebook, Twitter and LinkedIn would make these completely invisible and skip the "Promoted" identification at all, but that's another story. For now, the question is: why did I get this? What can I do about it?
Every possible action is tied to the little "•••" link on the top right. Click on it and a menu of options appears: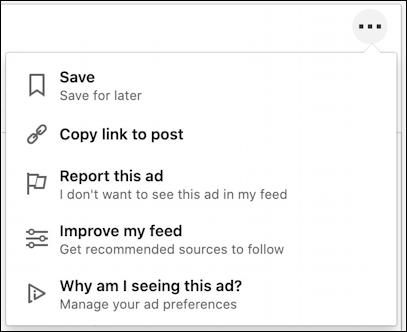 if you're just seeing the same darn ad again and again, the easiest path is to "Report this ad", though it sounds rather dramatic. Click on "Report this ad" and you'll get three options:
If the advertisement is offensive, annoying or even bogus, you can report that, but it's the middle option that can help try to bring some sanity to your feed: "I have seen the same ad too often". Click on that and you'll be asked to confirm that's why you want to report it:
Done. Now it won't match your profile again so you won't see this particular advert. But let's fix up your feed a bit rather than just stop there. The first step is to indicate more of your interests and follow more pages and individuals in your segment. You can reach that by choosing "Improve my feed" from the main advertisement menu.
Here's what LinkedIn shows for me, knowing some of my interests and professional pursuits: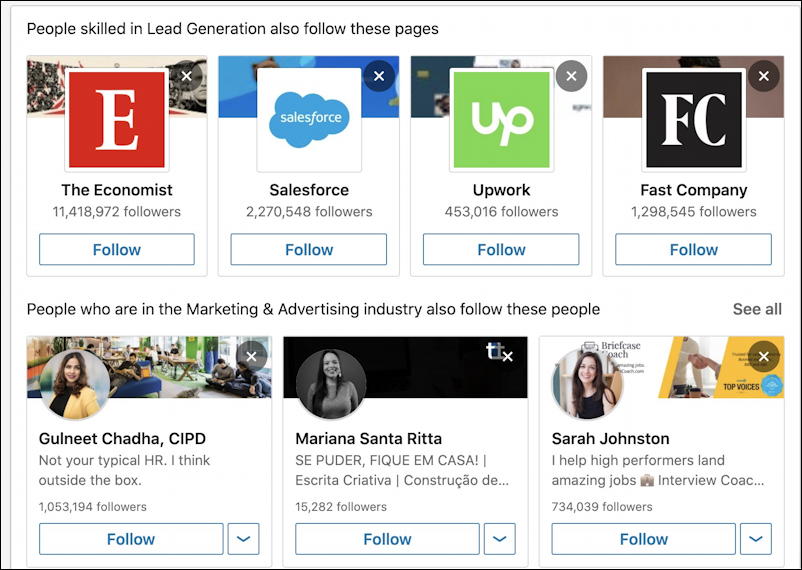 Not sure why it thinks I'm "skilled in lead generation" but it's an interesting list anyway. Follow a few pubs and popular people in your segment and it will help with ad targeting too.
LINKEDIN AD TARGETING AND PRIVACY
There's one more thing worth doing while we're talking about advertising and privacy on LinkedIn: Check your privacy settings to see what you're sharing and what is off-limits to advertisers. You can jump there by clicking on the "Why am I seeing this ad?" link in the advert menu. It brings up this rather daunting set of options: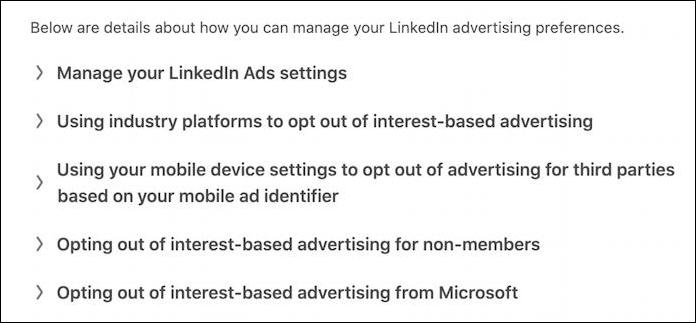 Or you can jump directly to your privacy and advertising settings in LinkedIn by going to linkedin.com/psettings/advertising. Either way, you'll end up on a page that breaks down your settings into three major groups; General Advertising Preferences, Data Collected on LinkedIn and Third Party Data. Start with your general advertising preferences:

The first entry is pretty typical in that it shows your current setting – very small! – and lets you learn more or change the setting with a click on "Change". For Profile data for ad personalization here's what's revealed:

Do you want your profile photo showing up within adverts that are matched to you? If not, if you think that suggests an affinity that might not be accurate, change this from Yes to No. A click on the switch graphic and it changes and saves your new preference both.
Data Collected on LinkedIn has some interesting options too:
These are worth some thought because there are some big privacy implications. For example, the first option, Connections means that, if you don't disable it, advertisers can use your connections to decide if an ad is a good match for you. In other words, if your colleague just got a job at a company, posted about a change in their relationship status or relocated, that could mean that you'll see ads about that too. Kinda creepy, if you ask me, and now you know how to change it!
Finally, the third category of settings and preferences are Third party data. I encourage you to look closely at all of these settings too:
That's it. Between all of those settings, preferences and other options, you should be able to get a good handle on your advertising experience on LinkedIn. Good luck!
Pro Tip: I've been involved with LinkedIn since the very beginning of the site. Please do check out my extensive LinkedIn help library for more tutorials and guides to help you get the most out of this popular site too. Thanks!