I used to really like Facebook but recently every time I check my newsfeed I see the same three or four ads. Day after day, week after week. Is there a way to hide these repetitive and irrelevant ads so I don't see them again?
Facebook has some of the most powerful and detailed targeting information available for advertisers to ensure that their adverts match up with viewers. The better ads are targeted, of course, the more you'll find them interesting and engaging, not annoying and troublesome. Unless, of course, it's the same darn advertisement again and again, which everyone sees at some point.
There are a couple of reasons for this duplication, but the greatest is that some companies pay more for a click than others. And then there's that targeting. Advertisers have gotten cold feet about narrow targeting after the backlash of the last few years, so they now seem to have a tendency to over-generalize their target. Tip: "Everyone on Facebook" is not a good ad target. 🙂
Fortunately, Facebook does make it easy for you to hide these repetitive and irrelevant advertisements. Let's check it out…
WHY ARE YOU SEEING A FACEBOOK AD?
Here's an advertisement I've been seeing on my own Facebook newsfeed, though I cannot say why since I'm not in the market for a new car:
The Ioniq is a pretty cool car, but why would I be seeing this if I don't want to buy a car?  Turns out you can find out why you're seeing an ad on Facebook. Click on the "•••" link on the top right, just above the ad itself. A menu appears: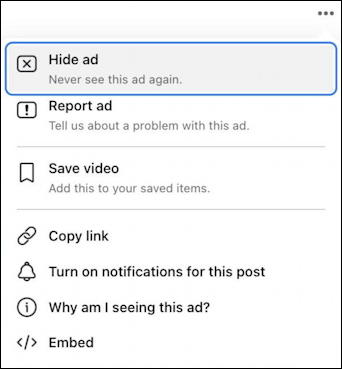 We'll come back to "Hide ad" but for now, click on "Why am I seeing this ad?". It will show you the targeting that the company is using for this particular advertisement: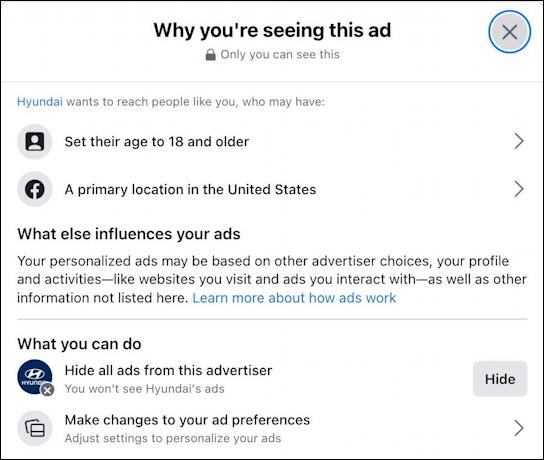 Seems like their entire targeting is "18 or older, located in the United States". Not very specific at all, but companies with big budgets can afford to advertise to ultra-wide demographics, even if we don't want to see the ads and find them irrelevant.
You can click on the "Hide" button here to hide all Hyundai ads (or whatever advertiser's been endlessly showing up in your feed), but instead, click on the "X" to back up to the previous menu.
HOW TO HIDE ADVERTS ON FACEBOOK
Now click on "Hide Ad" and you'll see that there are a lot of different reasons you might opt to hide an advertisement. The feedback is useful for Facebook and the advertiser, so I encourage you to choose accurately:
Notice that "Repetitive" and "Irrelevant" are separated, and if it's something that you find awkward or embarrassing, "Sensitive topic" is a good option. Too narrowly targeted? That's what "Too personal" covers, and while "Already purchased" is an option, I would guess it doesn't get chosen too often.
Choose "Repetitive" and it will show some additional information:
Again, you can hide all ads from this advertiser if that's your preference, or you can go into your ad preferences and fine-tune things as desired.
Tip: Facebook has a good Ad Preferences Help Page that's worth a quick read.
Wondering how Facebook uses geolocation to figure out your location? You can get more info on that too:
The company really pulls a lot of information together to help target advertising. If only it worked better, right? Then again, look over the shoulder of someone in a different country, who has a different gender and race, and you might be startled at just how different their Facebook newsfeed looks when compared to your own.
Pro Tip: I've been writing about Facebook since it first came online. Please check out my extensive Facebook help library for hundreds of useful tutorials and insider tips and tricks. And why not follow AskDaveTaylor on Facebook for even more great content? Thanks!