I do a lot of online research and it's a pain to constantly search, click, back up, go to the next result, click, back up, etc. Is there some way to have search results automatically open in their own tabs in Chrome? I use Google as my main search engine, if that matters…
You are exactly correct that the standard approach for searching the Web remains click, read, backup, click, read, back up, etc etc. Rather tedious if you can't find the results you seek quickly. There are keyboard shortcuts like Command-Click or Windows-click to open up a link in a new background tab and the corresponding Shift-Command-Click to open it in a new tab in front of the current tab, but it's a pain to remember all those key commands. I know I often get them wrong and end up downloading a Web page instead of opening it in a new tab.
Our browsers are quite sophisticated with a million options and settings nowadays, but this is really a search feature more than it's a Web browser feature. And wouldn't it be nice to fix this so it works in any browser running on whatever operating system you happen to be using? Turns out you can do just that with Google search. In fact, you can make the same change to Bing searches too, if you utilize that search engine too. Let's have a look…
OPEN SEARCH RESULTS IN NEW TAB WITH GOOGLE SEARCH
As a first step, let's just run a quick search in Google. I'll search for "why is kolkata famous" to see what comes up. Plus searching for geographic locations typically adds some interesting photos to the results too: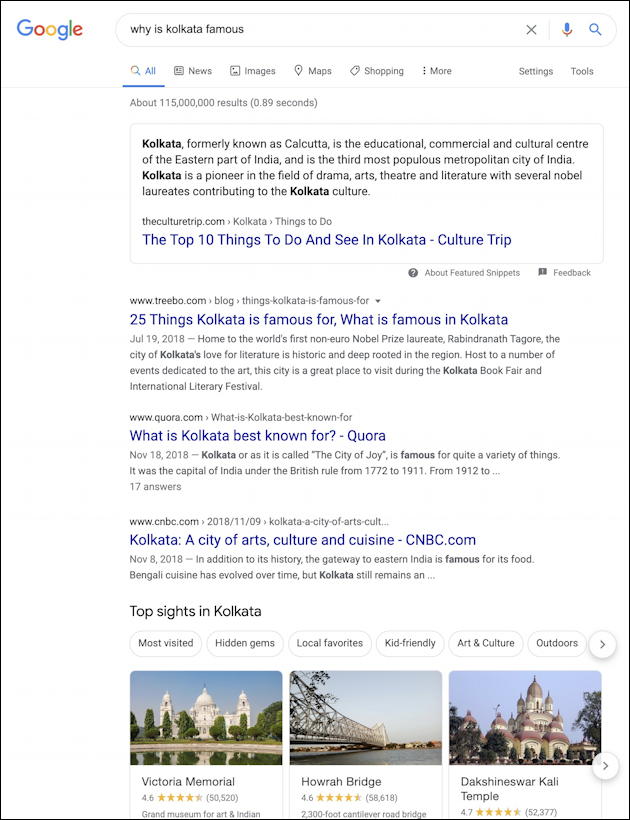 A typical page of results, as you can see. Click on a link and it'll replace the current page with the results which means you're still in that click, read, back up, try again loop. You could use a special key sequence to open a result as a new tab, background tab, new window, etc but they're hard to remember.
You can, of course, also open up the contextual menu (Right click on a PC, Control-click on a Mac):

Three main options here: Open in new tab, open in new window or open in new Incognito window. Those always open up "behind" the current window, so you still have a second click required to bring that to the front. Not great.
Go into Microsoft Edge on a PC and the Right-click menu options are remarkably similar: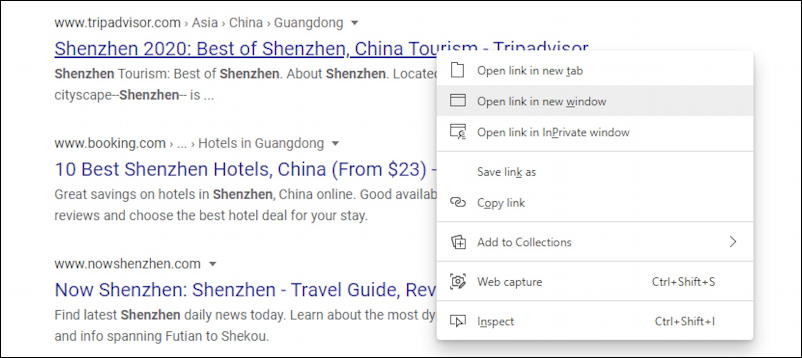 So let's fix it!
Go to https://www.google.com/, the Google home page. It'll look like this: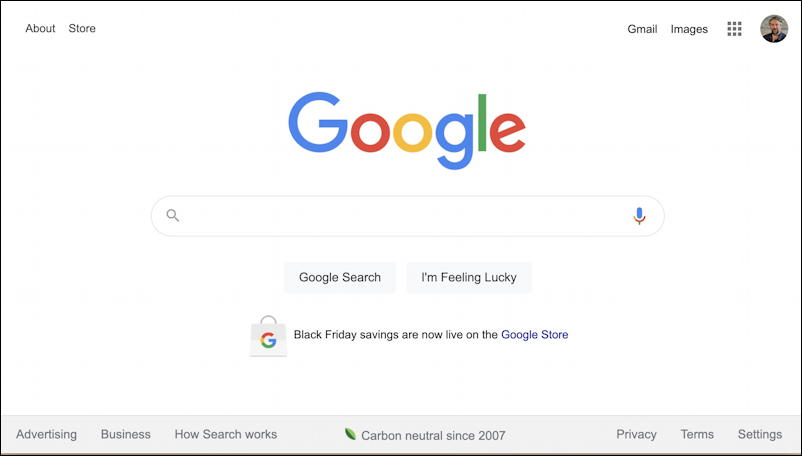 Note: I've squished everything together so you can easily see all the top and bottom links.
It's quite possible you don't notice all the links around the edges, particularly if you have a big computer screen, but take a moment to see all the options available. Most important for our task is to notice "Settings" on the lower right. In fact, don't just notice it, click on it!
There are options and settings you can make to Google Search from right here on the home screen. Handy, really. And at this point, since they're settings for Google search, this will be identical on Mac or PC, Edge or Chrome, even Safari or Brave. Choose "Search settings".
Scroll down just a little bit and you'll find this setting:

That's it. Check this box, make sure you Save the changes, and try clicking on some search results from a new search (your existing search results won't magically change, so reload the page). Done. Easy.
OPEN SEARCH RESULTS IN NEW TAB WITH BING SEARCH
So what about Bing search? Not only does it offer a similar feature, it offers it with more granularity to ensure it is exactly what you want. To start, just jump to the Bing home page. On the top right, you'll see your icon, rewards score, notification bell and three horizontal lines (yes, the so-called "hamburger" icon). Click on the hamburger and a menu pops up:
Bing makes it really easy to customize your home page, so props to them for that! In this instance, choose "Settings". A new menu appears:
Almost there. Click or tap on "More" and you'll be dropped onto a page of Bing search settings, including this:
Simple, straightforward. You can choose to have search results open in a new tab or window (yes, you can still use special keystrokes to open search results, but this affects how they're interpreted) and the same with news results if you also use Bing News. Easy, and done.
That's it. Between these two you should be able to customize exactly how your search results open up in your browser and hopefully speed up your search cycle by minimizing clicks and special key sequences.
Pro Tip: I've been writing about search and search results for a long time. While you're visiting, please do check out my Google help area and SEO help and tips to up your search game! Thanks.