I borrowed my Dad's new Honda CRV for a few weeks and paired my phone so I could make hands-free calls. Now I want to unpair it before I return the vehicle to my Dad. How do I have the Honda forget my Bluetooth smartphone?
It's always smart to unpair your phone when you're done with a vehicle. People don't realize it, but when you pair a smartphone with a car or truck, you generally grant permission for the vehicle entertainment system to pull in a copy of your entire address book and call history. Once you've done that, it'll typically allow access to that information even if the phone isn't later in the vehicle. This is just as true for rental vehicles and has significant privacy implications too. Do you want a stranger going through your address book or trying out "call mom" or "call susan" to see what happens?
This is why every car entertainment system not only has the ability for you to pair your phone but also includes the ability to delete that same phone and all the information and contact records. Unfortunately, there's no standard interface and while Android and iPhone might be fairly similar, car infotainment systems can be wildly divergent. Honda's done a good job with its design but if you're used to a Chevy or Tesla, it's quite different.
FIND YOUR PHONE IN THE HONDA INFOTAINMENT SYSTEM
For this article, I'm using a 2022 Honda Civic but I believe that all reasonably recent Honda vehicles will have the same basic steps and layout. To start, push the "Home" button.
You can tap on the "Smartphone Connection", but I'm going to travel down a different path. Instead, tap on "Phone", which shows you a dial pad and a few handy buttons:
Don't call anyone to get a pizza delivered! Tap on "Settings" on the top right instead…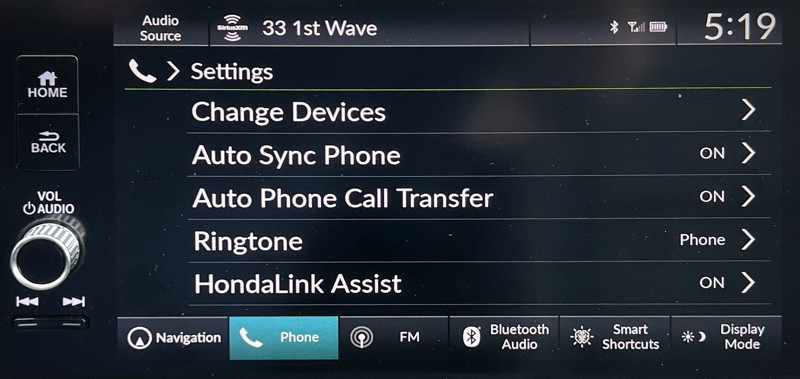 Almost there. Now tap on "Change Devices" and you'll see a list of all phones known by the Honda:
There's my phone, the iDave 13 Pro.
HOW TO FORGET YOUR PHONE ON A HONDA VEHICLE
To actually forget your phone, you need to go to the info screen about the device. Tap on the ">" symbol on the same line as the phone and you'll get to the right screen:
Alright, I was wrong. We're still one tap away. Tap on "Options" on the top right of this screen and, finally:
You can guess the next tap, but I want to point out that Honda does something else too; it collects overall usage information when you use your phone unless you opt out of "Phone Data Collection". So even if you aren't unpairing your phone, it's smart to check the status of that setting. You'll notice I opted OUT of this, which is why it shows "OFF" here.
To delete your device, tap on "Delete Device". Logical enough!
Choose "Delete" at this point and your phone, and all of your contact info and call history, vanishes from the vehicle's infotainment system. If it's the only phone, you'll now see an empty list:
There ya go. Successfully deleted from the Honda infotainment system. Now, did you remember to fill the gas tank before you returned it? 🙂
Pro Tip: I've been writing about basic computing, including automotive systems, for many years. Please check out my computer basics and tutorials to see what other helpful articles I've written!