I was at a friend's house and they made a delicious soup from a package. I'd like to get it, but taking a photo and searching when I get home seems old school. What's the cool, modern way to use my Android phone to identify and buy a product I encounter? Is that what "Google Lens" is for?
First off, let's just say that there's nothing wrong with writing down something on a piece of paper that you want to find later. You can take a note on your phone, even, or just snap a photo and look it up when you're back at home (or in the office). But, as you suggest, there are some far more modern ways to combine a number of these steps into a single action, and Android even lets you jump the right spot on your phone with a single tap. In fact, it's only a two-tap process to identify and remember a product, and one more tap to potentially order it for yourself.
Amazon also competes in this space and its app for mobile devices is even easier to use once you've downloaded it. This solution also works for both Android and iPhone owners too, once you install it [Amazon Shopping for Android and Amazon Shopping for iPhone]. Even better, you don't need to log in to your Amazon account to use this feature.
Let's start with Google Lens, however, which is now neatly integrated into both the Camera app and Android itself. My daughter just made a batch of delicious brownies so I'll use the box for this demo, quite similar to your soup experience.
USING GOOGLE LENS ON ANDROID TO IDENTIFY A PRODUCT
From the Android home screen – this is Android 12 on a Google Pixel 6 Pro – it's a single tap to fire up Google Lens within the Camera app: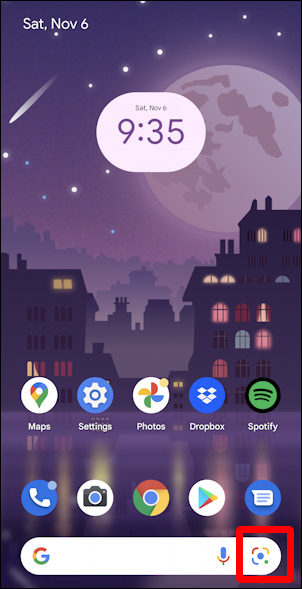 You can see that I've highlighted the icon you want to tap on the very right edge of the search box at the bottom of the home screen. It's a dot with a dashed line box around it, all in Google's logo colors.
Trivia: Did you know that Google's logo derives from LEGO? The logo colors are from the basic LEGO building block colors.
Tap on the Google Lens icon on the home screen and you're immediately taken to the Camera app: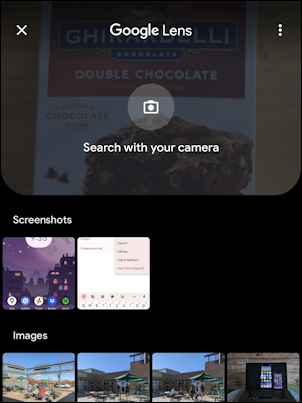 A tap on "Search with your camera" or the camera button, then just point it at the product packaging or item so that it's centered in the preview area: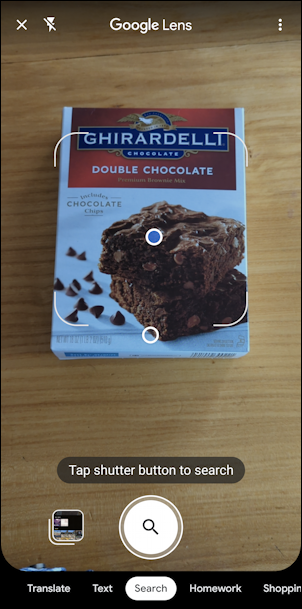 Notice along the bottom some of the other great features of Google Lens: Translate, Text, Homework, and Shopping. It's well worth exploring and Kim Kommando has a very useful note on Ten Cool Things You Can do with Google Lens you'll want to review later too. For now, however, let's stay focused (as it were!) on the brownies box.
To actually scan and have Google Lens analyze and figure out what's on camera, tap on the white Search button… After just a few moments, the match pushes up from the bottom of the screen: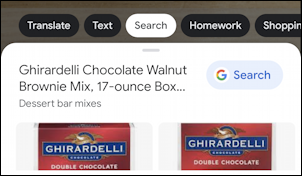 You can swipe up to get it full screen so you can see more about this particular product as desired: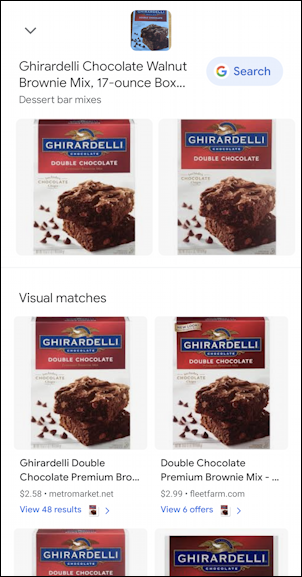 Pretty darn cool. Now we know that it's Ghiradelli Chocolate Walnut Brownie Mix, 17oz box, and that the average price listed here is about $2.75. Cheaper than a single brownie at your favorite café!
PRODUCT SEARCH WITH AMAZON SHOPPING
Maybe you don't want to use Google Lens for privacy reasons or you just prefer Amazon since that's where you shop anyway. No judgment, let's check out how the Amazon Shopping app compares…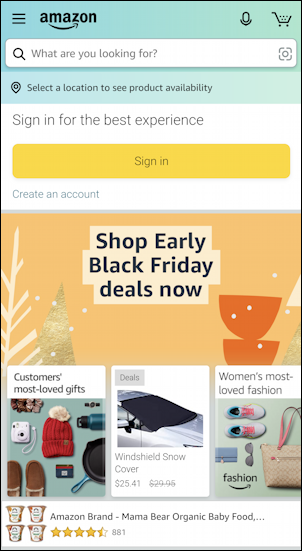 It's definitely a bit more bright and cheery, but it's focused on parting you from your hard earned cash, so it's not quite the same purpose as the Android home screen! More importantly, notice that I haven't signed in to my Amazon account. No worries, I can still proceed and use the scanning tool to identify the brownie mix.
To access the Amazon scanner tool, tap on the circle in a dashed-line box icon on the right edge of the search box. Oddly familiar, isn't it? Here's what shows up:
You will have to grant the app access to your camera before you get here, but that's pretty easy. At this point we're two-taps into the process, and one more tap, on the white button, gets you to the matching product on Amazon.com: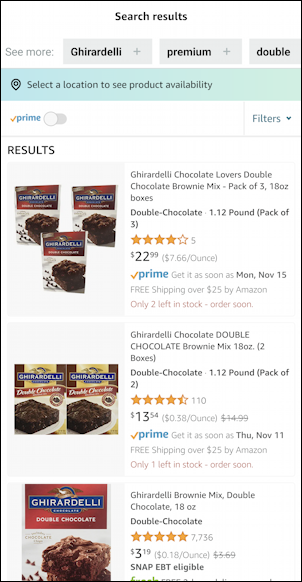 Notice that the price is all over the place; the single unit box – 18oz, not 7oz! – is $3.19 at the bottom, but a package of three 18oz boxes is a whopping $22.99. Quite a bit more than the prices suggested by the Google Lens search. Also notice that the middle match is related, but not exactly the same product: No walnuts.
An even faster way to scan for things is to use the Amazon Shopping barcode scanner. Simply tap on "Barcode" on the bottom of the camera view and align it with the UPC (Universal Product Code) barcode on the box:
With barcodes, you don't even need to push a button; once it recognizes the code, it immediately brings up the search results. Now, are you hungry for soup or brownies? 🤓
Pro Tip: I've been writing about Android since the beginning. Please check out my rather extensive Android help area while you're visiting for lots more useful tutorials and guides! Thanks.