When Twitter changed hands over a year ago, a number of new social networks cropped up offering a very similar experience, but without the endlessly weird and annoying changes. Twitter, now "X", is not like it was the day of the acquisition, that's for sure. One of the most interesting: Bluesky. Here's how to get started on the network…
Turns out that people really like a social network that's streamlined and focused on short messages and simple interaction. Nothing as complex as Facebook or Instagram, just messages and hashtags, with likes and responses. This, of course, now describes a number of Twitter competitors that have cropped up in the last year – and I've written about Threads extensively – but one that I had a hard time wrangling an invitation for was Bluesky. Like Mastodon, it suffers from a cryptic naming convention, but once you get over that, it really is remarkably like Twitter circa 2021.
Finally, almost a year after joining their waiting list, I got an invitation to sign up and join Bluesky. The downside is that this means that the service is still managing new members so if you sign up today, it might be months before you get the actual invitation needed to join the discussion. With any of these artificial scarcity signup queues, though, the sooner you add yourself to the queue, the sooner you'll be part of the club. Go to bsky.app to get in line, if you're interested…
THE INVITATION AND THE APP
This is what appeared in my inbox (without, rather surprisingly, a heavenly choir singing):
You can already see that this is a social network for people who are comfortable with the tech side of the Web: It's not "iPhone" and "Android" but "iOS" and "Play store". Tap on the appropriate one for your mobile device (it's a mobile-only service, similar to Instagram). In the iPhone App Store, the program looks like this:
It's definitely pretty and a more pleasant addition to your home screen than the "X" app icon! Go through the usual install steps to get the app on your mobile device and launch it with a tap.
HOW TO CREATE A NEW BLUESKY ACCOUNT
The program will ask if you intend to sign into your account or sign up:
Tap on "Create a new account" and it will ask about your Internet provider. Choose "Bluesky" and you'll move to step 2, a prompt for the invitation code that was in the email message:
Email, password, birthdate, it's rather the usual rigamarole for signing up for an online social media account nowadays.
Tap continue when you're done and you'll be able to choose your Bluesky account name. If it isn't already taken, that is…
Predictably, my top choice for a user handle – davetaylor – was already chosen, so I opted for askdavetaylor instead:
Success! I'm now @askdavetaylor.bsky.social on Bluesky.
So far, so good.
START BY FOLLOWING SOME GROUPS AND PEOPLE
Once you're signed up, the app will prompt you to pick a few groups and people to follow. Do that or it's going to be a very empty digital auditorium…
The number adjacent to the heart icon presumably denotes how many people are part of the group if you're curious about what is or isn't popular here. Choose a few by tapping "+ Add" then tap "Continue" to see the recommended accounts: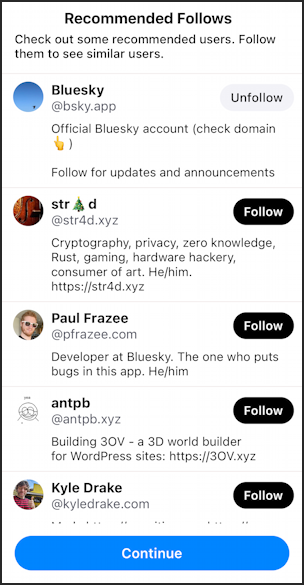 Feels a lot like Twitter, doesn't it? One more "Continue" and you'll finally see your profile. It's pretty bare bones:
Notice especially the row of icons along the bottom. Like so many other social media sites, this one has home, search, hashtag search, notifications and your profile as shortcuts. To proceed, tap on your profile icon (or just stay on this screen if you haven't wandered off to explore).
HOW TO CUSTOMIZE YOUR BLUESKY PROFILE
From this screen, tap on the "Edit Profile" button to get some basic customization started…
To add a photo, just tap on the currently generic photo icon on the left. Add your Display Name as desired and a description so people can confirm that you are the person they think you are (or not!). Done? Tap on "Save Changes".
USING BLUESKY SOCIAL
Once you've updated your profile, it's easy to jump in and participate!
That's it. Good luck getting that invitation and when you do join Bluesky, follow me! I'm @askdavetaylor.bsky.social.