I can see that there's a way to follow specific hashtags on LinkedIn, which is great. But what I can't figure out is how to actually add any to my list so I can follow them. Using LinkedIn through Chrome on a PC. Help!
As far as I can tell, LinkedIn is partway through implementing hashtag following on its site. Not that it hasn't had support for hashtags for quite a few years, however. The problem is that following a hashtag without a companion article that is already using the hashtag in question is weirdly convoluted and difficult. I'll show you how to do it in this article – including some custom HTML code to make it super easy – but it's hard to understand why the company would have such a half-hearted implementation.
Hashtags themselves are super interesting, actually, having originally arisen from Twitter's online community creating a "folksonomy" of words, phrases, and acronyms to help with message discovery. The fabled first big use of Twitter hashtags was at the Austin, Texas-based South by Southwest trade show, where early Twitter adopters found that if they added #sxsw to their tweets, others could find them and respond, even if they weren't following. Didn't take long for this to ooze out into all the other social networking sites and now you can find implementations on YouTube, Reddit, Instagram (where it's most aggressively used, with people adding up to 50 hashtags to each post), Pinterest, and, yes, LinkedIn.
Let's have a look at how it works, starting with something you might not even have noticed…
HOW LINKEDIN LETS YOU FOLLOW HASHTAGS
Look closely at the left side of your LinkedIn home screen and notice what's at the very bottom of the left side: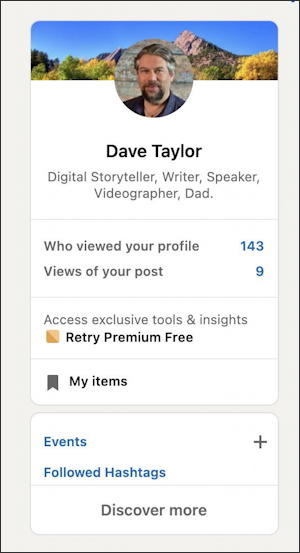 You've probably looked at that profile info box so many times you're blind to the changes, but it's on the very bottom: "Followed Hashtags". Cool. So you would think that clicking on that would let you add new hashtags, right?
A click on "Followed Hashtags" and instead you see this: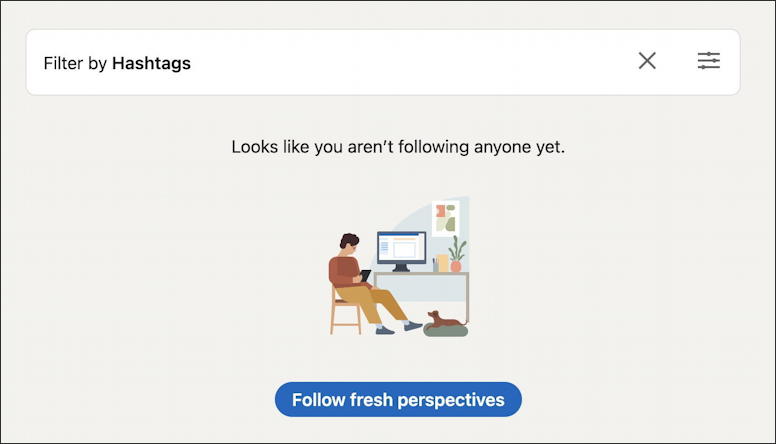 Here's where there should be an "Add Hashtag to Follow" or something similar. Click on "Follow fresh perspectives" and it takes you to other LinkedIn user profiles, having completely lost your intention to search for a hashtag or two.
SEARCH FOR A HASHTAG ON LINKEDIN
Okay, plan B. Search for a hashtag. I'll search for #film and here's what I see:

Notice all those search result filters along the top – Posts, People, Jobs, Companies, Groups, etc. etc – which are really helpful. But I searched for a hashtag, why isn't it offering "follow this hashtag" too?
The circuitous solution is to open up a post with the matching hashtag – click on the timestamp (above it's "6h") – and you'll find clickable hashtags in that post: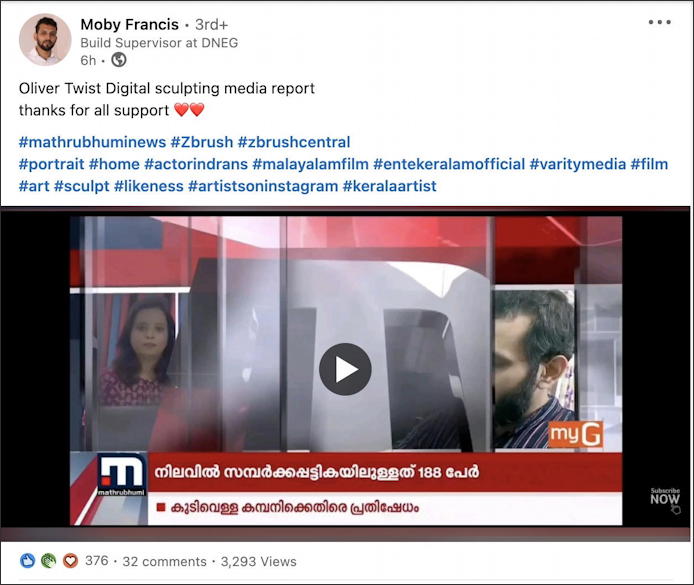 I don't know Moby Francis – you can see he's a 3rd+ connection – but his post accomplishes what I need: It offers up the requisit hashtag (#film) in a clickable form.
FOLLOW A HASHTAG ON LINKEDIN
A click on #film and, finally, that follow option appears:

Why it's so darn hard to find is a bit inexplicable.
As an O.G. HTML coder, however, I can't help but notice the URL associated with the page that offers the precious Follow button:

That's sufficient data to create a rudimentary form, allowing you to enter a hashtag and immediately get to the page on LinkedIn where you can click that "Follow" button. Here it is!
Try it, it works. Handy, I hope.
MEANWHILE ON YOUR LINKEDIN HOME PAGE
Now that you've followed a few hashtags, refresh the home page and you'll notice that they're listed at the bottom of your profile box: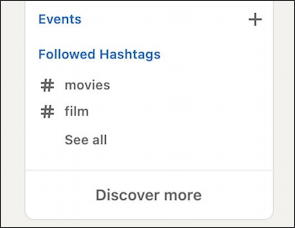 Too many? Move your cursor over the phrase "Followed Hashtags" and a tiny hide arrow appears.
As more people use hashtags on LinkedIn, I imagine this process will be easier. For now, however, you've got a solution and are invited to bookmark and share this page so your colleagues can also use the tiny one-line form here to quickly follow a dozen hashtags or more on the popular job site.
Pro Tip: I've been writing about LinkedIn since the launch of the popular professional networking site. Please do check out my extensive LinkedIn help area for lots more tutorials while you're here!