I don't know what happened when I updated to iOS 17, but suddenly my camera app isn't scanning QR Codes. Since I go to a lot of concerts, these are critical for accessing venue info. How do I re-enable the QR Code scanner feature on my iPhone 13??
Apple was one of the first companies to integrate QR Code scanning into the regular Camera app, though a quick search of the App Store reveals that there are still dozens of third-party apps. Much easier to enable it and have it as part of the default Camera app, however! While the upgrade to iOS 17 did add some features to the camera and photography portion of your iPhone, I am surprised that it disabled this particular capability.
There are some people who don't want to have the codes automatically scanned, but the actual interpretation of the code and mapping to associated action occurs entirely on the phone (which you can test by going into airplane mode and trying to scan a code). While a destination linked through a QR Code might have some malicious code, the QR codes themselves – QR stands for Quick Response – are completely benign too.
To explore the feature, here's a composite starting image I created to offer up a fun QR Code: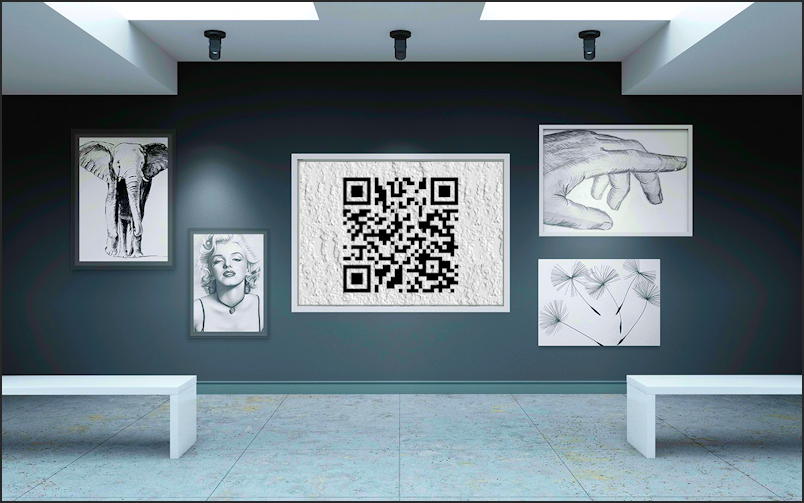 Very attractive, right? In a setting like this, it would certainly be interesting to scan a QR Code and see if it leads to an interactive art experience of some sort.
But what if you go to take a photo and this is what you see?
There's no way to scan the QR Code from this point in the Camera app. Where'd it go??
ENABLE QR CODE SCANNING IN CAMERA
Turns out it's one of a number of different features and capabilities you can enable (or disable) in the Camera app, actually. Go to Settings > Camera and you'll see it on the first screen:
I've highlighted the option: Tap on the slider to turn it green, which enables the feature. This takes immediate effect, but have a quick check of the other settings and options here too, most notably the default video recording formats. If you use slo-mo and cinematic, this is where you can pick your preferred quality levels. Notice also that I enable both Grid and Level with my Camera app. I find them very helpful for composing the best photographs possible.
TIP: For fun, "Show Detected Text" is really interesting and can be great if you're looking for a sort of poor man's Optical Character Recognition (OCR) capability too!
Swipe up as there are even more valuable Camera settings to consider: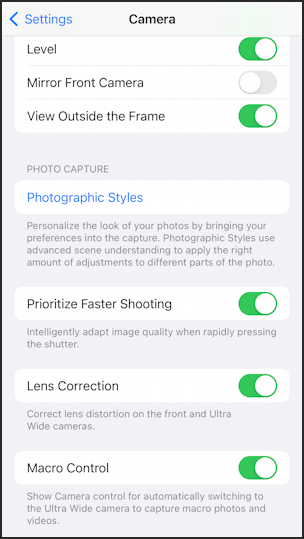 One that portrait photographers really love is hidden in the "Photographic Styles" area. You can pick a favorite set of portrait photo filters and image processing and have that then be the default setting. I also like the "View Outside the Frame", but many people prefer a what-you-see-is-what-you-get framing for the Camera app. My suggestion: Try both to pick which works best for you.
FIXED CAMERA ABLE TO SCAN QR CODES
With the "Scan QR Codes" enabled, pointing the iPhone at the earlier QR code works much better:
Much better: In this instance a tap on the yellow tip – in this case, "YouTube" – will open up Safari and take you to the linked video content.
And with that, problem solved. Now, go have fun scanning QR codes at your concerts again!
Pro Tip: I've been writing tutorials for the Apple iPhone since the release of the very first device. Please check out my extensive iPhone help area for lots and lots of useful content on iOS 17 and much more while you're visiting.