I enjoy listening to my music library with the new Windows Media Player, though it's a rather clumsy design. Still, it works. The problem is that some of my music is missing its track or album artwork. How can I fix it and restore the covers?
Windows Media Player got a dramatic redesign in the last few years and while the functionality has improved, I have to agree with you that the appearance is clumsy and unaesthetic. There are tons of alternative media players for Windows, however, even including Apple Music (formerly iTunes), most of which I think look better, but… the reality is that once you get your music playing, you're not really going to be looking at the app anyway, so it's probably not that big a deal.
Since I like to see album and CD covers, however, missing artwork is more of an issue for me. The great news is that Media Player has a built-in artwork lookup feature that often adds the right image without much more than a single click. When that fails, it's a bit more hassle. Let's have a look…
WINDOWS MEDIA PLAYER: MISSING ARTWORK
I have a pretty big music collection in Media Player, mostly electronica. When I open up Media Player here's what I see: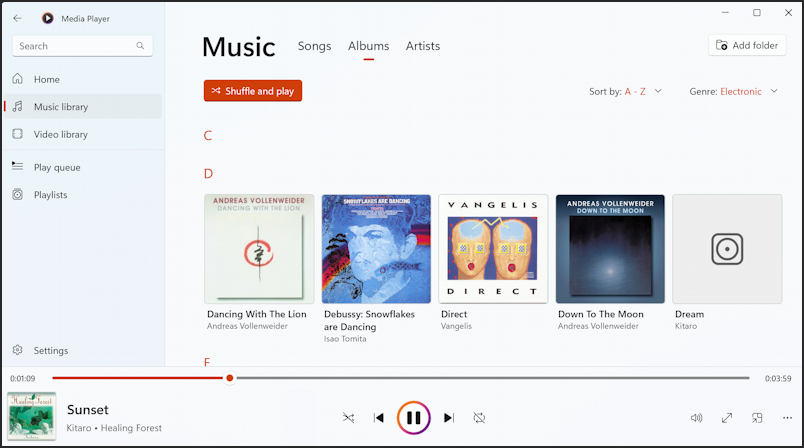 Notice that the album Dream by Kitaro (full name Masanori Takahashi) is missing its artwork. Fixable! First off, though, move your cursor over the graphic and three elements appear on the corners. Chose the top left and you'll get the add-to-play-next pop-up toolbar: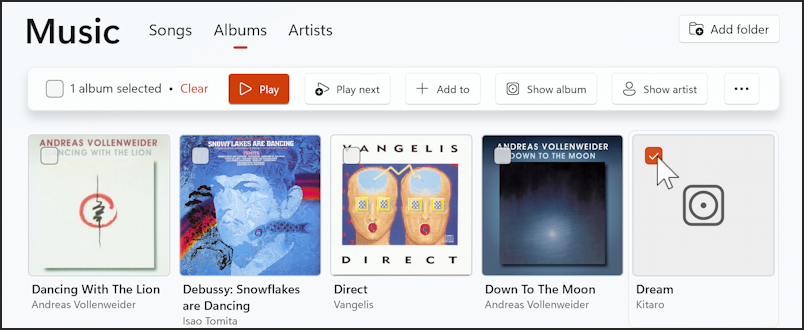 Okay, that's a pretty cool interface element. One of the other corner icons is "•••" and if you click on that, a context menu appears with lots of useful options: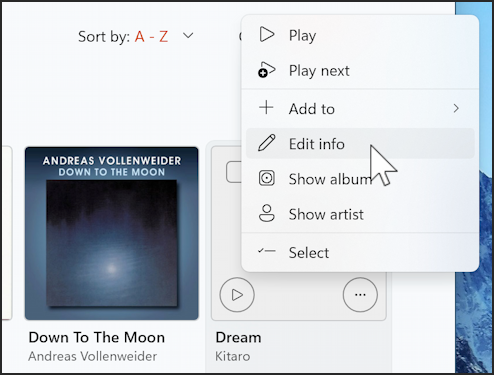 There's some redundancy here, but I'd rather have a feature in two locations than not know where it's tucked away…
ADD ARTWORK WITH A CLICK
Choose "Edit info" and you'll get a pretty interesting and useful pop-up window: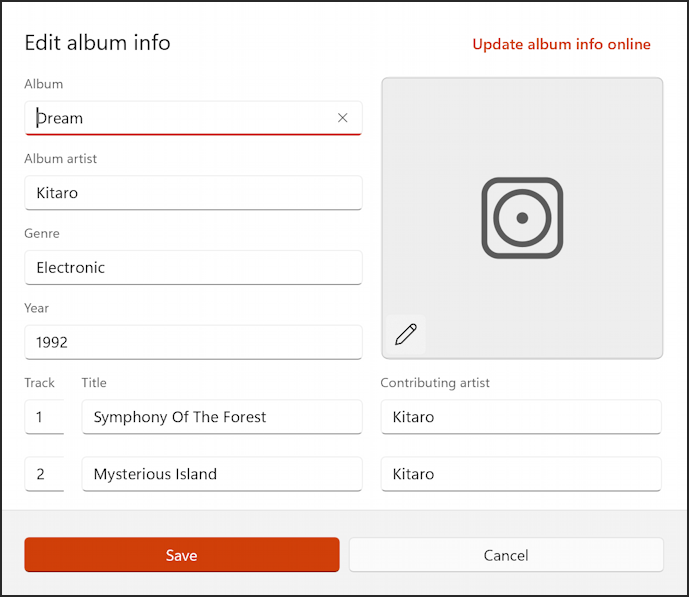 Here's where you can tweak and fix typos, update track names, even correct artist names if it's wrong. You can also automatically update the album info online, always the best first step. To let Media Player do its thing, click on "Update album info online".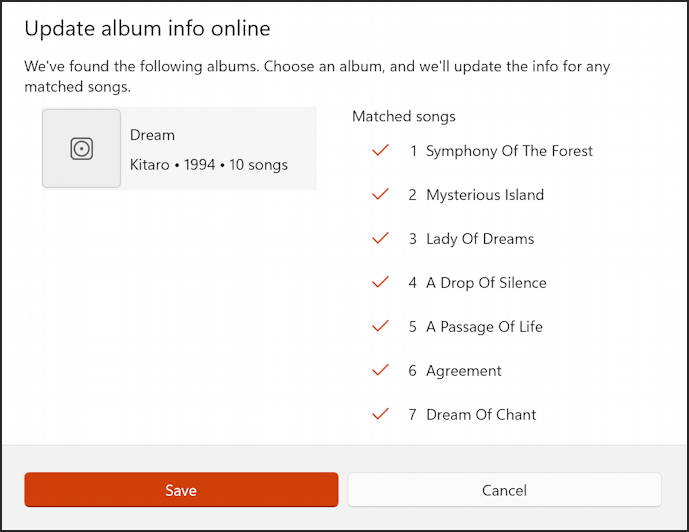 This is a good news/bad news scenario: It's matched the album and shows the tracks, but there's no album artwork displayed. Oh well, so much for the easy path.
DOWNLOAD AND ADD ALBUM ARTWORK MANUALLY
The alternative is to do this yourself. Fortunately, it's quite easy with modern image search tools. Go to Google Image Search or Bing Image Search and type in the name of the album, artist, and "cd cover":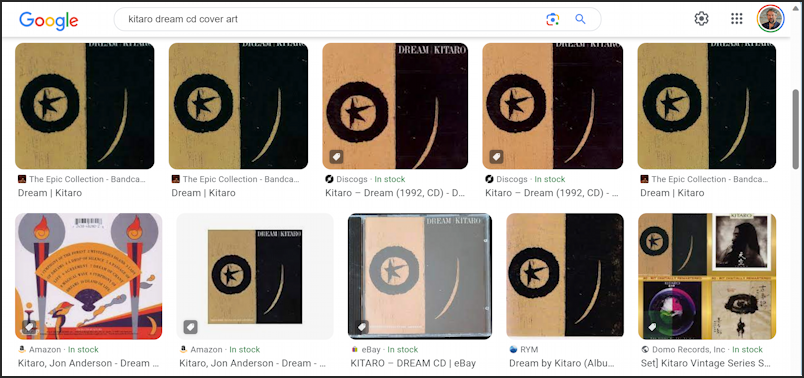 Choose one of the images that looks good (and as is typical, you'll see slight variations in color and style in your own search results too), then click on it. A window opens on the right side of the search results page offering more detail of the image: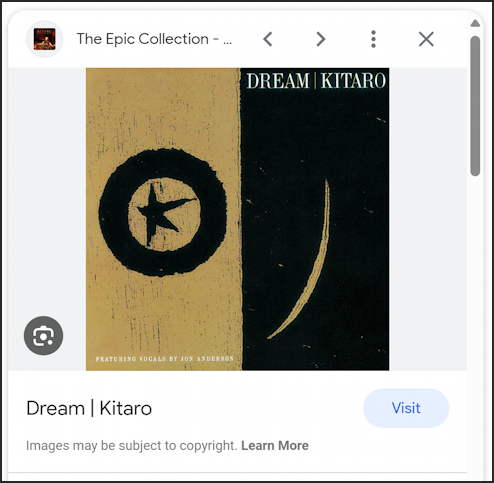 Now you can simply drag the graphic off the page and drop it onto your Desktop! Then go back to that "Edit info" window in Media Player and drag and drop the image from your Desktop into the blank spot.
A click on "Save" and you're done. Now that overview of the music library looks better: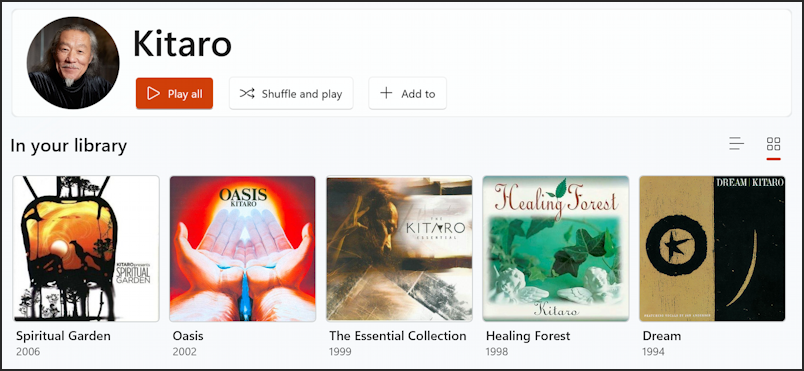 Mission accomplished. Good luck!
Pro Tip: I've been writing about Windows for years and have quite an extensive Windows 11 help area. Please check it out to find lots of additional tutorials and guides while you're here. Thanks!