I don't really know why, but when I connect to Zoom meetings or chats with my friends, the first part of my email address is shown instead of my name. As a result people don't know who I am! Is there some way to fix that in a Zoom call?
Zoom has been expanding its capabilities for quite a few months now, and some things have ended up being a bit less than ideal. The display name is a good example of how this works too; if you don't have your name set in your Zoom profile, it does take the first portion of your account name or even just your phone number, which can definitely be confusing. I know that when I have Zoom lectures with my students, it's inevitable that there'll be a z4x935x or similar connected, which makes it hard to refer to them by name!
But more than that, you can also change your name based on the context of a meeting. For example, if it's the California Whisky Drinkers Association, each person could include their favorite distillery to their name so everyone can immediately see that information and find like minded members. With a classroom, people can add their nickname (or change their displayed name to their preferred name, so "Susan Grace" might become "Susie", for example). Thing of it is, this change is really easy. Let's have a look!
To test this, I joined a Zoom call this morning with some colleagues. When I joined, my name was shown thusly:
"tay4351"? Not particularly helpful or useful for other attendees, no question. But you can search every menu and button without finding how to rename yourself in the chat, unless you know that there are hidden buttons lurking on the top right of your thumbnail preview. Move the cursor into your thumbnail view while in a live event and these pop up:
Ah, a quick shortcut to muting (or unmuting!) yourself and a mysterious "•••" button. A click on the latter and a menu appears:
The contents of this menu can change based on the meeting organizer's settings for the chat or event, and webinars have less options too, but you can see what's highlighted: Rename. Before we look at that, however, note that you will want 'Self View' enabled: If you can't see yourself in the grid, you can't get to these features (or know your display name is confusing to everyone else).
Okay. Now click on "Rename" from this Zoom menu and you'll get a modest little pop-up:

Easy enough, rename yourself and click "Rename" to see it changed: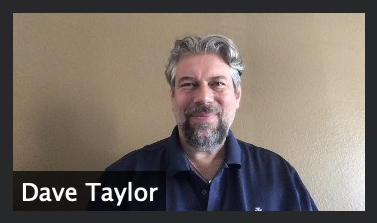 Not only that, but you can add other information too, like your Web site:
This way when I'm talking and front-and-center on people's screens, they can also see my site URL. Handy!
And that's how you rename yourself for a Zoom call, chat or meeting. Now if I can just get my students to do that each week…
Pro Tip: I've been writing about Zoom, Skype and other video chat and conferencing systems for quite a while. Please check out my Zoom help area for lots of useful tutorials and guides. Thanks!