I want to be able to share videos I like on YouTube with my parents. Some of them are my own content that I've uploaded, but most are from other people. What's the best way to get short links for my favorite YouTube videos?
The most basic answer to the question is "grab the URL off your address bar when viewing a YouTube video" but that's not generally going to give you the shortest possible link. In fact, those URLs can be painfully long because there can end up being a lot of tracking information embedded in the link. If you're comfortable doing so you could ostensibly find the "?" and remove it and everything after it from the URL, but why go through the hassle? YouTube makes sharing shortened links pretty darn easy if you're willing to poke around a little bit to find the right spot on the right menu.
Then there are the videos you upload to your own YouTube channel. Those can be shared the same way, but there's a smarter way to get shareable links directly from your Creator Studio backend while you're checking out the stats, comments, etc too. Whether you have tens of views or millions, it's definitely smart to keep on top of your comment stream too as it can go toxic pretty darn fast if ignored.
Let's start with a public video on YouTube. How about the video of the SpaceX Crew Dragon spaceship docking with the International Space Station from the NASA channel? Here's how it looks in a browser tab:
Tons of views, of course. Who doesn't love spaceships and the grand adventure of space? You can grab the URL directly off the Address Bar in your browser, but instead click on "SHARE" on the lower right below the actual video image. A window pops up:
There's the shortest possible link, using youtu.be and the sequence for this particular video. Ready to share it? Just click on "COPY" and it's in your copy/paste buffer, ready for a text message, email, or any other form of communication.
SHAREABLE LINKS FOR YOUR YOUTUBE VIDEOS
But what about if it's your video that you've uploaded to your channel? That shareable video link URL is best obtained from Creator Studio. Simply go to studio.youtube.com and you'll see something like this:
If you move the cursor over the descriptive text summary adjacent to an individual video's main section here are the icons revealed:

Left to right it's edit, analytics, comments, monetization and access to a menu of additional options.
It's the lattermost we want. Click or tap on the three vertical dots and a menu appears: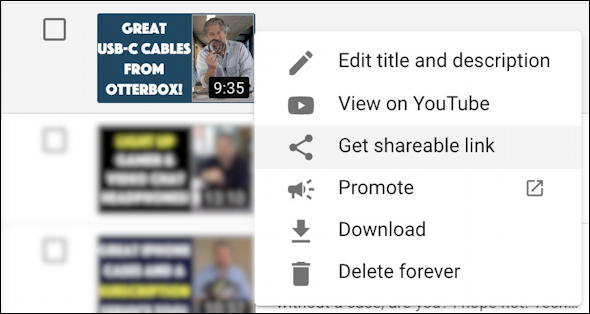 As you can see above, choosing "Get shareable link" is the choice here and it puts the shortened URL link into your copy/paste buffer, ready for you to share just as you would have with the NASA video earlier. Super easy. Now, while you're here, why not check out the comments on your video too?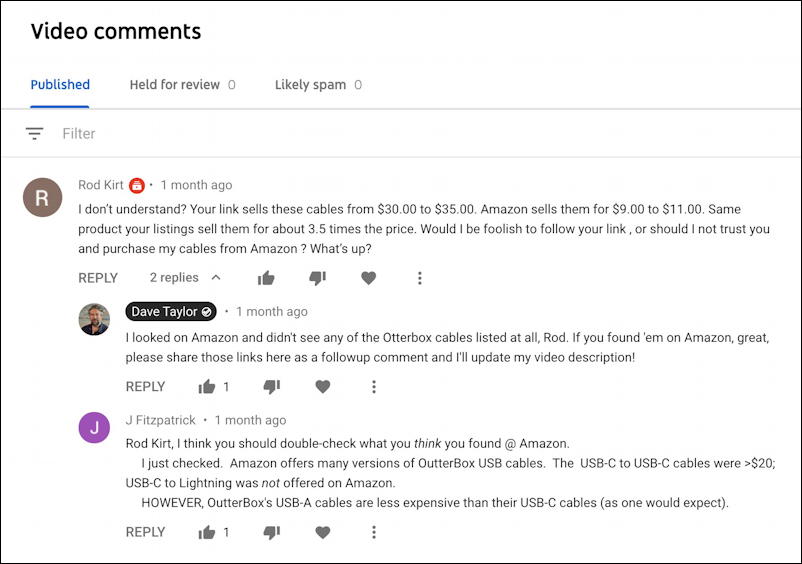 Notice as creator you can like, dislike, favorite (the heart) and do various other things with any comment. Again, those three vertical dots. On that menu are the following useful options: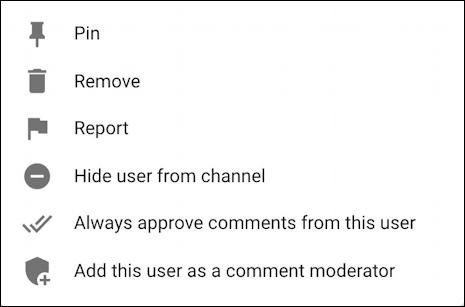 I'm a big fan of "hide user from channel", personally, because then the haters see their comments when they revisit your video, but no-one else does. Genius, really. 🙂
Lots more to consider and explore with Creator Studio if you aren't familiar with it, but suffice to say that there are two best practices in terms of finding short, efficient URL links for YouTube videos. If they're your videos, use Creator Studio to get the shareable link. If they're public videos, use SHARE to get the shareable link. Easy. Done.
Pro Tip: I've been writing about YouTube for quite a while. Please check out my YouTube help for lots more tutorials, and why not check out AskDaveTaylor on YouTube too? Thanks!