Hello, I am really wanting a 2017 Toyota Prius car, I am a college student, and work as a Virtual Assistant. I would like to know how I can finance this car through a credit union with a lower interest rate. I would like to know what is variable cost that I am looking at. i would like to be able to drive my son around in this car. Please let me know what i can do to make this work. Thank you!
Studying and figuring out costs and expenditures is a smart approach to life, so I applaud you on doing your research. There are a couple of facets to the question you ask, one of which is the value of a used vehicle: How much should you pay for a 2017 Toyota Prius in good condition? Then there's the bigger and probably more complicated problem of how you actually afford the vehicle.
Whether it's $5000 or $35,000, most people have to finance a purchase that large and that means you need to figure out all the nuances of a loan. Fortunately, the basics of car value research are straightforward on the Internet (way easier than back before everything moved online) and car loans are pretty easy to understand and calculate. Let's start with the value of the car. The industry reference for all used car prices is the Kelley Blue Book and while it used to be a physical book that all car dealers would have, it's now completely online and free to use.
FIGURE OUT THE VALUE OF A USED CAR
Jump over to Kelley Blue Book online at KBB.com and you can specify the make, model and year, starting with this prompt: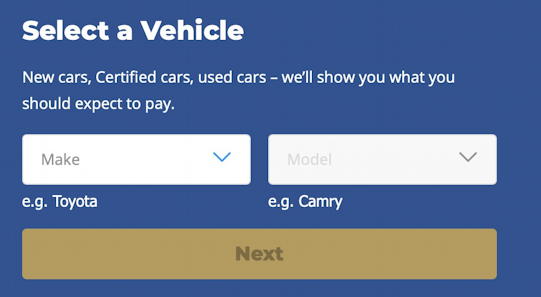 Enter Toyota and Prius, then click "Next". Note that there are five models of Prius from which to choose, but since you don't specify which you want, we'll just go with the regular Prius model. Specify 2017 as the year you want, then you'll again be presented with some options, because, well, there are options…
Not sure which is which? Go with the base model, the One Hatchback 4D. What you seek is a rough idea of price anyway, since sellers are going to ask for more or less based on condition, region, desire to sell it quickly or not, etc. A click on "One Hatchback 4D" and you'll need to select default options one more time, then whether you want to buy from a dealer or private party (e.g., another person who is not a dealer). You might want to go with a dealer since it'll be easier to finance. Finally, a few more clicks later, a price: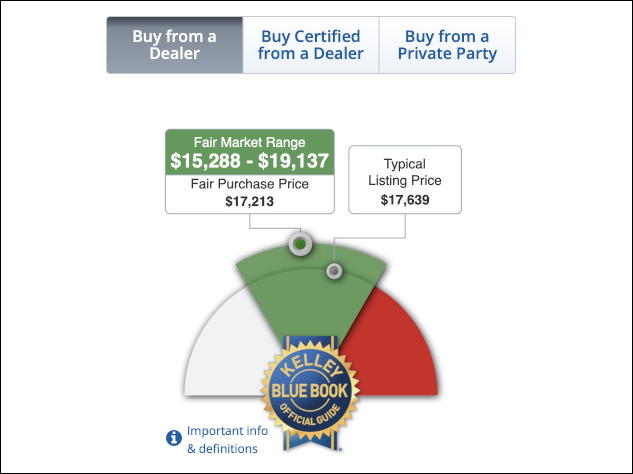 The key information here is "Typical Listing Price" and it shows $17,639. Let's round that up to $18,000 to make the loan calculation math easier!
Now you know an approximate value for a 2017 Toyota Prius in very good condition you can then assess if a friend offers to sell you theirs for $22,000 or $15,000 whether it's actually a good deal or not. But how do you pay for it? Probably with a car loan.
UNDERSTANDING CAR LOANS
All loans work the same: The amount loaned is paid to you in a lump sum then you pay that amount back over a period of time. For the chance to use someone else's money, you also pay an additional fee known as interest. Where the math gets complicated is that interest is calculated on a compounding basis, so it's not base + interest but more like ((( base + interest ) + interest ) + interest) etc.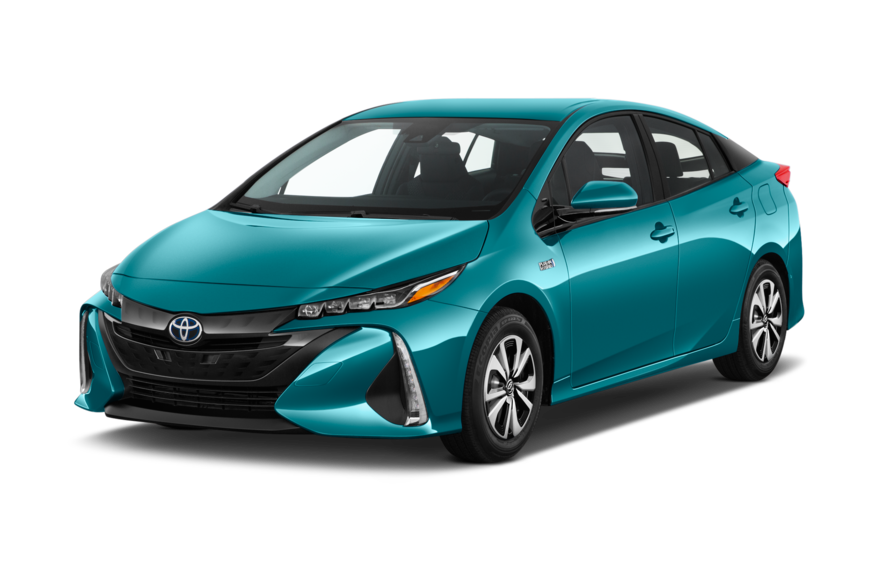 The best way to make any big purchase that requires a loan is to scrape up a down payment, money you pay up front to lower the amount you need from the bank. Let's say with this $18,000 car purchase you can manage to cover $1000 up front. Solid!
That means you need to borrow $17,000. That's the principal. Next you need to decide how long you want to be paying off the loan. More payments = lower monthly payment, but it also means that you pay more interest.
For a car loan, a typical loan duration is 4-5 years. That's calculated in months since you make monthly payments, not annual payments, so let's work with a 4 year, or 48 month loan.
Ignoring interest charges for a moment, that means that your (rough) monthly payment will be principle / payments or $17,000 / 48. That works out to $354.16/month in payments. That's if you could get a "free" loan, however, which you can't do from the local bank or credit union. The last number you need to know is the interest rate. That's specified as an "Annual Percentage Rate" or APR and right now 3%-5% is a typical car loan rate. Let's go with 4% for these calculations as it's right in the middle.
Turns out Google has a car loan calculator right on the search results page, so we can do that. Just search for "car loan calculator" and enter the correct numbers: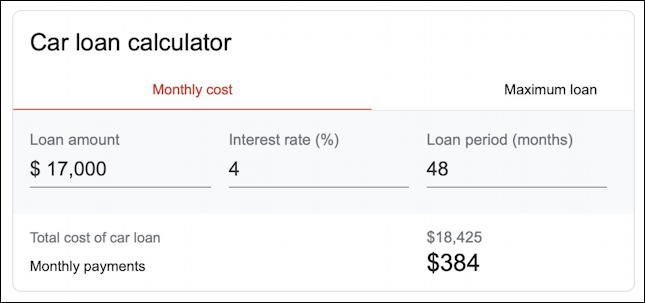 The most important number isn't the monthly payment here, it's the number right above it: Total cost of car loan. To borrow $17,000 from the bank at 4% for 48 months, you'll end up paying $18,425 or $1,425 in interest charges. That's over 8% of the principal, not the modest 4% APR. I told you loan interest rates were a bit tricky to understand! 🙂
What if you decide you want lower payments and change the 48 month duration to 72 months? An easy change on the calculator, but one that has some potentially concerning consequences:
Good news is that your monthly payment dropped down to $266. The bad news? You're now paying a total of $19,150 on a $17,000 loan, a total of 12.6% of the original loan. That's the basic tradeoff with all loans: Extend the loan and you'll have lower payments but ultimately pay quite a bit more. In this case, the tradeoff might be worth it, particularly when you remember that you can always pay more than the monthly payment to pay off the loan faster as your income increases. In almost all cases that will also reduce the amount of interest you ultimately pay.
Experimenting with the calculator also shows why a lower interest rate can be really beneficial. If you could qualify for a 3.1% loan instead of a 4% loan and keep everything else the same, here's what happens:
Your monthly payment goes down just a little bit, but look at that total cost of loan. Down from $19,150 to $18,652. In other words, you would save $498 with a lower interest rate. That's $498 that's in your pocket, nothing to complain about, for sure.
That's the basics of a car loan. Now you can imagine now that a house loan for $250,000 or more amplifies all of these effects. A 4% loan on $250,000 over 30 years results in a total loan cost of $429,674. That's $179,674 in interest!! It's no wonder banks love to finance lower risk home purchases, it's easy money.
Anyway, that's the full scoop. Good luck with your purchase. Get the car inspected by a competent and trustworthy mechanic before you buy it to avoid scams and problems too, and I hope you and your son enjoy your new Prius!
Pro Tip: I've been writing about tech and daily life for years. Please check out my computer basics help and fun "none of the above" areas while you're visiting the site. Thanks!