I have a lot of ebooks on my Kindle Paperwhite and am curious how I can ascertain how much storage space I have remaining. Is there a way to check on the Kindle itself?
The Amazon Kindle Paperwhite is a great device for reading ebooks, but accomplishing just about any other task can be a bit tricky since there are essentially no buttons, just a touchscreen. For example, to take a screenshot, you have to swipe in from two opposite edges of the screen simultaneously and at least 20% of the time it ALSO processes the gesture as a tap too. But as an e-reader, it's terrific, with its big, bright screen and endless battery life.
To accomplish this task, you're going to have to delve into the Kindle OS itself and learn about how its user interface might not be the best for when you're not reading a book or PDF. No worries, I'll step you through the process so you don't get lost. To start, wake up your Kindle Paperwhite and get to the main or home screen. Reading a book? Tap on the very top of your screen, then on the little home icon.
KINDLE PAPERWHITE MAIN SCREEN
Your main screen will look similar to this: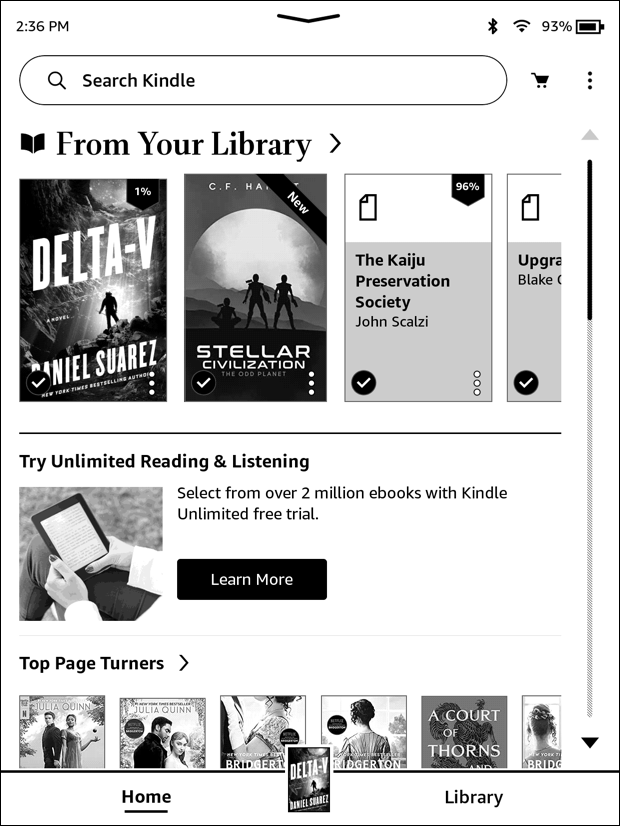 You can see I have a preference for sci-fi, from Daniel Suarez to C.F. Harret and John Scalzi! To figure out available space, however, the spot to tap is the "•••" stack on the top right. A tap and it brings up a menu of options: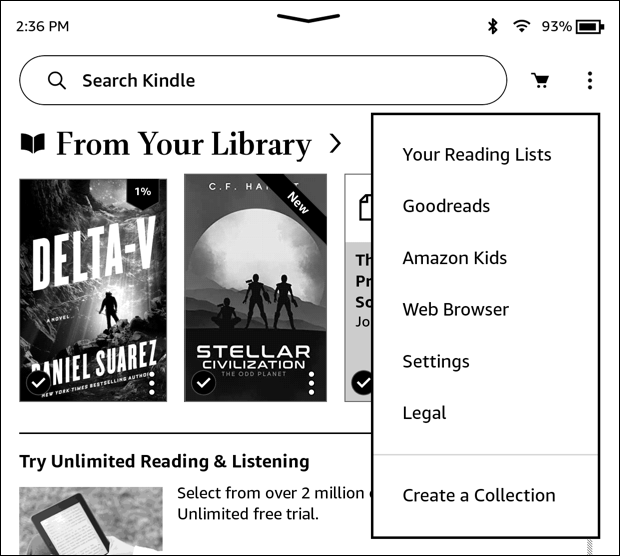 Some interesting categories of information to check out – I'm also a big fan of Goodreads! – but let's stay on task. Tap on "Settings".
KINDLE SETTINGS AND CUSTOMIZATION
The Settings screen is neatly organized into categories: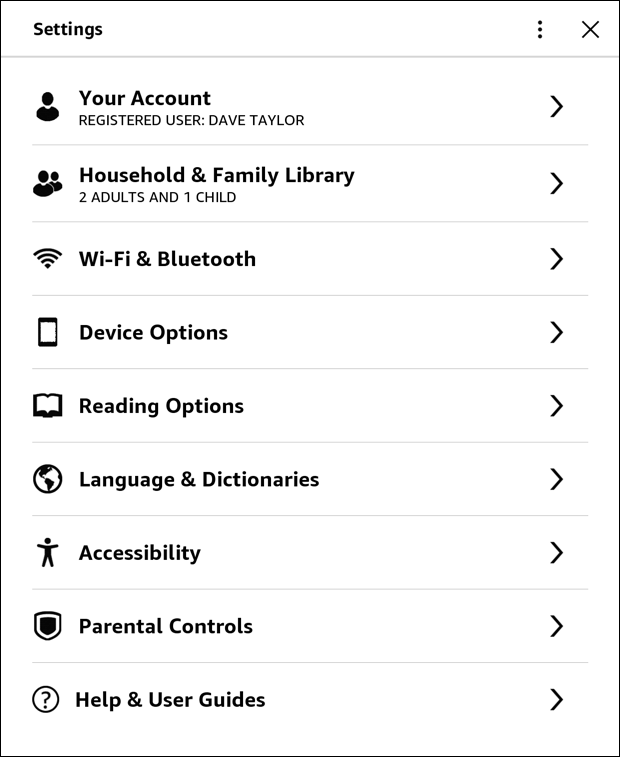 Here's what'll surprise you: None of those categories leads to the information you seek!
Instead, tap on the "•••" (vertically stacked) button that appears along the top, as if it's the same button we just tapped. It's not and the menu that appears this time is entirely different: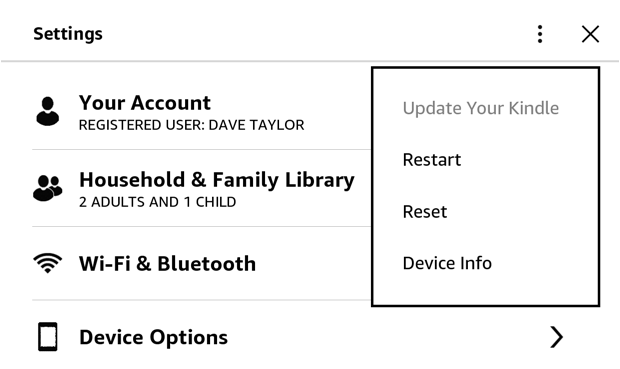 There's the feature we seek! "Device info". Tap on it, the last option in the menu, and it'll show you everything you'd ever want to know about your Kindle Paperwhite: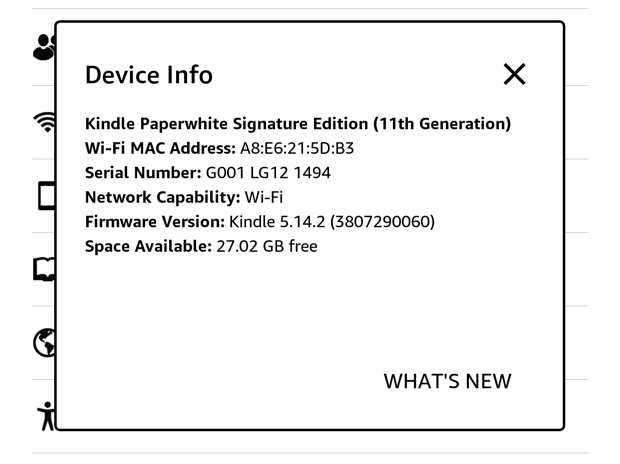 Now we can see the details of my own Paperwhite: It's the "Kindle Paperwhite Signature Edition (11th Generation)", running Kindle OS 5.14.2 (with some version info in parens that you can safely ignore). Most importantly, the last line details: "Space Available: 27.02 GB free".
That's a lotta space, and that's with a half-dozen books loaded up on my device. I do have a tendency to delete books once I've read them, which keeps my storage pretty empty, but the big storage hog on a Kindle Paperwhite is going to be audiobooks if you have any downloaded from Audible. Not a worry, but I do recommend you consider deleting them once you've finished listening!
Now that you've figured out your own available space, feel free to back up and explore some of the many settings, preferences, and customizations available for your Kindle!
Pro Tip: I've had Kindle devices for many years and have written quite a few Amazon Kindle Help tutorials here on my site. Please take a few minutes to check it all out!