Is there a way to export and save all of my hundreds of contacts on LinkedIn, with as much information on each person as possible? Thanks for the help!
Like so many social media sites and social networks, LinkedIn is all about collecting data. Lots of data. Billions of data points. In fact, the most recent stats are that LinkedIn has over 575+ million users, with more than 260 million monthly active users. If each person has 40-50 data points, that's 28.7 billion data points. And a big part of it is you and me. What have you entered on the site? Work history? Skills? Employment details? Contact information including phone numbers and email addresses? Not to mention your circle of friends and acquaintances and those posts you make once in a while.
LinkedIn also has a symmetric friend model: If you connect with someone and gain their publicly facing information, they also gain yours. Now none of this is bad, it's just part of the reality of working with any of these sites, and I certainly have a lot of information on these various sites. But it does mean that there's a surprisingly amount of information you can glean about all of your LinkedIn contacts, and it's just a few keystrokes away.
Start by logging in to the site in your Web browser, then heading over to Settings & Privacy (tip: it's on the main navigational menu just below your portrait photo in the top right). You'll see this: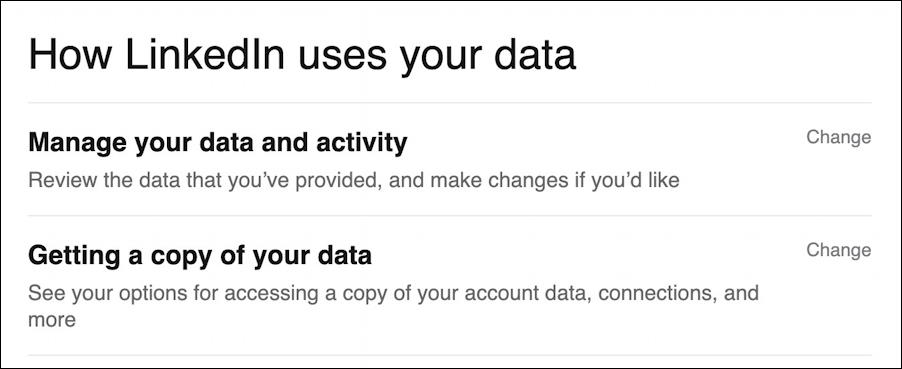 Click on "Getting a copy of your data" and it'll expand to offer a variety of choices regarding exactly what data you want. You can get everything related to your account, if you're curious or so inclined!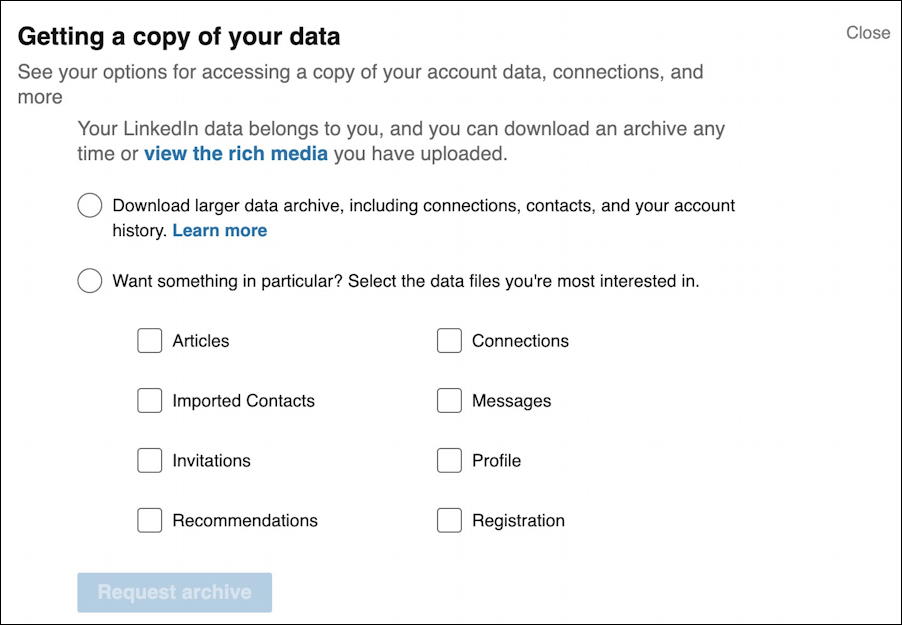 In this instance you seek a directory of your contacts, so choose "Connections" from the lower list. It'll be smaller and easier to work with. The format, as you'll see, is a CSV or "comma separated list". Spreadsheets know how to deal with this format, so you'll end up using Excel, Numbers, or Google Sheets or a similar program. But we get ahead of ourselves!
Once you've made your selection, you'll see "Request archive":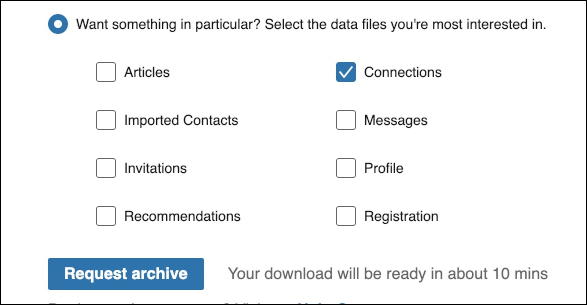 Click on "Request archive" and LinkedIn will as you to verify your account password since any archival information is pretty critical and not something you want someone else requesting without your permission: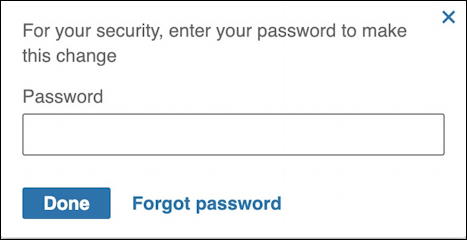 Verify by entering your account password again and LinkedIn will start building up the dataset you requested. Why it takes ten minutes I cannot explain, but that's not toooo long, right? You'll get an email too:

About 15 minutes later (not 10!) this email arrived in my inbox: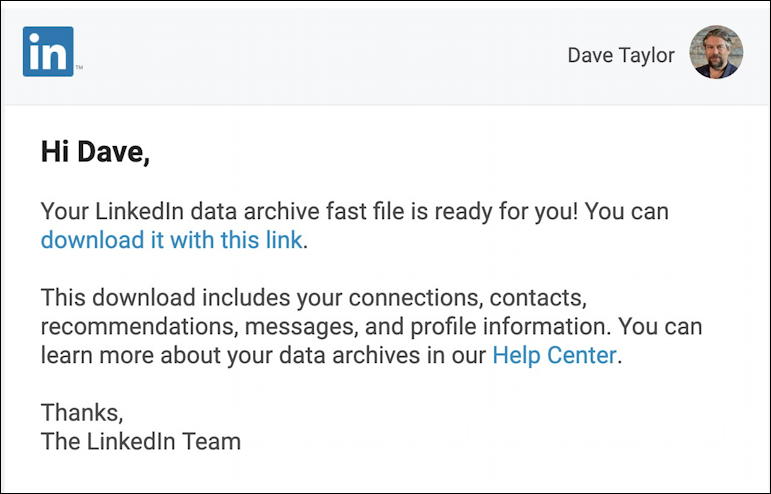 Click on the download link and you'll get a ZIP file on your computer. Double-click that and whether you're on a Mac or Windows computer, you'll see a ".csv" file. Mine was named Connections.csv. I then double-clicked that and it was opened in Apple Numbers, the Mac spreadsheet app: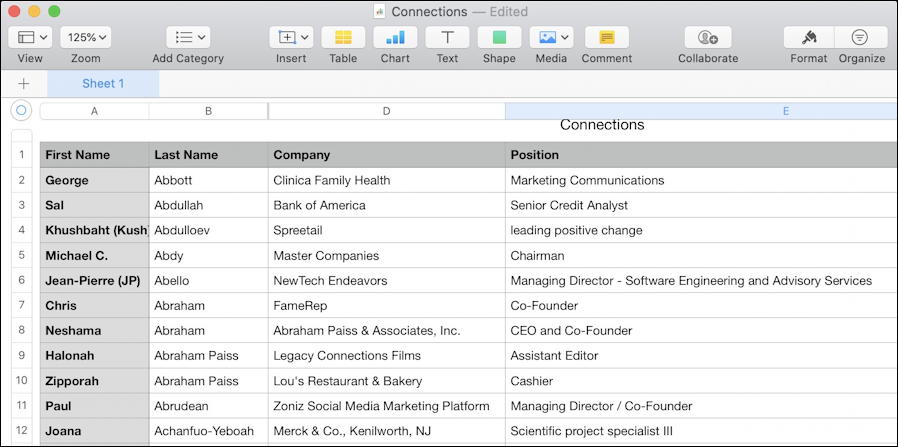 There are dozens upon dozens of fields, all showing up as columns, but you can see above that even just first + last + company + Position is darn interesting, and this is just a tiny fraction of the thousands of connections I have. And that's how it's done. Good luck, and don't forget to go through and check your own data privacy settings.
Pro Tip: I've been writing about LinkedIn for years. Please check out all my LinkedIn help articles while you're here!