Apparently, the latest version of Zoom now has gesture recognition. Cool! How can I use it in my next Zoom class meeting?
As of Zoom 5.10.3 – April 20, 2022 – the Zoom desktop app for Mac and Windows includes gesture control. If you've been using Zoom from an iPad or smartphone, however, you might be confused as they have supported gesture control for quite a while now. It just took a while for the code to migrate to the desktop. What's a bit of a surprise is that while the feature is now on the popular desktop app, by default it's disabled, so you can gesticulate wildly all you want and your program's going to sit, mute, while everyone else on the call is going to wonder what the heck is up with you!
I should also hasten to state that there are exactly two gestures it can recognize and react to; a thumbs-up gesture and raising your hand. Both of these are mirrored in Zoom "reactions" of the same names, but still, fun, right? To get you gesturing the right way let's enable the feature, then I'll demonstrate how both work because they're implemented differently in the program.
HOW TO ENABLE ZOOM GESTURE RECOGNITION
Launch Zoom. You don't have to jump into a meeting or be invited, just start up the desktop program. Now go into "Settings" or "Preferences", go to the General tab, then scroll down and look for "Reactions". It'll likely look just like this:
Notice you can choose your skin tone for the thumbs up gesture – which I appreciate! – but more importantly, notice the new setting "Activate the following emojis based on hand gesture recognition: 👍🏽✋🏽". Click the checkbox to enable the feature.
Done. Ready to go. Now either wait until your next Zoom meeting or just click on "New Meeting" to test things out…
HOW TO USE THE THUMBS UP HAND GESTURE IN ZOOM
The thumbs-up gesture is easier to demonstrate, but before I do so, it's worth acknowledging that you don't really need any of this, you can just click on "Reactions" and your specific reaction from the tiny pop-up menu:
But that's so late-2021, right? In your meeting, you'll be looking at yourself with a row of icons along the bottom, the Zoom toolbar: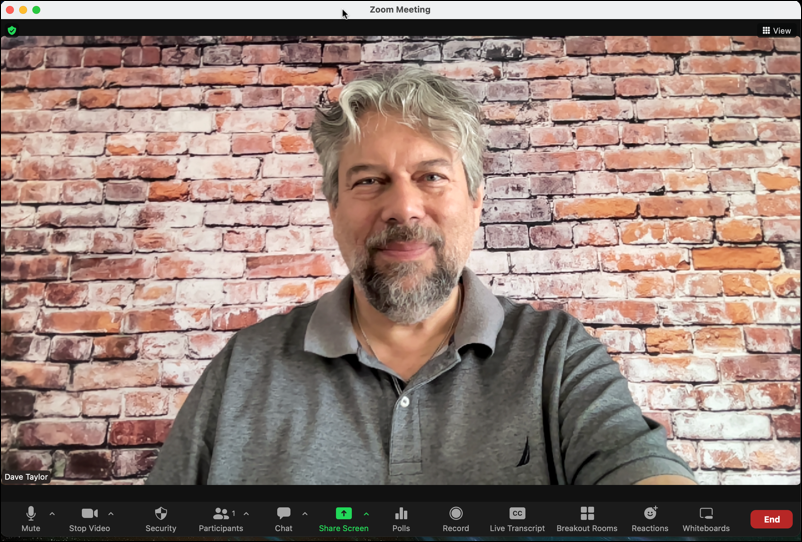 Since I've enabled hand gestures, here's what happens when I hold up my hand in a thumbs-up gesture on screen: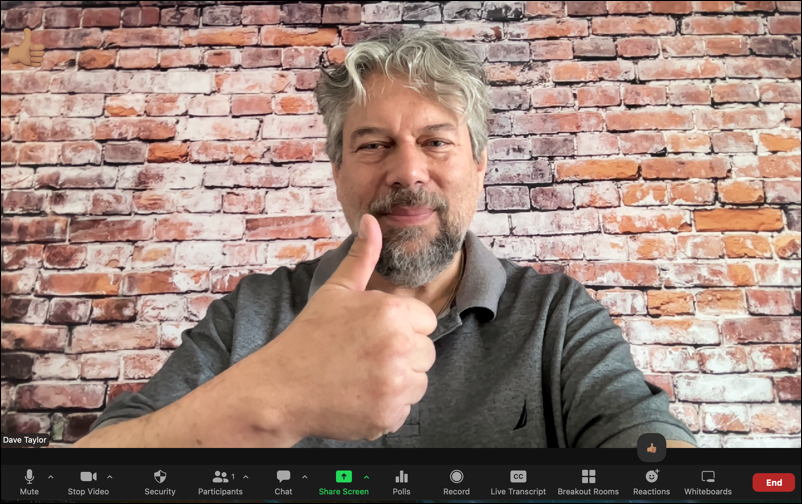 Notice on the top left a thumbs up gesture has appeared (it's hard to see against the brick wall) and on the lower right, a tiny thumbs up has appeared above the Reactions icon. That's it. Easy enough. Like the clicked reaction, this will vanish after a few seconds.
RAISE HAND GESTURE IN ZOOM DESKTOP
The hand raising gesture is a bit more complicated because it requires you to make the gesture (that is, raise your hand on camera) and then hold it for a few seconds to confirm that's what you really want.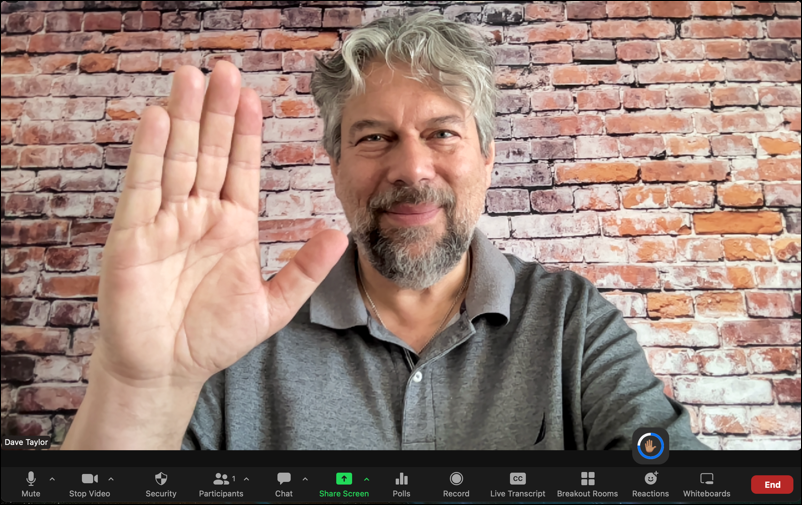 Look closely at the bottom: There's a raised hand reaction, but there's a circle around it. Let's "zoom" in: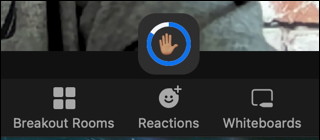 In practice, once you raise your hand the circle appears; keep your hand raised and it'll gradually fill in. Once it's filled in (I'd estimate about ten seconds) then the Raised Hand reaction is enabled. You'll get a raised hand icon on the top left and along the bottom, the raised hand with circle is replaced by the following:

Changed your mind, or you've been called on and answered? Click on "Lower Hand" to let someone else have a chance.
That's it. It's a really fun idea and certainly, a raised hand and thumbs up are probably two of the most common reactions in Zoom, so they're a good start. But I'm curious to see where they go with it! How would you convey the heart as a hand gesture? How about the party noisemaker? We'll see what's added over the next few updates, for sure. Meanwhile, have fun!
Helpful Tip: I've been writing about how to get things done online forever. Please check out my extensive Zoom help area while you're here! I promise it'll help make you more productive with this useful tool.