Just got a new Android phone and feel a bit daft: I keep saying "Hey Google" and nothing happens. How can I enable the Google voice assistant, particularly the always listening feature? Thanks!
We've all been trained by Amazon Echo devices, Google Home devices and even the Apple HomePods that devices are listening for our requests. We don't have to type or push buttons on a remote control, we can just speak our desires and they'll happen. Kind of like the jinn from old Persian fairy tales, though perhaps without the hidden gotcha of a trickster trying to get the better of you. At least, I hope that's not the case with my Alexa devices!
It's a logical extension from that to have our phones listening all the time, though it's interesting how not too long ago people were paranoid that their phones were listening all the time to their conversations. They'd talk about something obscure or unusual and suddenly ads for that item would show up while they were on Facebook or browsing the Web. We go from being afraid of a technology to ignoring the potential privacy problems in favor of the convenience.
I know, I know, the processing for the wake word is on device and they don't share audio not associated with their wake word and subsequent requests, but… do you really trust these companies that it's working exactly as they state? I do, I guess, since I have these listening devices all over my home and office!
Back to the Android phone. When you set up your phone you were probably prompted to enable Google Assistant and have it listen for the wake phrase – Hey Google! – but like many people, you might have just blindly opted out of everything just to get through the process faster. Understandable!
Fortunately, fixing it is easy. Go into the Settings app on your Android phone or tablet, then type 'hey google' into the search box at the top:
There are three matches, but you'll want to jump straight to Say "Hey Google" to proceed.
The resultant screen shows what you need to enable:
You can enable "Continued Conversation" here if you'd like where you can have a chat with Google without having to preface every single line with 'hey google'. I generally don't enable that, but you can give it a try and see if you like it.
To get everything set up, however, tap on "Say Hey Google" so you can set up Voice Match. Yes, your phone can not only listen for your wake phrase, but it can differentiate voices. That's either really cool or a bit alarming. 🙂
The key item you want to enable on this screen is right in the middle: "Hey Google". Tap the switch icon to enable the Assistant wake phrase: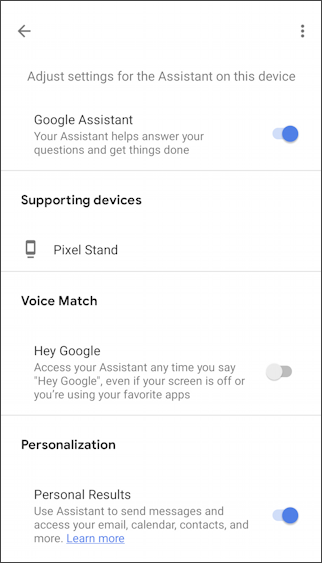 Android will now want to take you through the personalization process so it can "learn" your voice. If you've done it before, the steps are abbreviated, but either way, your next screen will be this: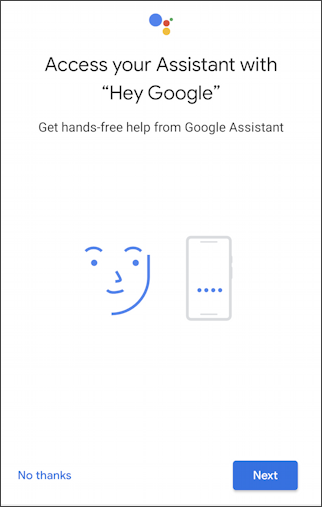 What a cheery icon! Let's do it! Tap on "Next" and you'll be asked about terms and privacy: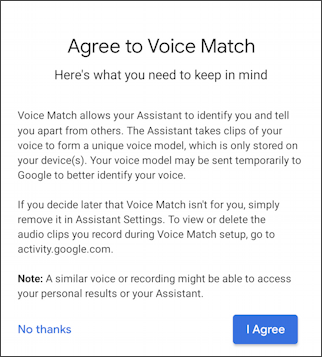 You good with that? Great. Tap on "I Agree" and you will either be prompted to say a few phrases or just jump straight to the configured screen. Since I've trained Google a long time ago for my voice, my Android device pops straight to…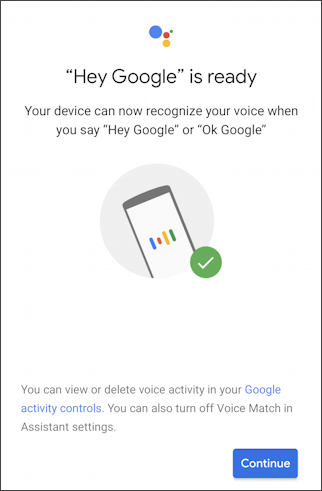 We are ready to go! Now I'll test it by going to my home screen, then saying "Hey Google". It then subtly shows a rainbow along the bottom to indicate it's listening (the rainbow is the colors of the Google logo, I'm pretty sure):
You can see it's prompting me to say "Make a phone call" but instead, I'm going to ask "what's the weather in Austin, Texas?" to which it promptly interprets my request and displays a weather forecast for one of the best little towns in the sprawling state of Texas:
Notice the blue "Unlock more Assistant Features" button too! If you enjoy interacting with your Google Assistant, definitely tap on that to enable more capabilities and sophistication.
And that's it. You just enabled "Hey Google" and are good to go. Well done.
Pro Tip: I've been writing about Android since the early days. Please do check out my extensive Android help while you're visiting the site. Thanks!