I'm having some work done on my home and am stuck in a hotel. I noticed that it has a Netflix feature on the TV, which is great. Since it logs me out every time I turn off the TV, however, I don't want to enter my complex password with a TV remote. Is there an alternative login option I can use?
I'm certainly not spending as much time in hotels as I was 18 months ago, but it is great to see that hotel television sets are starting to be redesigned to include guest-friendly media features. Most seem to make an external HDMI plug easier to access and choose, and one of the latest places I stayed had a built-in Chromecast for all of its TV sets. Your timing is great because as you emailed me, I am actually in a Marriott hotel where they have the latest generation of LG hotel TV that includes the Netflix app and a Netflix button on the remote both. Very convenient.
The problem is that if you're like me, you have a very complicated password (which is a good idea!) and it's going to be a nightmare to enter via a TV remote. But Netflix is one step ahead and offers a really easy way to log in that revolves around using QR codes and the Web browser on your mobile device. To get it to work, you'll want to log in to Netflix on your smartphone, then here's how the process goes…
HOW TO QUICKLY LOG IN TO NETFLIX ON A HOTEL TV
On a hotel TV that has built-in Netflix, you'll find it's easy to switch and hard to ignore. On the TV remote here at the Marriott, it's not only its own button but highlighted on the remote too. A press and this is what shows up on the television screen: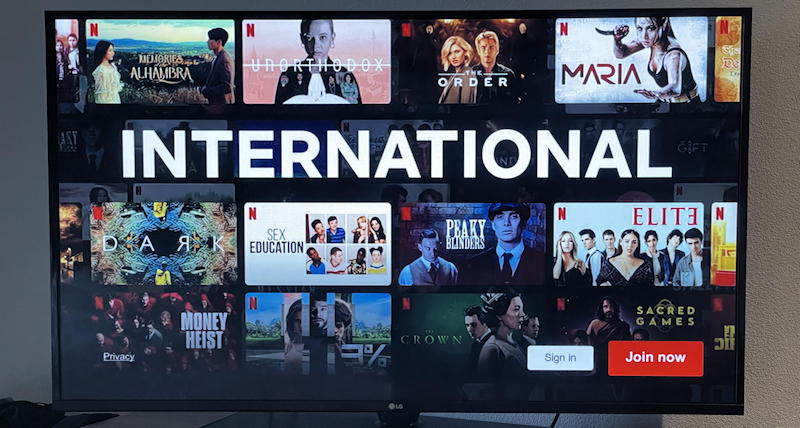 If you don't have an account, you can sign up with the big, red "Join now" button. Sign up on the hotel TV and you can then log in on your computer and mobile device – and then at home if you have a smartTV, Roku, AppleTV, or similar. But since you already have a Netflix account, you'll want to choose "Sign in"…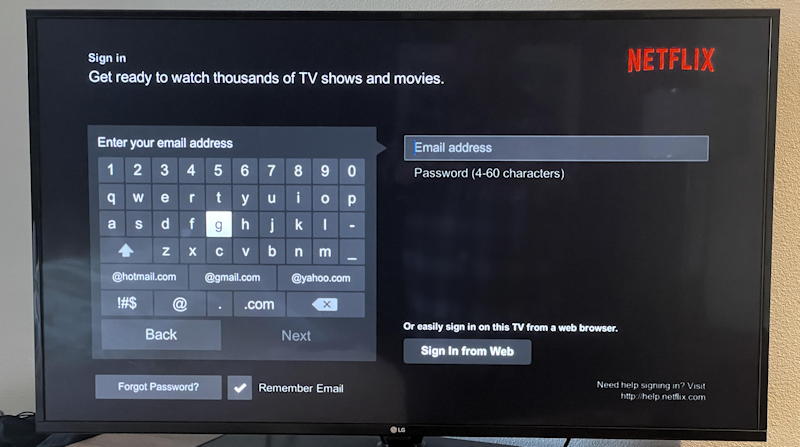 Yes, you can struggle with entering your email address and password (which can take a few minutes of very careful data entry) or save your sanity by choosing "Sign in from Web".
That switches to a screen with a big QR code and a unique 8-digit number: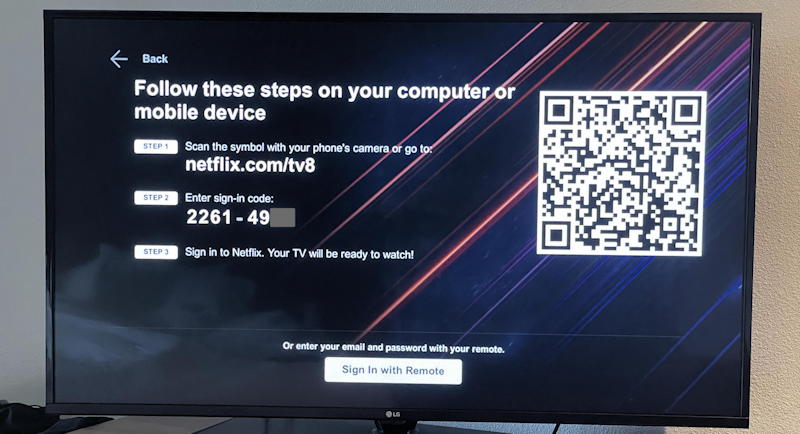 Now it's time to switch to your mobile device…
COMPLETE YOUR NETFLIX LOGIN WITH A SMARTPHONE
You can go to the URL shown – netflix.com/tv8 [or whatever you see displayed] – or just point your camera at the QR code on the TV screen. For most modern phones, it'll pop up a window that you can tap on to jump straight to the correct login web page: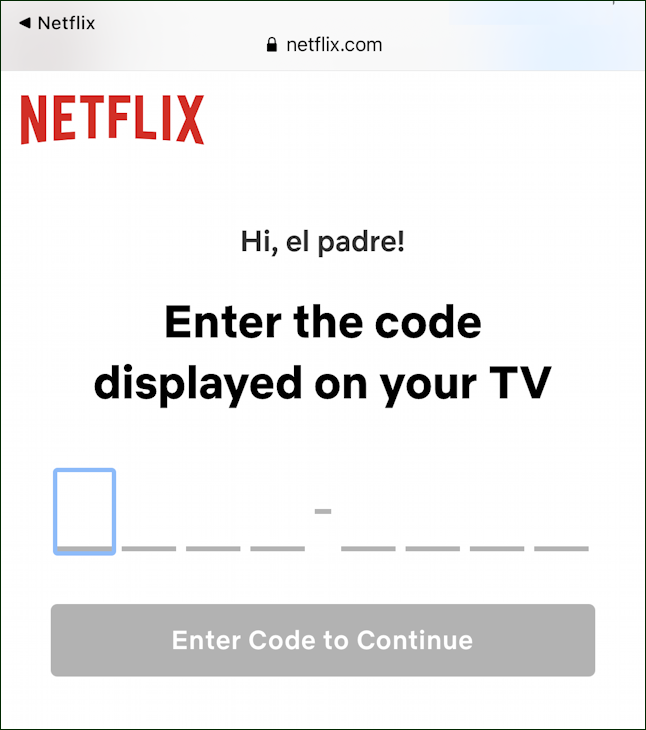 See that "el padre"? That's my account profile name on Netflix, a subtle indicator that my mobile device is already logged in to Netflix.
Now it's easy: Just enter the 8-digit number code…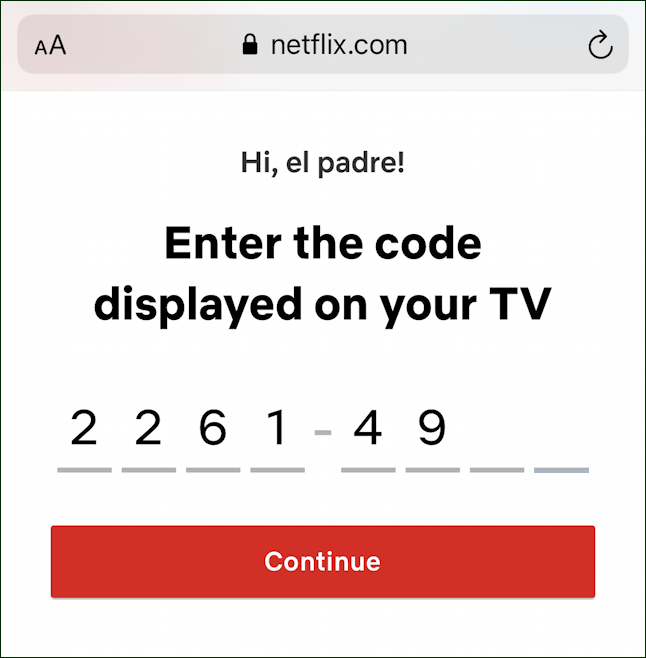 Ready? Tap on "Continue" and if you did it all correctly, you'll see this appear on your mobile: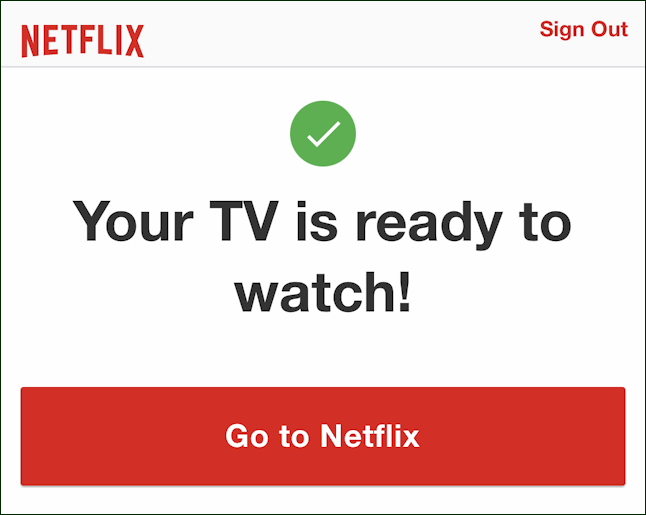 After just a moment or two, the main TV display itself will switch from the login screen with the QR code to you being logged in and ready to watch Netflix in your account:
While most hotel TV systems seem to be set up to log you out automatically once you turn off the TV, if you check and find out that you are still logged in it's easy to log out of Netflix explicitly by going to the left side icons and looking for "Exit Netflix" on the lower left: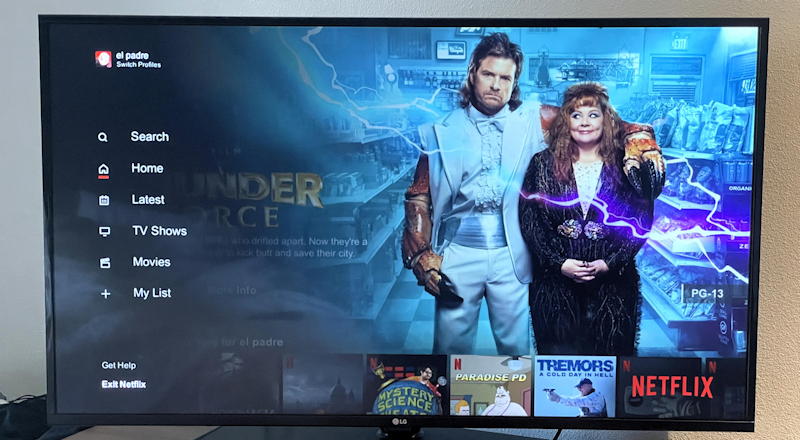 Choose that and you're ready to depart your hotel, knowing that no one else is going to be accessing your account.
Pro Tip: I've written quite a bit about how to work with Netflix and make it work for you. Please check out my Netflix help area for more useful guides so you too can enjoy this popular streaming service.