I went to Bing.com this morning and it showed a big input box and suggested I start doing long, multi-sentence searches. I guess this is part of the AI interface? I just want to do basic searches, but do they still work??
The zeal every tech company is showing nowadays about incorporating AI into its product or service is impressive but can be a bit overwhelming too. Not every single application needs to be "powered by GPT4" or require a dialog with the user to ascertain something fairly basic. Having it as an option, however, makes sense in many cases (like being able to ask Microsoft Word to "fix any spelling and grammatical errors"), but as an option, not as a whole new interface that obsolete the old methods of interaction.
Bing appears to be a bit enthusiastic in this regard too, pushing out Bing's AI as a new button and side window in every copy of Microsoft Edge. You can't disable it, but at least it's just a button unless you actually utilize it. Go to Bing.com, however, and you're right, the home screen is a bit confusing, especially since it's likely in a browser window that includes your shortcuts, the latest news, etc. Fortunately, you can indeed still do those simple searches…
BING SEARCH STILL WORKS
When I go to Bing in my own Microsoft Edge browser, here's what I see: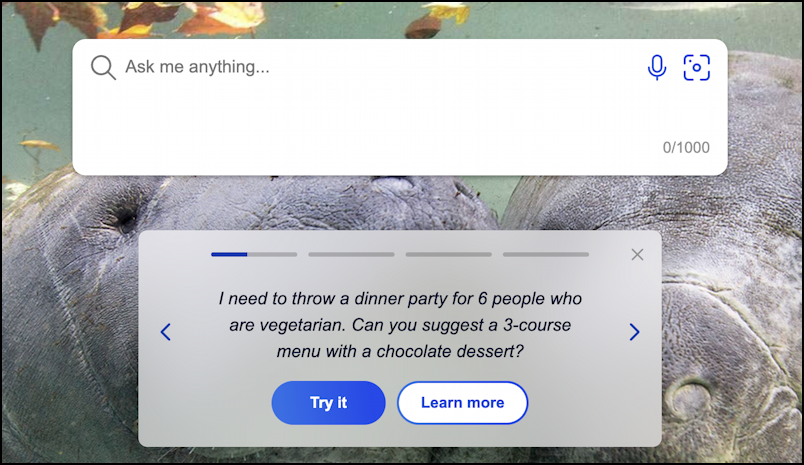 You're right that the search prompt is a lot bigger now (it used to be a single line) and with the grey "dinner party" prompt below, it does suggest that AI has taken over Bing. It hasn't, however, and you can just type in your usual search query. For example, you can still convert currency directly:
Note that it even pops up suggested search completions as it's always done. When I submit the search, I get a screen full of information including access to a built-in currency conversion tool: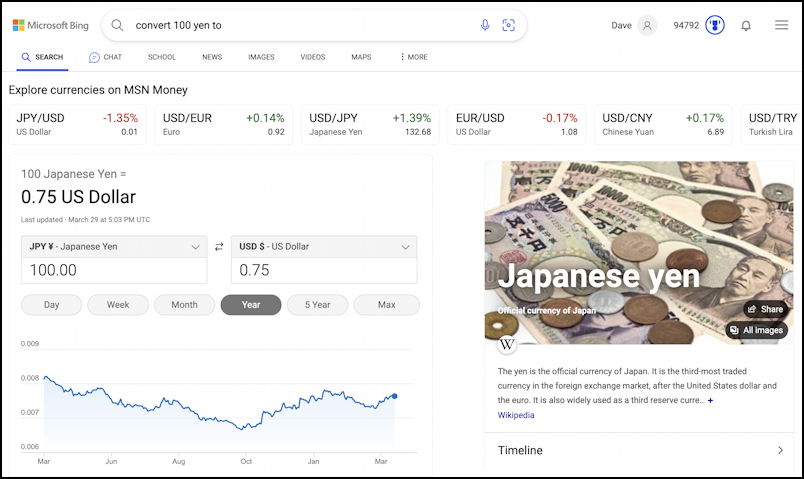 That's a lot of information from a simple query, including a historical trend of the Yen's value, a photo of Japanese currency, and more.
LONG-FORM QUERIES DIRECTLY IN BING
But what if you did submit a longer, more complex query? Turns out that Bing is still, well, Bing, so it's going to interpret it as a longer search, not as an AI prompt. Here's what I'll try:

The answer is interesting, because it's presented as a narrative response but is actually excerpted from a Web site, not something dynamically created in response to my query: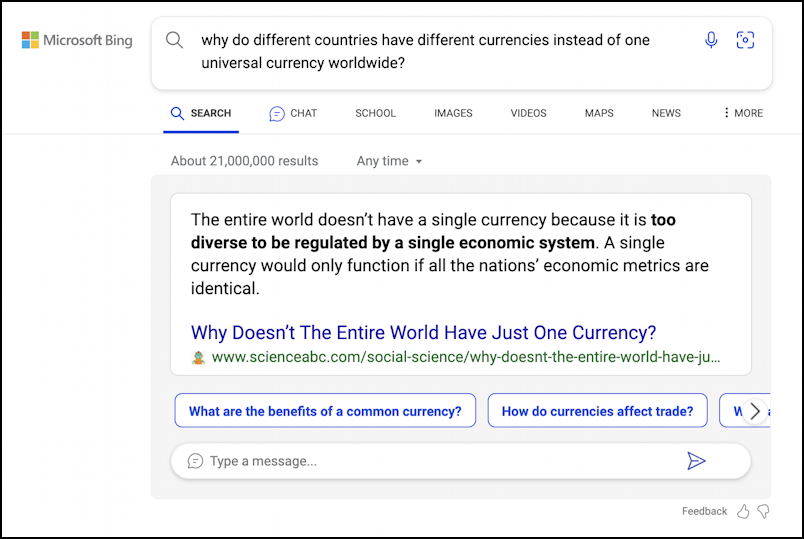 A fair response, actually, but now I'm curious as to how Bing AI will respond.
BING AI ANSWERS A COMPLEX QUERY
To do that, I'll simply click on the "b" on the top right of the Microsoft Edge toolbar to open up the AI chat window and type in that same query: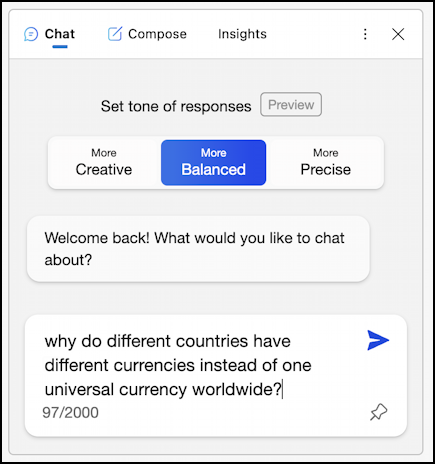 Notice that it's not "what is your search query" but "what would you like to chat about?"
Once I submit this query, it starts to consider different ways to collect data to ascertain a possible response, then begins its answer: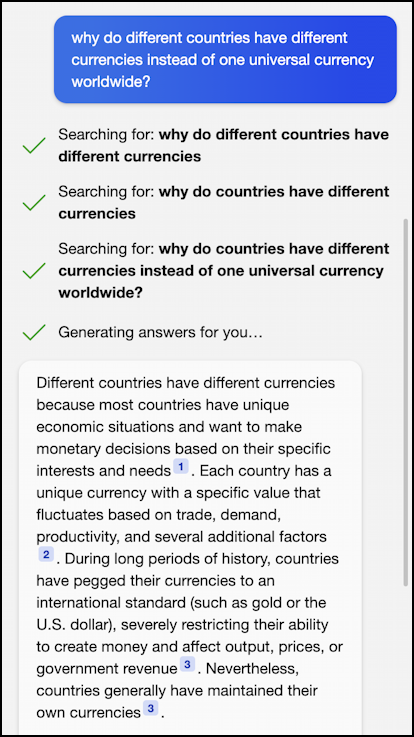 Bing actually does a good job of showing its sources and making it a bit more clear how it's building up its response. It even has footnotes, though they aren't as useful as a college student might hope: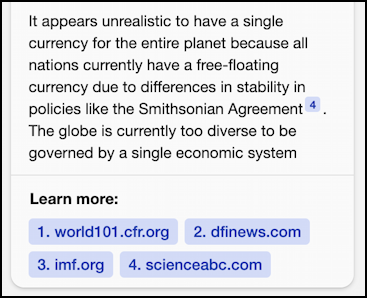 Still, not only a good response, but one that's clearly quite different from the Bing search response shown earlier. Now, what about other AI tools, how do they respond to this same query?
GLOBAL CURRENCY VERSUS AI TOOLS
First up is the Google AI system, known as Bard. You can find it at bard.google.com and it does a solid job with this query: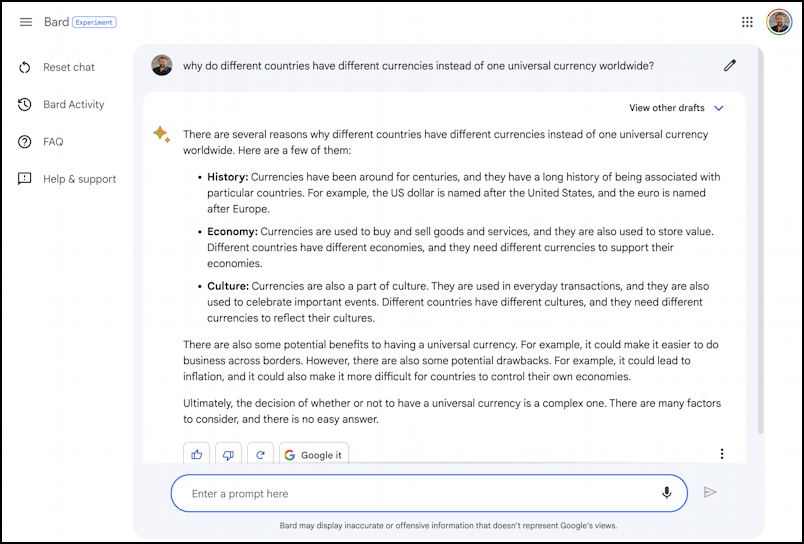 Notice, however, that there's no information about how it analyzed the query and arrived at its response.
How about ChatGPT, the tool that really started this AI explosion?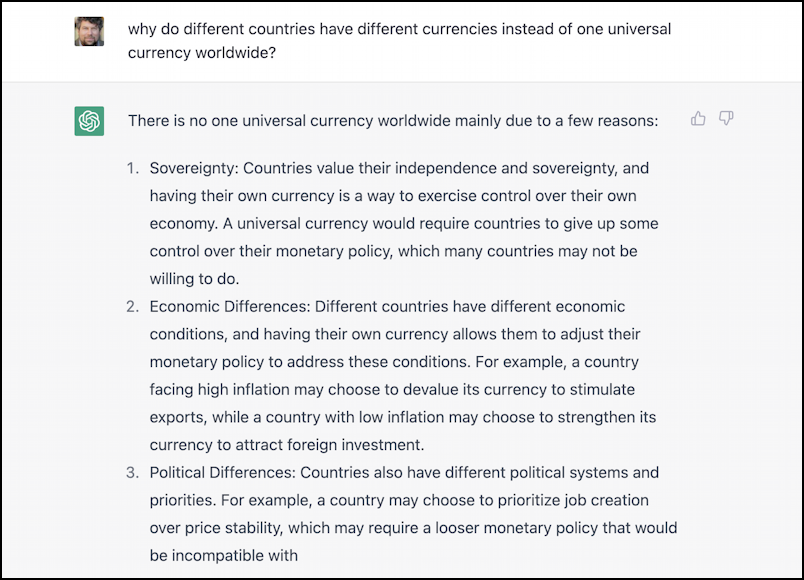 Also a good response, but surprisingly different. In fact, it's interesting just how different all three of the AI systems have responded to the same query. Is one more accurate than the others? Do any of them have basic mistakes or logic issues with their responses? What do you think?
Meanwhile, you can safely carry on using Bing as you always have, even if the search page has changed just a little bit…
Pro Tip: I've been using and writing about Microsoft's Office Suite for many years. Please check out my Outlook help library for plenty of useful tutorials, as well as additional Office 365 help pages! Thanks.