I want to include a QR Code on the print material for my company's products and am wondering, what's the easiest way to create those strange little black scan codes? Is there maybe a Mac app to do the job?
Quick Response Codes – QR codes – have been around for a surprisingly long time and have drifted in and out of vogue. What most people don't realize is that your mobile device probably has a QR scan feature built-in to the camera, however, so all you need to do is launch your camera app, point at a QR code, and it'll scan it and pop up a little window that lets you jump to the target destination with the tap of a finger. No actual photo is even needed. Even with that, though, there is undoubtedly a percentage of people who will never quite grok the concept, which is fine: not every solution has to encompass every single user, right?
While Google resisted including QR code scanning in the Android camera app for a long time, these grids of tiny black and white dots are clearly gaining popularity within the company because not only does the latest Android camera scan codes, but there's a stealth QR code generator now built into Google Chrome!
Let's have a look…
HOW TO GENERATE A QR CODE IN GOOGLE CHROME
As always, start by making sure that you've upgraded to the very latest version of Chrome, as needed. As I write this, the latest version is 88.0. You can tell by opening a tab and going to "about:". Try it.
Now, hop over to the page for which you want to generate the scan code. I'll create a QR code for one of my more recent YouTube product reviews, of the Fauna designer glasses with hidden speakers and microphone: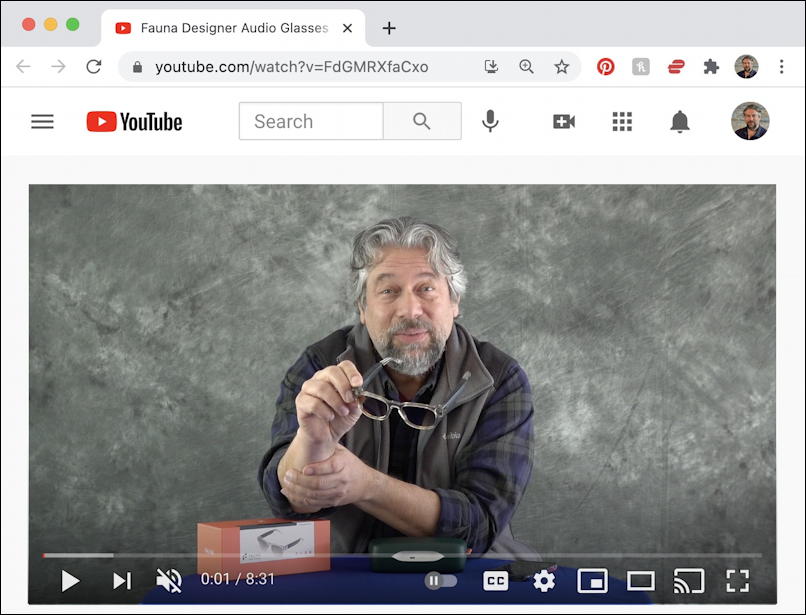 Look closely at the address box. You can see the URL then three cryptic icons. The first – that looks like a tab with a tiny arrow pointing down – is a shortcut to install the YouTube app, the magnifying lens doesn't let you search on the page, confusingly, but instead lets you adjust the zoom level, and the third, the star, lets you easily bookmark the page.
But Control-click (or, on a PC, right-click) on the blank area in the address box, and a menu pops up. Close it. Because now it's revealed two new icons:

Sneaky, isn't it? The leftmost icon, that, yes, also looks like a tab with a tiny box overlaid, lets you send this particular page to another of your connected devices, notably your smartphone. But it's the second one we're interested in, as highlighted above. The four tiny boxes icon is your handy shortcut for creating a QR Code for the current page. Click on it and this immediately appears: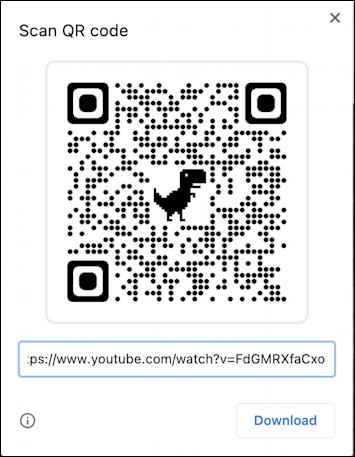 Not only is this the world's easiest way to create a QR Code for a Web page, but it even shows off "dino", the secret Google T-Rex mascot smack dab in the middle of the QR code itself.
Note: Dino first appeared as part of the offline feature set of Google Chrome in around 2010. There's actually a secret dino game hidden in your version of Chrome: Just go to chrome://dino to try it! Heck, you can get Google Dino socks and water bottles through the Google merchandise store too. 😁
Save the QR code graphic by clicking on "Download". Easy. If you're handy with a graphics editor and very careful, you can replace Dino with your own graphic too, as I've done here:
Try pointing your smartphone camera at this code to see what happens!
Now you know how to get to the QR code generator, it's surprisingly easy to generate scan codes for any Web page you'd like. I can do so for my site's home page, for example:

Again, notice that once I Control-clicked (right-clicked) on an empty space in the address box, the 'share to' and 'qr code' icons both appeared. The 'download YouTube app' icon didn't because I'm not on YouTube at this point. Really easy once you know the trick!
THIRD-PARTY QR CODE GENERATION WEB SITE
If your version of Chrome d0esn't include this feature for some reason or you don't use Chrome, no worries. There's a terrific site called QRstuff that also lets you generate QR codes, and it's tons more powerful and flexible: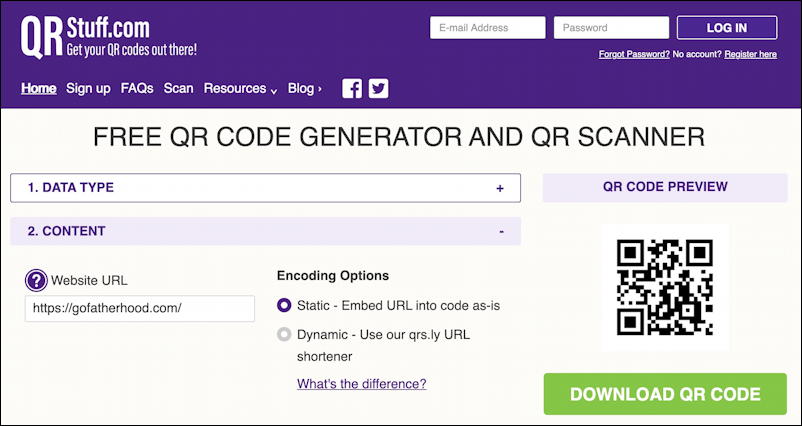 Its QR codes are denser and lack the hole in the middle you can play with, but that's a worthy tradeoff if you want to link to a phone number so scanning lets people call, a video people can directly watch, a block of text, an SMS message to sign up for a reminder service, etc. Pop over to the site and check out all the many, many things you can embed in a QR code. It's pretty darn impressive.
And that's it. Now you know how to create Web page qr codes super easily from right within Chrome or a third-party site you can use if you want to get fancier with your scan codes. Hope that helps out!
Pro Tip: I've been writing about Google Chrome since before there was a 1.0 release. True story! Please check out my Google Chrome help area for lots more tutorials and how-to guides while you're visiting. Thanks.