I want to ask my friends about their favorite version of "Little Women" on Facebook, but want to do it as a survey or poll. Except I can't figure out how to do it! Can you step me through the process?
Given that the lifeblood of all social media is interaction and engagement, you'd think that it would be easier to create surveys and polls on popular platforms like Facebook. Well, it is. And it isn't. The problem is that Facebook doesn't want to 'fess up to you that when you post something, only a small percentage of your friends and followers actually see it. If you don't post very often and if your posts don't get many likes, comments and shares, that number can be woefully small. Wonder why you don't get lots of feedback? That might be why.
And so, Facebook doesn't actually let you create polls on your regular newsfeed. It just ain't an option. Groups are a completely different story, however, whether it's a private group you've been invited to join or a public group with thousands of members. Indeed, in groups it's super easy to create a poll (as they call it) and get feedback from dozens or even hundreds of other Facebook users. Since I was curious about science fiction films, let's go through the steps I took to create a poll in a Facebook group to identify members' favorite films in this genre…
First off, as I said, here are all the post type options available to me on my personal Facebook feed status update: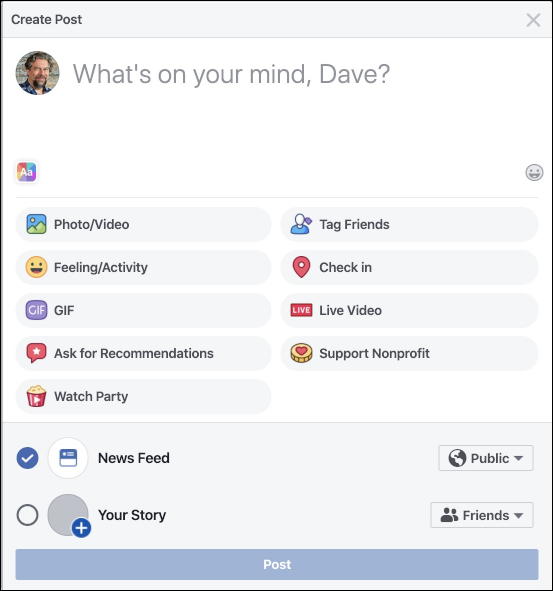 Notably missing from all those options: "Poll".
Compare that to the same status update box within the Facebook group Backlot Members / Local Groups (affiliate with Turner Classic Movies):
Definitely more fun stuff, including "Get Together" and, yes, "Poll". See it on the left side? A click and I'm ready to start composing my own: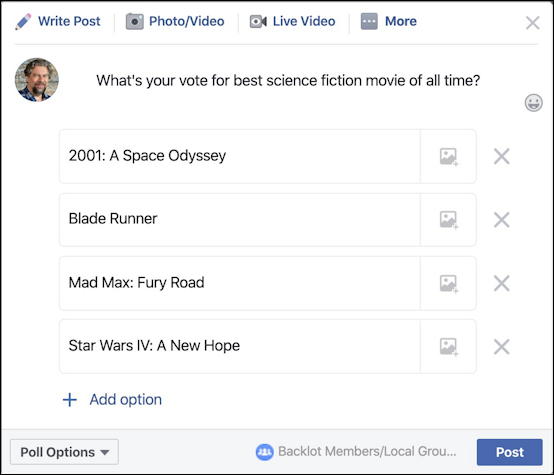 Notice that I've entered a description or question for the poll ("What's your vote for best science fiction movie of all time?") and then listed a few choices to get the conversation started. Look more closely at each entry and there's a tiny graphics icon. Turns out you can load an image for each one too, and I'll do just that to add the movie poster for that specific movie.
Quick, easy, and it's looking even better:
Now a click on "Poll Options" on the lower left to ensure that it has the correct settings:
You can disable either or both of these, but in this case, I'm going to leave it open for people to add their own favorites. It'll be interesting to see what bubbles up (and I've skipped a few classic science fiction films to help people get enthused. Shhh….).
With that, we're ready to go. A click on "Post" and it's live: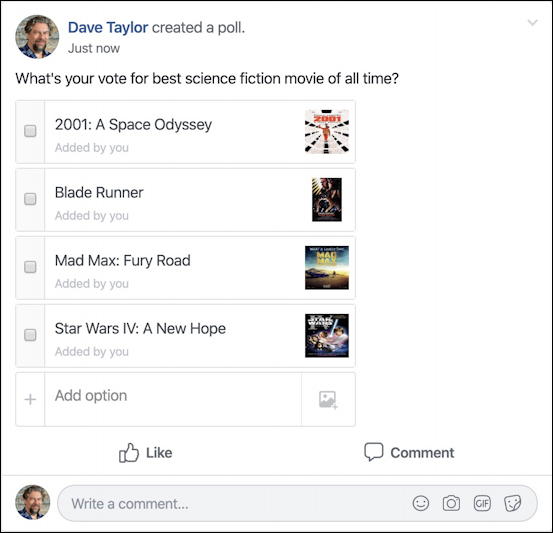 The Backlot group is busy and popular – lots of people talking about old movies – so it doesn't take long to not only have new entries in the poll, but to accrue sufficient votes to see that it's rather a surprising film that's bubbled to the top: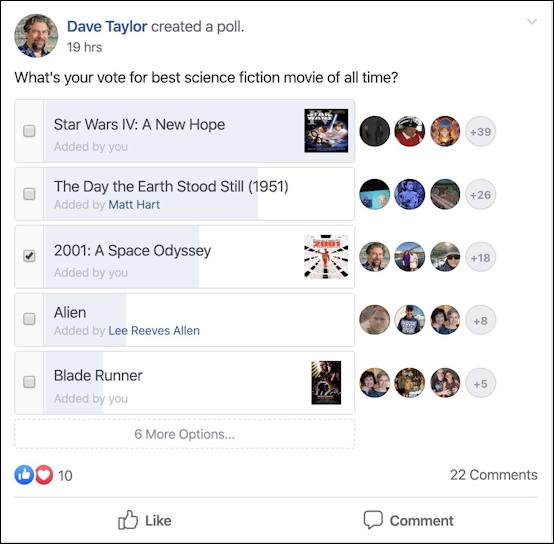 Still can't quite get over more people voting for Star Wars IV: A New Hope than the classics The Day the Earth Stood Still and 2001: A Space Odyssey but.. that's the purpose of the poll, right? Anyway, now you know and can post the very same type of poll to find which of the six (six!) cinematic versions of Little Women is everyone's favorite.
Pro Tip: I've been writing about Facebook since it first launched. Please check out my extensive Facebook help library for tons more tutorials and don't forget to follow AskDaveTaylor on Facebook too!