I want to switch from using Google Chrome to Apple Safari because of its better security model. But all my bookmarks are in Chrome. What's my easiest path to migrate from Chrome to Safari?
There are a lot of factors to consider when deciding what Web browser to use. It's more than just "how fast does it render a page?" for sure. Extensions, flexibility, reliability and, yes, security are all important considerations. At its most obvious, is your Web browser reporting what sites you visit and what you do on those sites? Are your searches being shared to your central account and showing up on other computers you use, for example? With Chrome it does just that, though arguably it's beneficial to have a portable site history. Still, the privacy implications are a bit concerning.
That's why one thing Apple's really been pushing is its privacy model for Safari user information versus the Google approach with Chrome. You can do your own homework to figure out which is best (Here's an article by Tim Chawaga exploring this very topic if you're curious) but it sounds like you've already done that which is why you want to switch from Chrome to Safari. Okay, we can do that!
There are a couple of ways to migrate your bookmarks from Google Chrome to Apple Safari, the most traditional of which is to simply go into Chrome and export them all into an archival .HTML file. Go to bookmarks in Chrome (or click here: chrome://bookmarks if you prefer). You'll see something like this: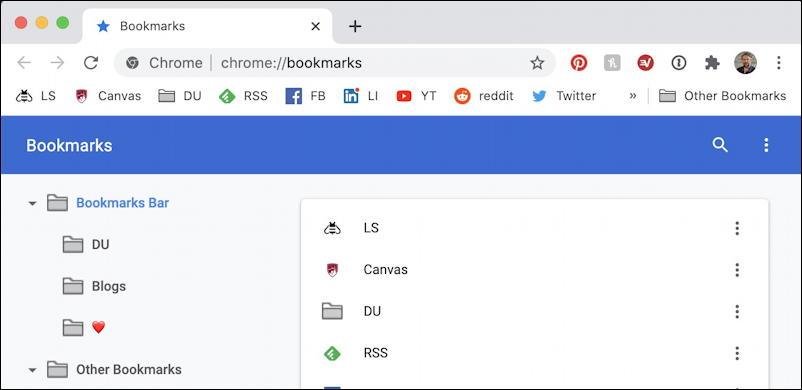 See those three vertical dots on the right side of the window? Click on them to bring up the Bookmarks menu. Here's what you'll find:
You can see the choice: Export bookmarks. Not a bad thing to have saved anyway in case you ever had a catastrophic fail with Chrome and lost all your data.
But… there's a better way.
HOW TO IMPORT CHROME BOOKMARKS INTO SAFARI
In fact, it turns out that Safari has a slick bookmark import tool built right into the program and one of the browsers its savvy about is Google Chrome!
Fire up Safari and check this out:
You can import from that bookmarks HTML file you just created, but instead choose to Import From > Google Chrome… and it'll ask you about three categories of data it can grab, not just the bookmarks themselves:
Oops, as the last line reminds us, you have to quit Chrome before you can actually complete this process. Quit Chrome, then come back. Now if you seek to import the passwords saved in Chrome, you'll also need to validate your access permission:
Why? Because otherwise this would be a sneaky way to grab all of your "secure" passwords saved in Google Chrome for anyone who knew the trick. No bueno, for sure.
Once you've imported your bookmarks and anything else you choose you can either just start using the info, or you can edit the bookmarks by going to Bookmarks > Edit Bookmarks, as shown:
Like most browsers, the bookmark editor in Safari is pretty rudimentary, but functional:
And that's it. Now you're ready to start using Safari instead of Chrome. Good luck!
Pro Tip: I've been writing about the Mac and everything Apple for years now. Heck, I started out with an original Mac 512K "fishbowl" and even helped Apple with a project years ago. Do check out my Mac Help, iPhone Help, and iPad Help while you're here. It's at least a few books worth of helpful tips and guides!