I want to be able to share iTunes music and Audible audio books with my roommate, but I don't want to log him in to my account on his computer. Is that possible? The files are in M4A and AAX format, not MP3.
Technically, the answer is "no, you can't do that." Peruse the terms of service of any of these sites that use digital rights management (known as "DRM") and you'll find that you don't actually own what you purchase, you're just buying the revocable right to listen to it. Quite a difference when compared to picking up an album, CD or an audio book that's really just a box of cassettes. In the old days, you finished something and just gave it to your friend or family, or even just resold it as used on eBay or at the local bookstore. Nowadays with digital content, it's paradoxically much harder to share content, which is great for content creators, but not so much for content consumers.
Fortunately, there are quite a few third party programs that offer the ability to convert these DRM protected audio files into unprotected MP3 audio content that you can back up, copy onto all your devices or even share with your roommate, whatever you want. You can, of course, also then post these unprotected files to a server or somewhere online, but that then tips the scales too far in the other direction and I highly discourage you from anything of that nature. A small buying circle where each of you buys one item and the three or four of you share things is reasonable. Anything larger than that? Well, not cool.
Having said that, let's have a look at a program called Apple Music Converter from UkeySoft that does just this sort of conversion from DRM protected audio files to unprotected MP3 audio. Available for the Mac or Windows platform, it's $39.95 for a lifetime license. About the price of a single audio book, actually. In fact, the program can not only can convert Apple Music to MP3, AAC, WAV, AC3, AIFF, AU, FLAC, M4A, M4R, and MKA with 100% original quality, but it also enables you to convert iTunes M4P songs, iTunes audiobooks and Audible audiobooks too. Anyway, back to that audio book…
I'm going to purchase a copy of the audio book edition of the HP Lovecraft meets Arthur Conan Doyle The Cthulhu Casebooks: Sherlock Holmes and the Shadwell Shadows from Audible.com. Seems like a solid mashup, right?
Once purchased, you can download a digital copy for your system by going to your "Library" on Audibe.com and clicking on the "Download" button, as shown:
The file that you've downloaded is in AAX format and can be played in any app that understands that particular DRM audio format. Like iTunes for Windows. On first play it'll ask you to authorize that program by entering your account information:
As you say, this is fine if it's your computer and your content, but you don't want to do this for your cousin or roommate, even if you've agreed to share the cost of the audio content in the first place. Hence the dilemma.
Once authorized, it's certainly easy to listen to the new Audible audio book:

But if you copy the file over to your friend's computer, and for this example, I'm going to use an iMac, it's not very useful: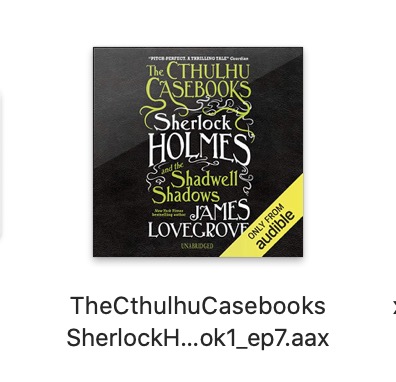 Double click on the file and the new "Books" program in MacOS X (yes, iTunes has been split into multiple programs on the latest Mac operating system release) opens the AAX data and prompts you to authorize that system with your account credentials:
Instead of logging in, let's instead use UkeySoft Apple Music Converter to turn that frown upside down. I mean, um, turn that AAX file into an MP3 file. Grab a copy, install it on your system, and fire it up:
You can see that it read all of my iTunes content and library, offering an easy way to convert any files at all, even music. But I have that audio book from when I first downloaded it, and a quick search for "cthulhu" reveals the match:
Now the information on the lower portion becomes important! By default it's going to produce a high quality stereo MP3 audio file, but not in the location I desire. Instead, I'll click on the "…" button adjacent to the "Output Folder" and choose the Desktop.
Ready to convert? Click or tap on the "Convert" button and, since this is an audio book and likely many hours in duration, go grab a cup of tea. It'll take a while…
On my relatively slow Windows 10 computer it took over an hour to convert this 10 hour audio file. Fortunately it didn't take 14 hours tho! 🙂
Once done, the result is indeed an MP3 file that can now be easily copied over to the iMac. Heck, you can start listening right in file preview, you don't even need to open it up in an audio app;
And that's the entire task. Apple Music Converter makes the job super easy, but you might want to plan for this to run while you're at the gym, watching a movie or otherwise engaged. It might take a while! Otherwise, the output's perfect and now quite ready to share as desired.
Apple Music Converter. Mac or Windows. $39.95. Learn more: Convert Apple Music to MP3.

Disclosure: UkeySoft made a license key for Apple Music Converter available for the purposes of this article. Thanks, guys!