I'm moving to a new apartment and will need to connect my Vizio TV to the new wireless network. How do I find and connect my TV to a new wi-fi network, Dave?
Remember the old days when TVs just had a plug in the back and displayed whatever content you fed it? Rabbit-ear antenna, cable coax, they had one job; show the video signal as attractively as possible. That was quite a long time ago, of course, and nowadays even the most inexpensive of televisions have built-in smarts and need to be connected to the Internet to function properly. It's no surprise that the firmware that runs your TV also evolve over time too, and one of the best reasons to ensure that your TV is connected is so it becomes better year after year. Amazing, really.
Vizio even offers some occasional surprises with its firmware updates: The latest introduced Bluetooth support for headphones and earbuds, even on televisions that didn't previously offer that feature. Roommate tired of listening to your favorite show or grandpa driving everyone nuts with his preferred volume? Now that solution is as easy as pairing an audio device and using that output for audio instead.
VIZIO NETWORK SETTINGS
The first step to reconnect your Vizio TV is to plug it in then find the original Vizio remote and push on the home or settings (gear) button. A menu will appear down the left side of the unit: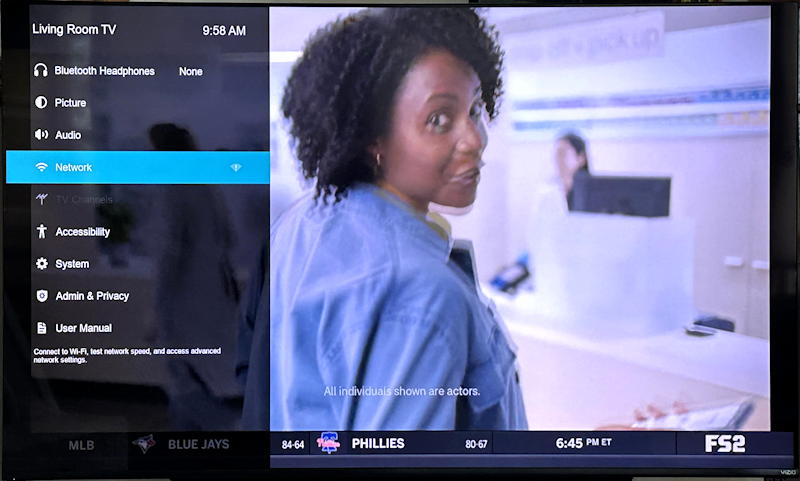 If you look closely, there's a wifi graphic on the right side of the blue bar with an exclamation mark superimposed. That means that you are not connected to the Internet currently. Choose "Network" to proceed.
The Vizio TV will now show you a list of visible Wifi access points: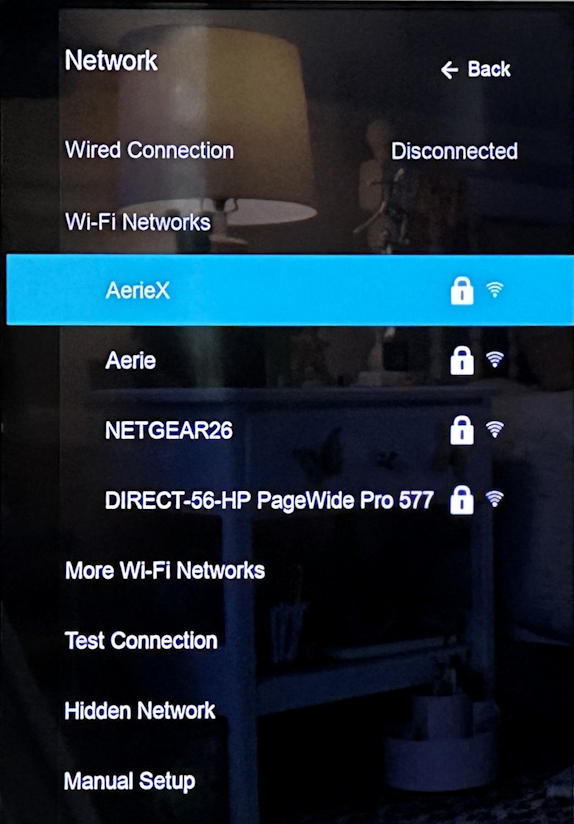 For 99% of users, the wifi network will be shown on the list (though you might have to scroll down to find your preferred network access point). If it's not showing up, try "More Wi-Fi Networks" or even revert to "Hidden Network" or "Manual Setup". I'd be surprised if you needed to choose either of those, however.
For my home, AerieX is the network designated for streaming media (yes, I have a fairly complex setup!) so that's what I'm going to choose with the Vizio remote control.
HOW TO ENTER A WIFI PASSWORD
Your wifi network should have a password – I would never leave an Internet access point open to the public at large! – so you're going to have to tediously step through the on-screen keyboard to enter the password, character by character. I'm just about done entering mine in the below image. Note also that my network uses WPA2/AES for better security: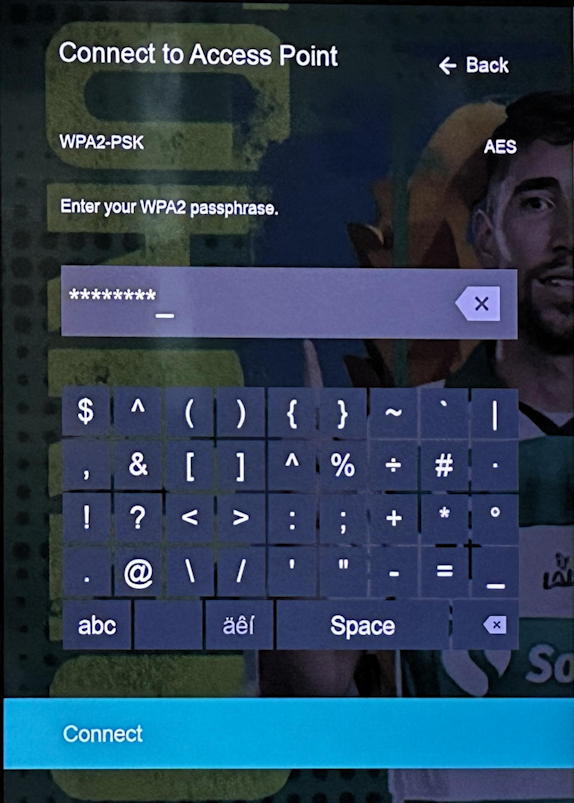 Once you've carefully entered the wifi password, choose "Connect" to see how accurately you entered it and, hopefully, connect to the Internet. It'll take a few moments to establish and test the connection, but hopefully, the next thing you'll see is…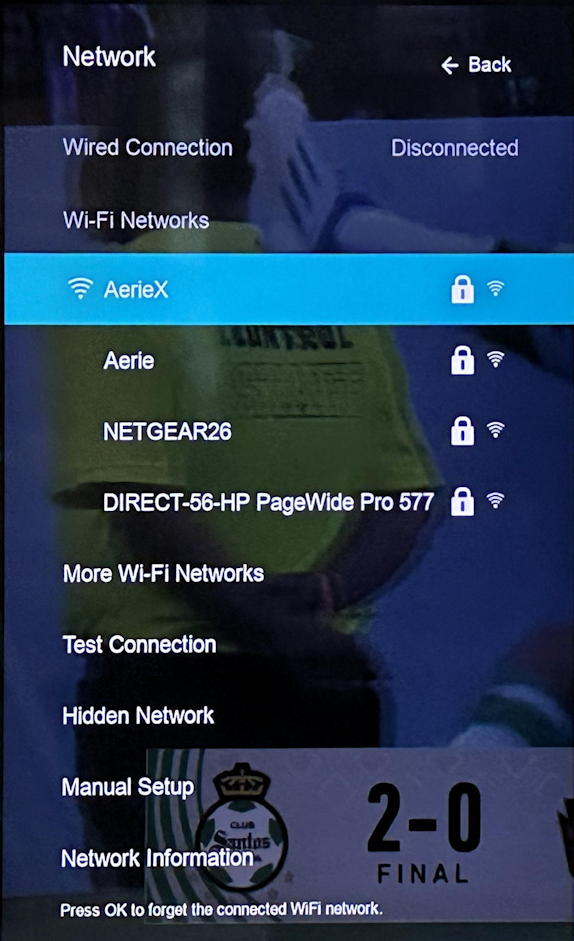 In this instance notice that there's a wifi icon to the left of AerieX, showing that it's an active and online connection for the TV. Done! But before we leave, let's check out a few more features here on the Vizio interface.
TEST AND VALIDATE WIFI CONNECTION ON VIZIO TV
The first step is to choose "Test Connection" from the menu. It's a really fast test and if everything's working, it will simply confirm all is well: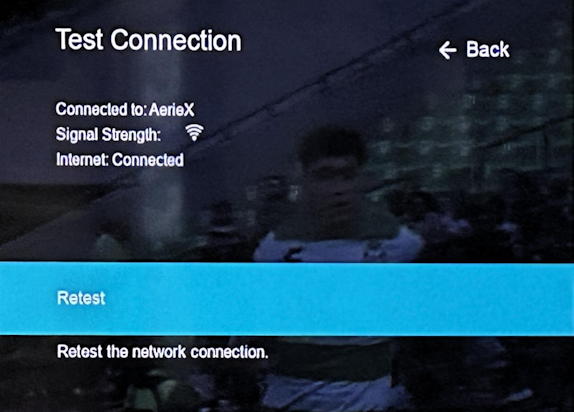 It shows signal strength by how many of the wifi graphic lines are displayed, mine is at full strength. The last line is the most important: "Internet Connected". All good. Now back up (use the "Back" button on the remote) and choose "Network Information".
Lots of technical information but if you find that you're having problems accessing online content through the SmartTV apps, using Chromecast, AirPlay, or similar, checking some of this – perhaps with a technician – can be helpful. Now you know where to find it all!
And that's it. With these steps you should be able to easily switch which wifi network you're using with a Vizio TV or connect to a brand new network, as needed. Good luck with your move!
Pro Tip: I've been writing about Vizio TVs and smartTV software since the beginning. While you're here, please check out my computer basics help area for lots more useful tutorials and how-to guides. Thanks!