Dave! I'm staying at a Hilton hotel and while I can see and connect to the "Hilton Honors" wifi network in my room, I never get the prompt to enter my room number so I can't get online. The front desk staff are useless. How can I get online?
Hotels have a rather unique situation when it comes to wireless network connectivity because they want to offer it as a service to guests but only while they're actually registered at the hotel. A single password for everyone could work, but then how do you change it every day and let every guest know the new access code? There are also third-party companies that manage – and charge $$ – for Internet access in hotels too, offering another potential revenue stream but meaning that the hotel might be completely clueless about how it all works.
The Hilton Hotel Group owns a lot of hotels and generally uses the same provider for all Internet access, a company that offers Hilton Honors members special privileges and, yes, the opportunity to pay for a higher-speed connection if the regular (free) hotel Wi-Fi isn't cutting it. Usually, you'll need to enter both your last name and room number for a 24-hour access, but if you never get that prompt, it's problematic because you'll never be granted access to the 'net!
CONNECTING TO HILTON HONORS WI-FI
I'm staying at a Hampton Inn, one of the many hotel chains owned by Hilton, and when I check for available wireless networks on my MacBook Pro, here's what I see:
As you can see, I've connected successfully to "Hilton Honors", as denoted by the blue background on the wireless icon adjacent. But… I'm not online.
TRY GOING TO HILTON.COM
The first way to try and force the prompt for last name and room number to get online with your MacOS system is to open up your browser and try going to "hilton.com". It will often force the popup. Or, sometimes…
You could sidetrack and "Launch game" to see what game's built into your Web browser, but let's stay focused!
FORGET THE HILTON HONORS NETWORK
Another possibility is that you have previously connected to a Hilton hotel with the same SSID (wireless network name) and that's confusing your Mac. Solution: You need to forget the network. Choose "Wi-Fi Settings" from the Wireless Connection menu (shown earlier), which will bring you to this spot in Settings: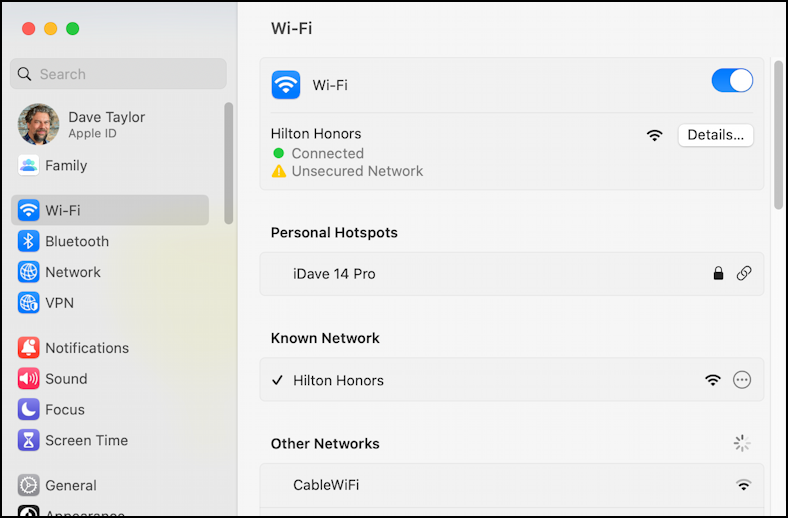 You can see that it's Connected, but that it's an Unsecured Network. Keep that in mind: On a hotel wireless network, every other computer that's connected is "in your neighborhood" as far as security settings. Turn off guest access!
For our purposes, click on "Details…" adjacent to the Hilton Honors entry. A new window appears: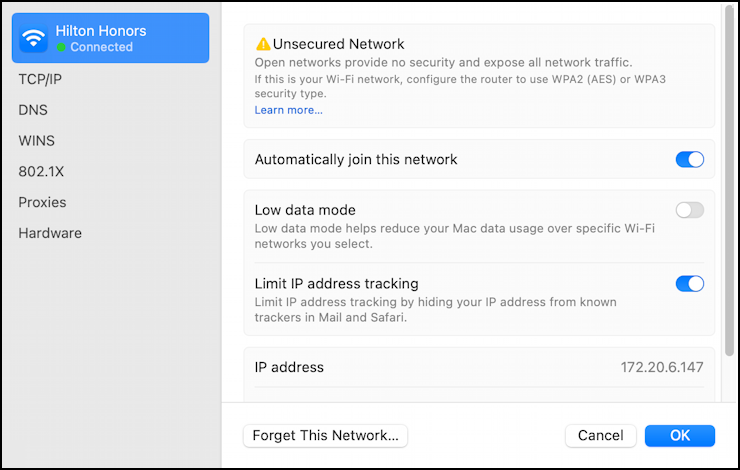 You can read through some of the settings here, and I recommend "Limit IP address tracking" and, probably, to disable "Automatically join this network", particularly once you leave the hotel.
Notice on the bottom that there's a "Forget This Network…" button. Click on it and confirm that you want to delete any password or DNS information associated with this network. You'll go offline. Now reconnect to the Hilton Honors network and see if it prompts you as desired.
Still no go? One more possibility.
FIXING BAD DNS ENTRIES ON A MAC SYSTEM
There's another possible problem that trips me up with managed access networks like the Hilton system: Incompatible DNS servers. DNS is the domain name system and it's how we can use domain names even though the Internet is actually powered by domain addresses. It's like an enormous name -> number lookup system, and it's spread across thousands of servers around the world. Some track who looks up what domain name, while others are focused on privacy and promise no logging of queries, notably including Google's Public DNS System, known as 8.8.8.8. It works great, but not when you're trying to connect to a secure wifi network!
You're already in Settings, so search for "DNS" on the top left:
As indicated by the arrow, choose "DNS domains" or "DNS servers" to jump straight to the correct spot. Here's what you'll see in MacOS 13 "Ventura":
The "cust.blueprintrf.com" is actually the server run by the hotel wifi network and that's what it wants to use to find that login prompt. My own DNS server – 8.8.8.8 – is getting in the way! To fix it, choose the DNS address you have on the top window, then click "-" to delete it. Do that until the box is empty (you can write them down and restore them once you're online, if you want), click "OK" and try turning off wifi, turning it back on, and joining Hilton Honors.
Finally! Now you're ready to go and should be online without any further hassle. Good luck!
Tip: I've been writing about games and other computer basics for years here on the site. Please check out my Computer and Internet Basics for lots more tutorials on fun and interesting topics while you're here!