My company wants us to all use the energy recommendation settings in Windows 11 but I'm not sure I want to use them as is. How can I see the settings and tweak the settings for my own preferences instead of just accepting what are recommended?
At its most extreme, your computer is the most energy efficient when it's not powered up. I know that seems a bit silly but in a lot of ways the energy recommendations from any of the manufacturers nowadays seek to push you to be as close to that working-or-off state, sometimes to a rather ridiculous degree. As you'll see, the Win11 Energy Recommendations include having your display turn off after 3 minutes idle, which isn't even enough time to read one page of a complex document.
On the other hand, having your display on and running for hours when you aren't actually using your computer doesn't seem like a great idea either, both from the energy perspective and from a security perspective: wake from sleep is a perfect time to prompt for a password again to ensure someone else isn't using your laptop or desktop computer while you're at lunch with the boss.
Want to learn more about Microsoft's thinking regarding energy efficiency and Windows OS? Check out their tech note on the subject: Power efficient settings in Windows 11.
WIN11 ENERGY SETTINGS AND OPTIONS
To start out, launch Settings on your PC then search for "sleep":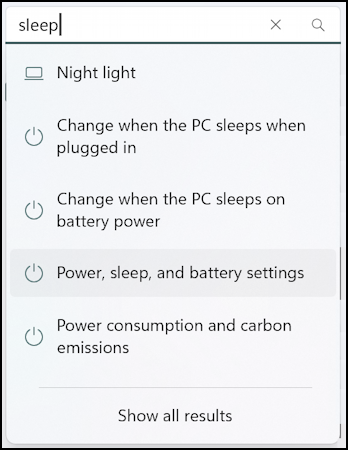 There are a number of interesting options to consider, but for this task, we want to go to "Power, sleep, and battery settings". Choose that and you'll get to the Power & Battery area: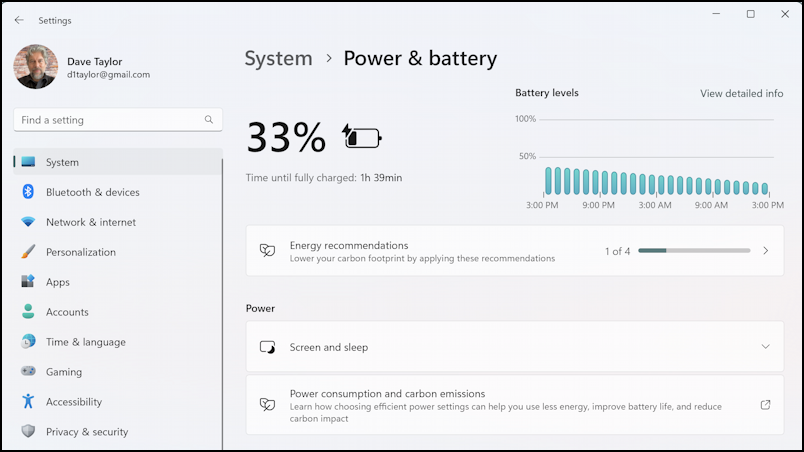 Front and center is battery status and it's charging fast, predicting a 77% charge in about 99 minutes. That's not our main focus of attention, however, so click on "Energy recommendations" to see what Windows suggests.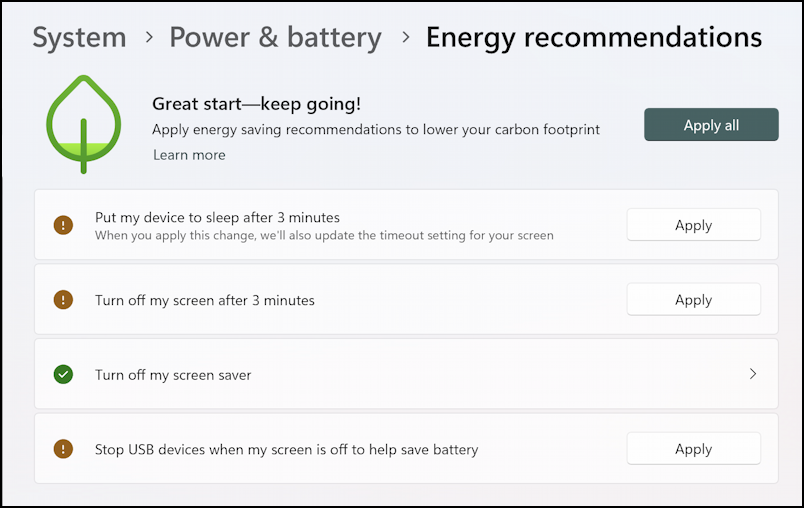 You can see what I was talking about: 3 minutes and your system will go to sleep and turn off the screen. It might save energy but it's pretty darn short! Skipping the screen saver is a good idea, however, and I've already chosen that option. Stop USB devices when the system is in sleep mode? That can be easy to accept if you only have peripherals – like a keyboard – that are useful when the system is running.
But oh, those super short times. Not sure anyone's going to stick with that 3-minute timer.
HOW TO FINE-TUNE YOUR SYSTEM SLEEP AND SHUTDOWN
While you might not want to use the super short timeouts of the Energy Recommendations, it's still a good idea to have a look at your current settings and consider shortening things. One additional benefit you'll accrue by changing your settings is that your battery will last longer.
Go back to the Battery & Power screen in Settings, then scroll down and click on "Screen and sleep". It will expand and you'll see this:

I admit, my settings are probably too long and could be shorter. Perhaps 5 minutes for the screen to turn off on battery, 10 on power, and 15 minutes for putting my device to sleep regardless of power source.
That's it. Now you know where to find the Energy Recommendation settings and where to tweak things too.
Power Tip: I've been writing help articles about Windows for years and have an extensive Windows 11 help library here. Please check it out to find lots of additional tutorials and guides while you're here. Thanks!