I've been using Apple's CarPlay in my vehicle by plugging in my iPhone and it works really well. But it's the same interface appearance, day after day. Is there any way to change the apps, app icons, or background wallpaper? Running iOS 16.2.
Imagine getting into your car and all of your controls have changed. Round dials are suddenly triangular, and the controls on the stems sticking out of your steering column have switched sides. Not only that, but the dashboard is now bright yellow, with all of the controls in a glowing neon red. That'd be startling, wouldn't it? Instead, vehicle designers spend a lot of time creating subtle, nuanced changes to standard, comfortable designs, which is why your dash probably looks a lot like the dashboard of your previous vehicle.
Modern digital displays have no such limitations, however, and it's surprising how different infotainment screens appear from manufacturer to manufacturer. These can even change across firmware updates, though those changes tend to, again, be more subtle than dramatic. The logic is obvious: When you're driving, your attention should be on the road, not on changes and surprise updates to your vehicle interface!
This doesn't mean that the Apple iOS and Android developers haven't given us some control over the interface we see when we plug in our smartphones to a modern vehicle. You won't be able to turn those rounded-edge square app icons into 3D animations, but there are a couple of tweaks you can make to change the appearance. With an iPhone, some are only accessible from within CarPlay while in your vehicle, while others can be tweaked on your phone, whether plugged in or not.
CHANGE WALLPAPER ON YOUR CARPLAY INTERFACE
Let's start with the wallpaper you asked about. While it seems like Apple should allow users to upload a custom wallpaper, so far, your choices are just a small gallery of Apple-supplied images. Get to CarPlay and your home screen should look similar to this: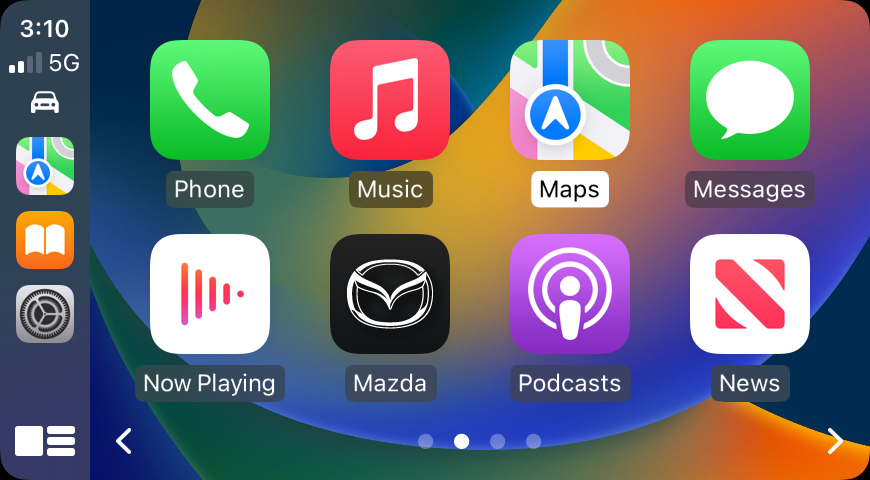 The three app icons on the left are the three you've most recently accessed, which offers me one way to get to Settings (the gear icon). Don't see that? Use your vehicle's CarPlay controls to swipe between screens so you can find the gear icon…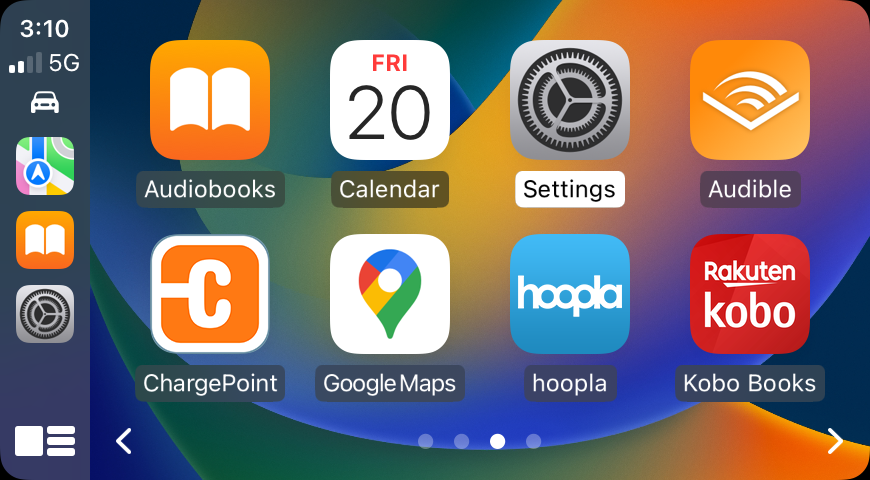 It's interesting to see which apps show up, actually. Why are Hoopla and Rakuten Kobo showing up? Because both digital book reader apps also support audiobooks, which is also why Audible shows up on this screen too.
Tap on the Settings app icon and you'll see a few choices: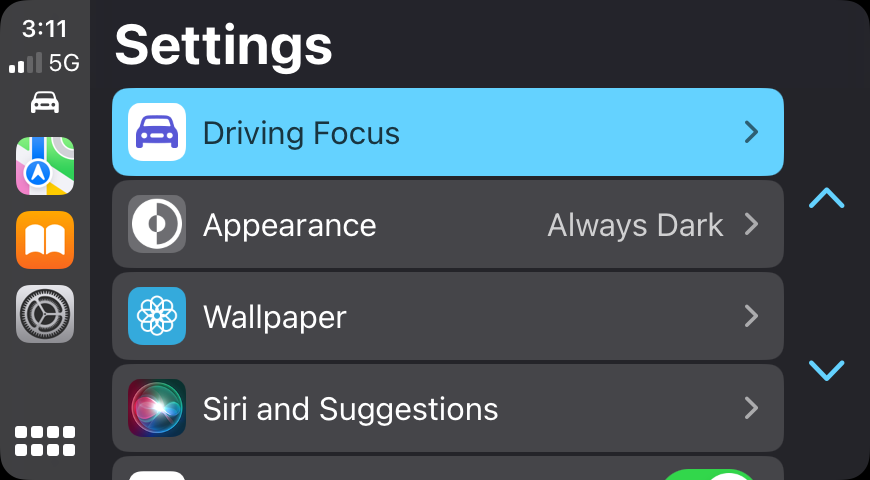 I always have Driving Focus on to minimize interruptions while I'm driving, but you can try both on and off to see which you prefer. Appearance is what's known on most systems as "theme" and your choices are "Light" or "Dark". It's the third option that's of particular interest, though: "Wallpaper". Choose it.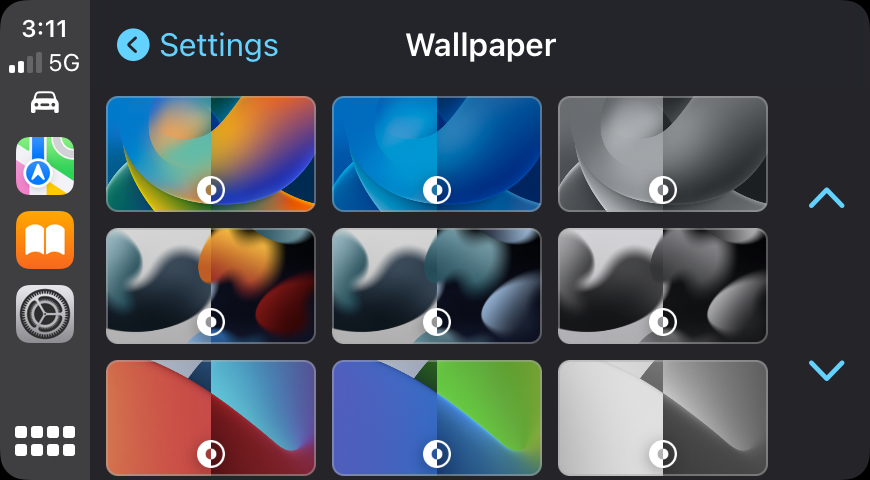 You can see that there are less than a dozen total choices, and the tiny circular icon indicates that it has a different version for "light" and "dark" mode. They all do, so it's probably not needed, except it does suggest that perhaps someday we will be able to use our own custom wallpapers!
Select one as you would any other choice in CarPlay and it'll show you a preview: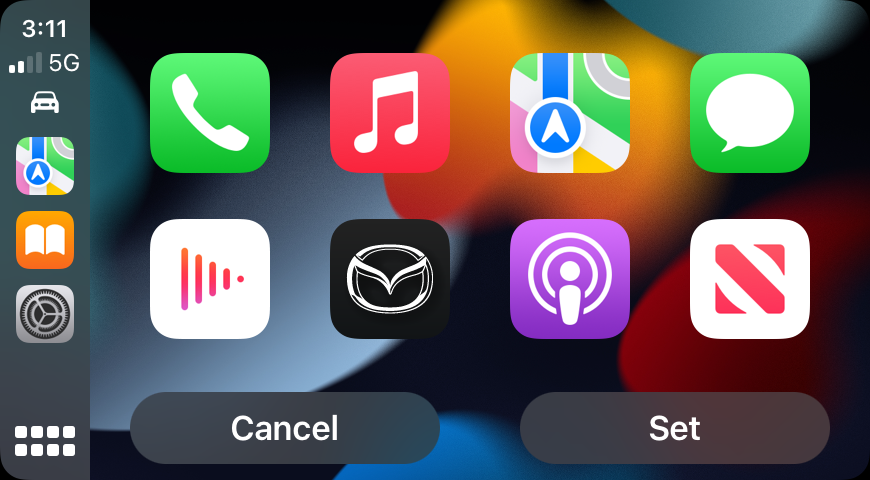 Not much of a change from my existing wallpaper, but it is different and it does look pretty cool. I'll choose it by tapping on "Set". Then it's set and I'm back on my app icon screen with the new wallpaper installed: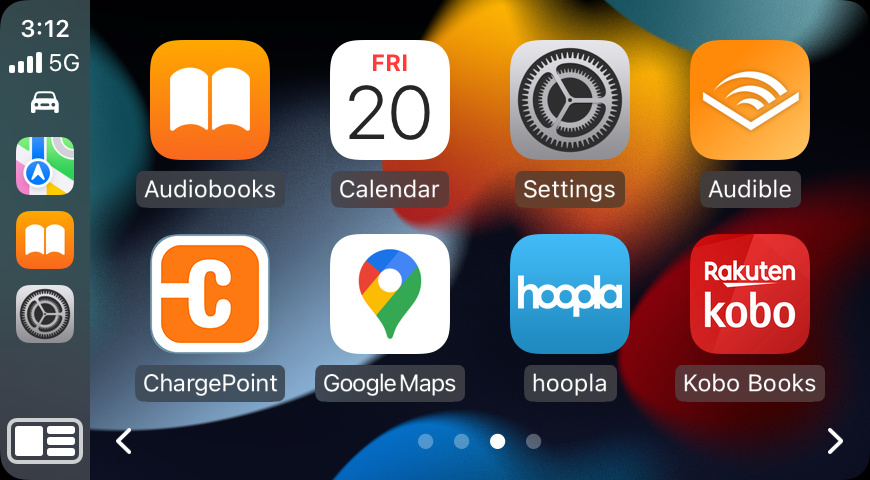 If you go from color to a black & white wallpaper you'll see the greatest change, of course, but overall it's a bit less exciting than it could be, in my opinion.
APPLE CARPLAY CHANGES FROM THE IPHONE
Switching attention to the iPhone itself, there are just a few settings you can tweak that relate to CarPlay. Go into the Settings app on the phone, then go into "General" to find the CarPlay options: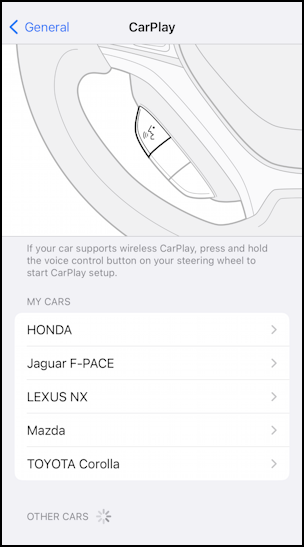 Since I test drive different cars – and write about them on PlanetDave.com – my CarPlay settings include all the vehicles that I've enabled, a nice list of different cars and SUVs. Most folk will have a single vehicle listed, however. No worries, tap on your car from the list.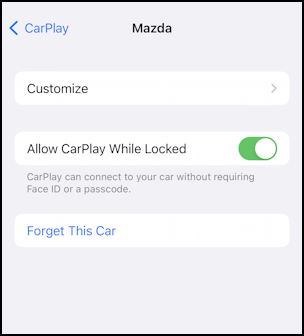 I can't imagine a situation where you wouldn't enable "Allow CarPlay While Locked" but if you did want that additional privacy, here's where you can change that setting. More interesting are the options after you tap "Customize":
There are some apps you cannot remove (the ones without the red circle to the left) but any that does have that icon can be removed from CarPlay, though it remains on the iPhone, of course. More interesting is that you can change the order of apps on the CarPlay screen by tapping and dragging the three-horizontal-line icon associated with individual apps. Have apps that are on the home screen but you never use, while an app you do utilize is relegated to the second or third screen? Here's where you can fix that.
Close up Settings when you're done and next time you plug your iPhone into your vehicle, you'll see the changes!
Pro Tip: I've been writing tutorials for the Apple iPhone since it was first released. Please check out my extensive iPhone help area for lots and lots of useful content.