I don't like the "recycle bin" icon for the Trash in Windows 11 and am wondering if there's a way to change it. Can you step me through the process?
While it's not incredibly easy, there are indeed ways to change Desktop icons in Windows 11. One of the easiest is to apply a theme that includes its own icons, actually, but you can also apply specific icon images you've downloaded or try other icons just for fun (like a folder icon for the trash!). What you don't want to do, however, is download any icon "package" or "library" or "utility" that includes any sort of executable file: Any legit library of icons should just be a set of PNG or ICN or similar images in a folder, no installation app required.
But rather than just show you how to change up an icon let's have a bit of fun in the spirit of a gentle prank instead. This is something you can try with your geeky computer expert friend: We're going to swap the full and empty icons for the Recycle Bin (Trash) in Windows 11! Ready?
CONTROL DESKTOP ICON SETTINGS
As a baseline, my recycle bin is full of files and miscellaneous right now, so by default, it shows that the "bin" has some contents: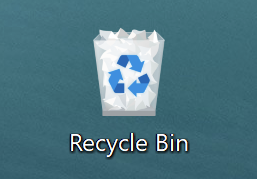 I can, of course, empty it, but where's the fun in that? Let's just change the icon to show that it's empty, even if it is actually full. In fact, it's more mischievous than that because once I do empty it, the icon will show that it's full, leading me to try emptying it again, without ever getting to the "empty" image.
To reach the right spot, go into Settings and choose Personalization > Themes…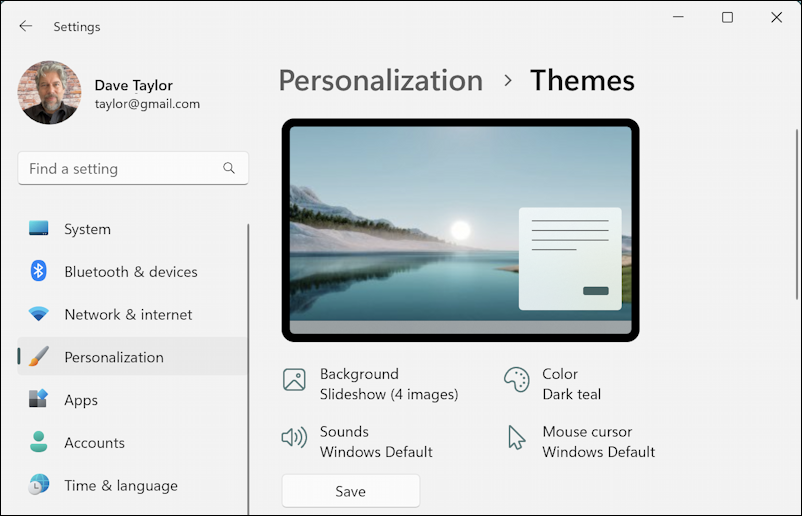 Scroll down just a bit until you see these options:
Click on "Desktop icon settings"…
WORKING WITH THE DESKTOP ICON SETTINGS WINDOW
Windows promptly shows a rather old school window that offers the five primary images used by the OS to organize your Desktop icons: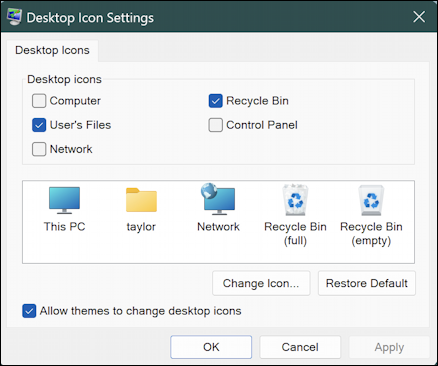 Notice along the top you can view or hide any icons you want, including unchecking the Recycle Bin to have it vanish from your desktop entirely. You'd still need to occasionally remember to empty it, however, so you don't run out of disk space, but that's one option if you really want to see some change!
Instead, let's swap those icons. Click once on "Recycle Bin (full)" then click on "Change Icon…" and the program will show you the library of all default Windows 11 icons:
It's definitely fun to see these all in one place and you can see that there are a lot of icons, some of which haven't been used in eons (at least they don't show up on my PCs). To stay on task, remember we're switching icons so click to choose the empty recycle bin icon, then click "OK".
Do the same with the "(empty)" icon and you'll end up having it appear thusly:
The full bin now has the empty icon, and the empty bin shows a full bin image! Perfect!
Ready to make it so? Click on "Apply" and, without emptying the trash, suddenly the Desktop icon from before appears to be emptied: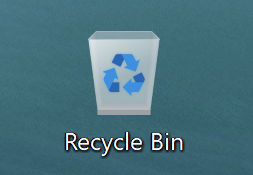 Mission accomplished.
Ready to switch things back? Chose the icon in question and click on the "Restore Default", then "Apply" and it's all fixed up.
USING CUSTOM ICONS
You can also try to download appropriate images and apply custom icons to the empty and full recycle bin, but there are two major obstacles; First, the icon library sites are a mess, with most of them harboring malware or scams, making it difficult to find and obtain high-quality imagery. Second, Windows itself is buggy; even with good quality .ICN icon files, it seems all too common that they aren't displayed or are displayed incorrectly in Windows itself. If you're patient, experimentation can produce good results, but applying a theme that includes new desktop icons is honestly the easiest solution for most users.
And that's how you can hide or change your Windows icons on your Desktop. Good luck!