I am a big Android fan, but am not so much a fan of Google Chrome. How can I change the Web browser on my Android phone to Opera instead?
It's a bit surprising that something as seemingly universal as a Web browser has become somewhat polarizing, but different development teams prioritize different features. As a result, some people swear by Apple Safari – even using it on Windows – while others dislike it with a passion. Some folk are huge Google fans and love everything Google does, especially Google Chrome, while others… well… Google's not the best with privacy, particularly when compared to browsers like Opera.
As a result, a not insignificant number of device owners have changed their default browser, whether it's from Safari to Chrome on an iPhone or from Chrome to Opera or Firefox on an Android tablet or phone. Fortunately, it's an easy task if you don't mind poking around in the Settings area for a bit. Let's do it on my Google Pixel phone (yes, even Pixel owners prefer other browsers!)
FIND AND DOWNLOAD OPERA
First step is to actually get the latest version of the popular Opera Web browser. This is easily done by searching for "opera" in the Google Play Store: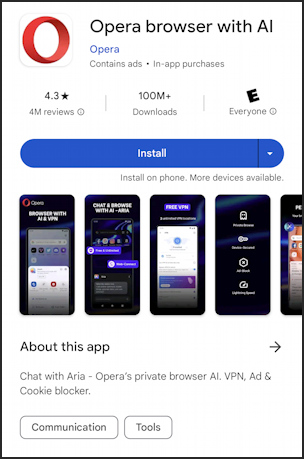 100 million+ downloads. Suffice to say it's popular! Tap on "Install" to download and install it. If you're curious, search for "web browser" and you'll see, there are a lot of options, many of which you might not even have heard of before. We'll stick with Opera for this demo, however.
OPERA FIRST LAUNCH
When it is fully downloaded, tap on the "Open" button and it'll walk you through a couple of setup and configuration screens, including the following:
If you tap on "Set Opera as default" you've solved the puzzle. Done. Easy, right? But what if you want to try out the browser for a bit before you make the big switch? No worries, use the "Skip" option on the top right instead. You'll get to the main Opera screen instead: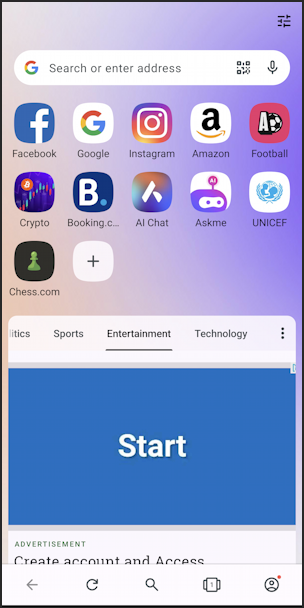 The icons along the top are defaults from Opera and you can customize them as desired, as you also can with the news info at the bottom. But most of the time you'll already be on a Web page, so you probably won't see this screen very often anyway.
CHANGE OPERA SETTINGS TO MAKE DEFAULT
From any screen in the Opera browser, you can actually change your default Android web browser. Tap on the user profile icon in the lower right corner and a menu appears: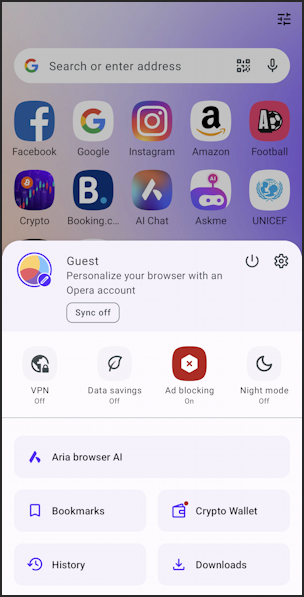 I definitely recommend you create an Opera account, log in, and set it to sync with Opera you might be running on other computers and devices, but that's not critical to our task. For our purposes, tap on the gear icon on the right edge of the pop-up panel window.
You can see that it has quite a few useful features and capabilities, including tracker blocking (why is this disabled by default? Enable it!). Tap on "Browser" near the bottom and you'll be on the window where you can indeed change your default Web browser on your Android device:
The current default is Chrome, but you can easily change it by tapping on "Default browser".
Don't want to do all of this within Opera or want to know the more generic way to change your default Web browser at any time? Let's have a quick look at that too.
CHANGE DEFAULT WEB BROWSER IN ANDROID
Quit Opera and go to the main "Settings" app for Android. You've probably been there plenty of times before. This time, swipe down until you see the "Apps" entry (midpoint, below):
Tap on "Apps" to proceed. You'll see a list of recently opened apps including, of course, Opera:
Don't get sidetracked, though. Below the list is "Default apps". Tap on that.
Notice that you can get and connect third-party Caller ID and spam apps that can help tame your chaotic phone line, if needed. An Android exclusive! Also note that my default browser is still Chrome. Let's finally fix that. Tap on "Browser app".
Turns out I have three Web browsers on my Google Pixel Android 13 phone: Chrome, Opera, and Tor Browser. Download more and your list will be even longer. To change, simply choose the browser you prefer. Close this window. Done.
Power Tip: I've been writing about Android for many years and have an extensive Android help library here. Please check it out while you're visiting. Thanks!