A colleague and I both completed a certification course at work and I noticed she posted about it on LinkedIn. Her post included "Celebrating a New Certification" and I'm wondering how she had that added to what she shared?
Certifications allow professionals to demonstrate expertise in a particular field or technology, so it's no surprise that Certifications have become an important part of both initial training and ongoing continuing education for many fields.
Whether you've just been certified in an obscure area of law, a new network architecture, or the complicated point-of-sales system acquired by the firm, they're great to add to your resume and, of course, share on LinkedIn. In fact, LinkedIn is the only social media network that has a specific type of post for certifications!
Interestingly, though, you don't need to prove you've received the certificate, so there's some chance of abuse or humorous subversion of the category, but LinkedIn as a community doesn't seem to have much sense of humor, so that might be a mistake. Modern certifications typically include a digital copy of the certificate you've received for course completion or similar, so that's the easiest to share, but you could also photograph – or scan – a physical certificate if that's what you've received instead. I just finished up some teacher training at the University of Denver, so I'm going to use that seal of completion for my demo. Ready? Let's do it.
 UTILIZING THE CELEBRATION POST TYPE IN LINKEDIN
Jump over to LinkedIn and you won't see anything special about certifications, just the usual few options:

But like so many sites, clicking to begin the post actually moves you to a different view that does have more options, albeit without any fanfare: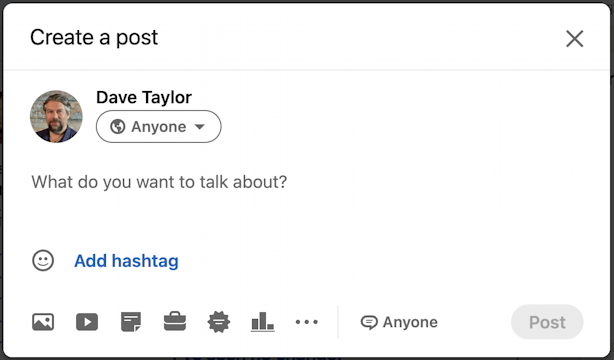 It's all about those icons along the bottom. Left to right they're Add Image, Add Video, Add Document, Hiring (it's a briefcase, not a toolbox), Celebrate, Poll, and the "•••" offers even more possible post types. Notice you can change the ability of people to comment on your post here by clicking on "Anyone" if you want only connections – or no one! – to be able to leave a comment.
Click on the Celebrate 'seal' icon to proceed. Yes, it's a bit confusing that it's not a celebration emoji like 🎉 or 🍾  but so it goes…
SHARING A CERTIFICATION ON LINKEDIN
At this point the posting window completely changes to help you categorize exactly what you're celebrating: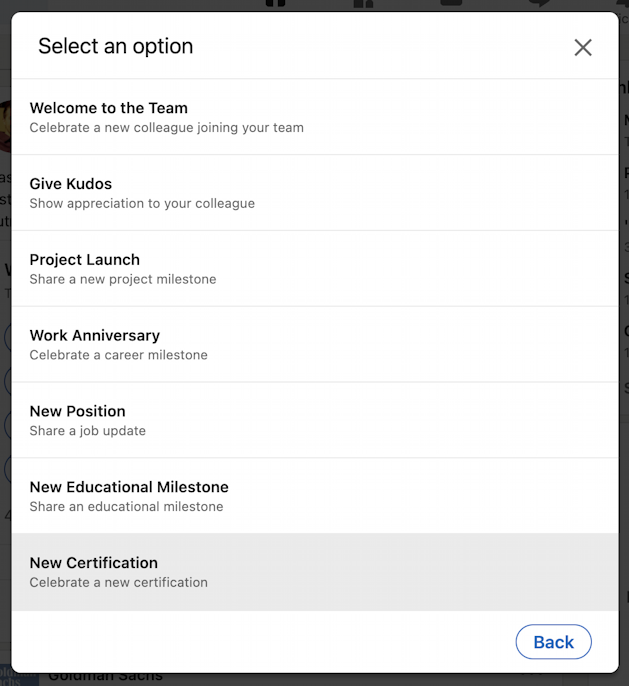 It's the last choice you want to utilize: "New Certification". Worth remembering is that there are all these other celebrations you can post about on LinkedIn to help ensure that others in your organization and the greater public at large keep up with your personal news and your company's milestones and accomplishments too!
Click on "New Certification" and a completely new window appears that offers you the chance to upload your own photo or to choose from one of a small collection of templates: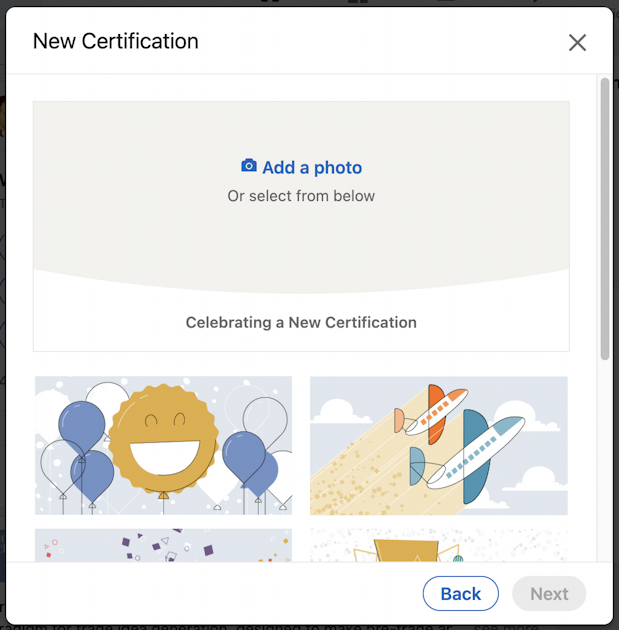 Since I have a handy graphic from DU with my certification, I'm going to click on "Add a photo" and select it from my Desktop. This immediately shows up so I can see how it's going to look: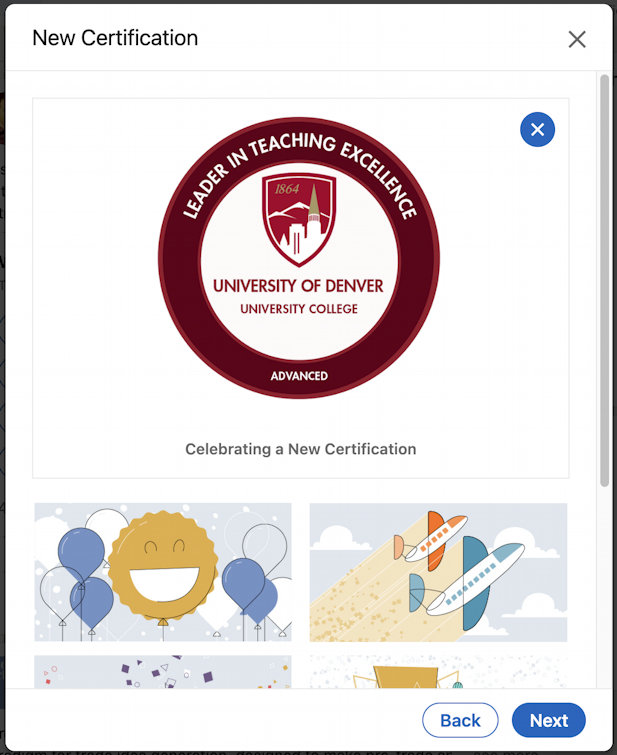 Notice that the "Celebrating a New Certification" is automatically added by LinkedIn. My theory is that these types of posts get more visibility than a regular uncategorized update too, but I have no data to confirm whether that's true or not.
The image looks good, it's time to click on "Next" to enter the rest of the content for this post.
COMPOSING THE REST OF THE POST
You'll be moved back to what looks like a standard LinkedIn post input window, with your certification image loaded: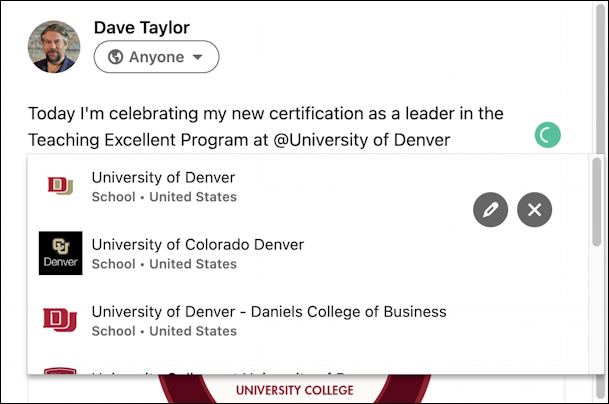 Notice that by prefacing the organization name with the "@" symbol a list of matching companies, institutions, and organizations is displayed, allowing me to tag the University of Denver in the post.  This is definitely a best practice if you haven't been tagging companies in your LinkedIn posts.
Here's my post, ready to go: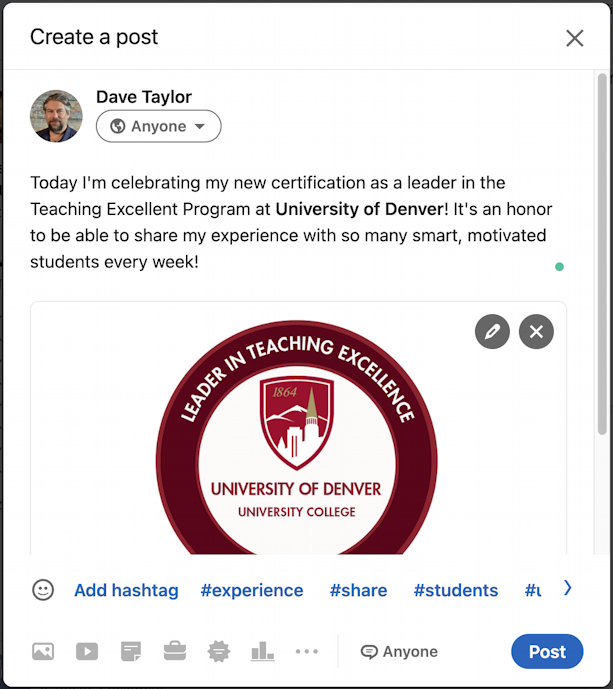 Notice that LinkedIn suggests adding some hashtags. My impression is that most LinkedIn posts do not use hashtags, but it's yet another way to potentially gain a bit of added visibility if you add a few. I'm ready to go, however, so a click on "Post" does the job.
Here's the result: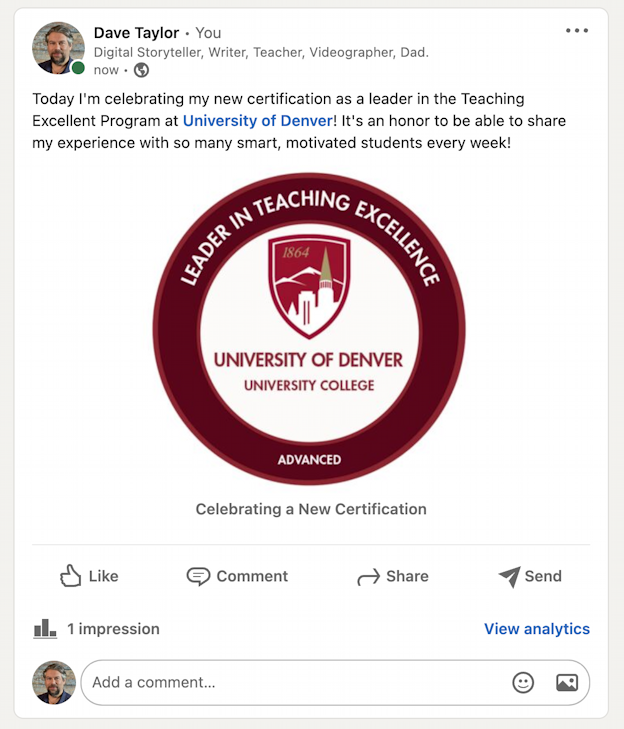 And that's how you share a certification or other celebration with your friends and colleagues on LinkedIn!
Pro Tip: I've been writing about LinkedIn since the launch of the popular professional networking site. Please do check out my extensive LinkedIn help area for lots more tutorials while you're here!