I get a lot of junk calls which is quite inconvenient. I don't want to just mute my phone entirely because sometimes friends or business colleagues call. Is there a way to mute or block unknown callers while having my iPhone ring for legit calls?
I remember making prank phone calls as a kid. We'd dial a random number and ask them something daft, like "have you checked to see if your dog is still in the house?" then laugh at them when they'd respond seriously. Back then, junk calls were rare, making it easy for people to believe us young punks. Zoom forward more than a couple of decades and we are now living in an age where the adverse consequences of computers being able to make phone calls are in full bloom; I get a dozen or more junk phone calls every single day. Car warranties, computer anti-virus subscriptions, "friends" who need money wired to them, new carpet or window sales, who knows what these programs are trying to hawk. It really stinks and has taken what used to be a good event – the phone ringing – into the category of an inevitable nuisance.
While the telecom companies are working to improve the situation, they can't keep up with the billions of junk phone calls initiated every single day. Fortunately, the iOS (iPhone) and Android development teams have been working on trying to tame this beast and there are some pretty useful features you can now enable which make things a lot better. I'll focus on the iPhone for this article, as per the visitor's question, but know that there are similar – if not better! – anti-junk call features on Android phones too. You can learn about them here: Enable junk call screening and filtering on an Android device (even a Pixel).
BASELINE: JUNK CALLS FROM MY AREA CODE
The first thing to realize is that junk call software developers have realized that you're more likely to answer a call if it's from a number that's in your area rather than one from far away or some unknown area code. Since it's disappointingly easy to spoof or fake a caller ID, you can see this in my iPhone missed call log for the number (303) 819-xxxx: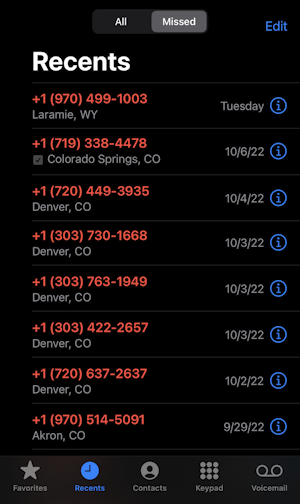 Notice that most all of them are from area codes 303 or 720, both Denver local. Even the ones further afield aren't too far, with only a single call from out of state. Are one or two of these legit people who have called me and who I have ignored because they're not already in my address book? Probably. But most of them are scammers. Meh.
This brings up an important point: If you're like me and never answer unknown callers, what we're about to change means that those unknown, but possibly important, callers are going to find it even less likely you will answer. Car in for service? Doctor calling to confirm an appointment? Child's school calling because your kid's sick? All of those are unknown numbers too. My solution is to rely on voicemail: If they have a legit need to communicate with me, they'll leave me a message and I can call them back promptly.
BASIC PHONE SETTINGS IN IOS
With that caveat, let's go into "Settings". Swipe down until you see "Phone", about two screens down from the top options:
No huge surprise, tap on "Phone". Turns out that there are a lot of Phone settings, some of which might be a surprise to you!
How incoming calls are shown on the phone can be changed – "Incoming Calls" – and you can even "Announce Calls" from friends and family if you want. I recommend turning ON "Wi-Fi Calling" (I was surprised to see that mine was disabled, actually) and you might want to investigate the options if you choose to "Respond with Text", which is a pretty cool feature. Notice that you can mask or hide your own Caller ID information when you originate calls too, though, of course, your recipient might then think you're the scammer…
SILENCE UNKNOWN CALLERS ON AN IPHONE
Swipe down on this screen to find the key feature we seek. It's just out of view!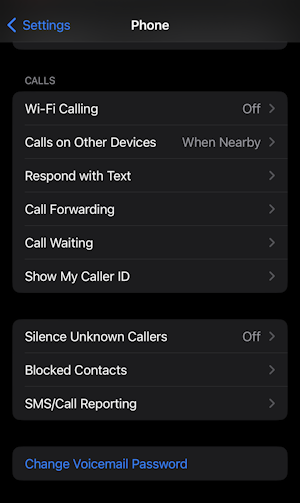 You can completely block a contact with "Blocked Contacts", which is very useful for the ex who just won't stop trying. Tap on "Silence Unknown Callers" to proceed with our task, however. Here's what's shown: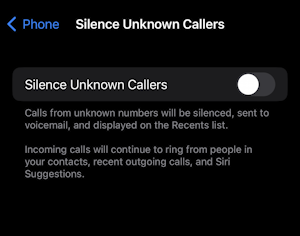 In case you can't read that, it says "Calls from unknown numbers will be silenced, sent to voicemail, and displayed on the Recents list. Incoming calls will continue to ring from people in your contacts, recent outgoing calls, and Siri Suggestions." Since I already ignore unknown callers and send them to voicemail anyway, this is exactly the behavior I want, and it's likely what you want too. Tap on the control to enable it. Done.
But while we're in Settings…
HOW TO BLOCK UNKNOWN TEXT MESSAGES
Turns out you can enable a similar feature in the Messages app on your iPhone to block unknown text message senders too. Go back up to Settings, then choose "Messages" (the link just below "Phone"). Here are the settings you'll see listed:
What I suggest you enable is "Filter Unknown Senders" which means that "Sort messages from people who are not in your contacts into a separate list." A list you can then easily ignore. Now, would it be better if we didn't have to worry about this and all spam and scam calls were blocked at the carrier level? Yes. Is that going to happen soon? No.
Pro Tip: I've been writing tutorials for the Apple iPhone since it was first released. Please check out my extensive iPhone help area for lots and lots of useful content.