I saw you wrote about how to block junk and unwanted calls on iPhones [see Block junk calls on an iPhone] but what about Android phones? How do I enable spam and junk call blocking on my new Pixel 6?
Whatever phone you have – even a landline! – odds are good nowadays that if there's an incoming call, it's not a friend or family member wanting to catch up, plan a getaway, or discuss the latest game on TV. No, it's more likely someone trying to sell you new carpet, an extended warranty for your car, or tickets to a charity event. In other words, junk calls. Spam, garbage, whatever you call them, they're unwanted and can be quite annoying. Fortunately, not only are cellular carriers trying to wrestle with the problem (carriers like AT&T have call filtering options) but your smartphone itself can assist too.
Generally speaking, Android does okay with spam call filtering, but where it really shines is with the Pixel line, where Google tests and experiments with all its most advanced and sophisticated features. You're in luck too, since you said you have a Pixel 6. With its AI smarts and heavy reliance on connectivity, the Pixel phones have some pretty slick call blocking and screening features, even to the point of prompting callers to prove they're human and announce why you should talk to them before you even know there's a call.
Let's start by looking at the generic call filtering options in Android, then we'll get to the cool Pixel (and a few other non-Google Android phone) features…
ENABLE CALL IDENTIFICATION IN ANDROID
Unlike those iPhones, Android has app settings where it's logical: In the app. Launch the phone app and go to Recents. When I do so, you can see that all of my calls are spam, unknown, or blocked:
I don't get a lot of calls on this particular device, but really, 100% junk calls? Frustrating.
To get to Settings and enable the basic call filtering, tap on the "•••" link on the top right. A small menu appears: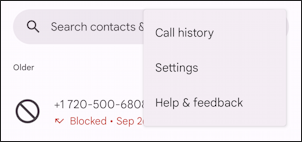 Tap on "Settings" and you'll get to the Phone app settings screen:
These are the generic Android Phone settings; if you're seeing more than one option in the ASSISTIVE section, you'll want to skip ahead just a little bit. If this is all you have, however, no worries, tap on "Caller ID & spam". You get two options: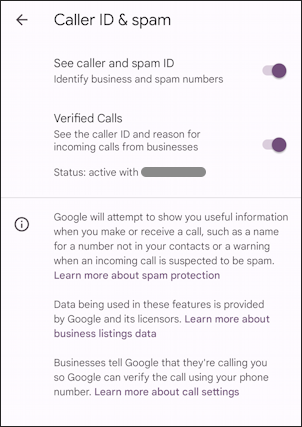 You can't have your phone not ring for these junk calls, but you can at least see caller and spam ID to have a pretty darn good idea of whether an incoming call is junk or not. A helpful step. Indeed, enable both "See caller and spam ID" and "Verified Calls" by tapping on the controls to have them 'slide' to the right, as shown. That will help a bit.
Where things really get interesting, however, is if you have a Pixel phone running the latest version of Android. Then there's a bit more you can do…
ENABLE CALL SCREENING ON A PIXEL ANDROID PHONE
With the Pixel line, when you tap on "Settings" from that tiny Phone app menu, the display is a bit different:
There are three assistive options instead of just the one. Hold for Me allows your phone to sit on hold so you can do other things while waiting for a human to pick up the other end of the line. Direct My Call lets your phone prompt on screen to help you more quickly navigate phone answering systems where they prompt you to 'press 1 for…' and so on. Both really helpful and worth enabling!
But for our task, tap on "Spam and Call Screen". This is a completely different and much more sophisticated feature set:
You can choose to save the call screening audio (in case someone's actually saying something important, though odds are that's going to just be empty audio recordings) but the key is to decide what you want to do with four categories of incoming calls: Spam, Possibly faked numbers, First-time callers, and Private & hidden numbers. You can screen some, but not others, if you prefer. Most common is for people to leave First-time callers ringing the phone (since they'll already have been screened against the other criteria, something that's not very obvious from this info screen).
Tap on "Spam" and here are the choices:
Since I don't 100% trust the categorization system, I opt for the "Automatically screen. Decline robocalls." option, but if you're really sick of these junk calls, you can choose "Silently decline" instead. Remember, you can always go change it, so if too many are getting through, chose a more aggressive option, and if legit calls are vanishing, choose something a bit more forgiving.
Go through and choose for all four of the categories of calls and when you go back to the spam settings screen, it will now show a summary of your choices:
Go back another screen and there's yet another summary, in an even more succinct format:
That's it. If you have a Pixel phone and access to all these features, why not give 'em a shot? If you are stuck with the more rudimentary call identification, well, at least it's better than nothing…
Pro Tip: I've been writing about Android forever! Please check out my extensive Android help area for hundreds more useful tutorials and guides! Thanks.