I keep getting friend requests from strangers in Eastern Europe and China. I don't know these people, how do they know me? How can I block them from friending me?
Friending, in the world of Facebook, is a symmetric process: they can't become your friend unless you allow them and approve their request. Having said that, however, anyone can follow you on Facebook and thereby see any and all of your "public" posts. That's why a lot of people on the social network post content that's just for their friends: it stops that material, those photos, that video from being seen by the rest of the world (including search engines, but that's another story).
Because there is a public feed of Facebook posts, however, that means that unscrupulous spammers and others can harvest account names and send automated friend requests to them en masse. By the millions, I mean, because there are over 1.5 billion active users on Facebook right now. However they bump into your account name, once they have that (or their programs do) they can send along a friend request.
Unless you block it.
Let's look at how you'd do that, because it's pretty easy, actually. Start by going to "Settings" off the tiny triangle link: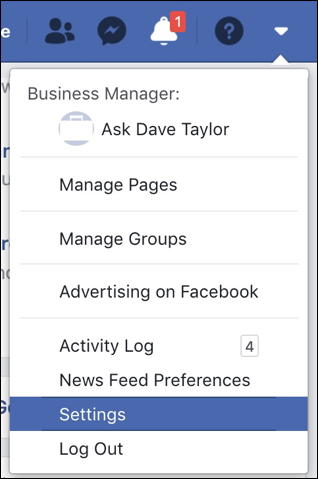 You can see I've highlighted it near the bottom. Settings is so massive that it's completely overwhelming. Just down the left side are over a dozen different major categories!
You'll want to choose "Privacy", as shown, but if you have a few minutes, it's smart to go through all the categories to ensure that they're set to your personal preferences. Pay particular attention to "Security and Login" to ensure others can't hijack your account, "Blocking" to put a fence around people you don't want to interact with on Facebook and "Face Recognition" if you don't want to be automatically identified when others posts photos that include your face. Yup, I'm not kidding. Facebook knows what we look like too.
Choose Privacy, as I said, and you'll see all these quite important options:
Props to Facebook for making this pretty darn understandable, actually. For our task, you want to go to the first entry in the "How People Find and Contact You" section. It's "Who can send you friend requests?".
You can see I have mine set to "Everyone". Not so good. Instead, click on the associated "Edit" link and you can change it:

In fact, I strongly recommend you set it to Friends of friends", which eliminates requests from complete strangers and fake accounts. Unless, of course, one of your friends is gullible or not paying attention and then accepts a friend request. Then all bets are off, because that person / program can then send requests to everyone that they're friends with too. Don't be that person: Lock down your account and vet all requests before you just blindly accept them as a new friend!
Pro Tip: Not only do we have a great Facebook presence (like us at AskDaveTaylor on Facebook to join the fun!) but I've been writing about Facebook for years too. There's tons of Facebook help here on the site for you to check out!