I've been using a Chromebook and I like it! Seems a lot like Windows but without all the spam, bloatware, and endless threat of malware and viruses. But I'm wondering, can I plug in a second display and us it as a dual-display system?
While the original intention of the ChromeOS design team might have been to create a slim alternative to Windows and MacOS that could be run on cheap, lightweight computers, 115 versions later it's quite a featureful system and is just about on par. Turns out that even people who want a $199 laptop still want all the features of a modern computing environment!
In fact, your Chromebook undoubtedly supports a second display, and possibly even a third. I have learned through experimentation that it definitely slows down your computer's performance, but a few extra seconds to load a Web page or start up an app is a small price to pay. Nowadays, there are lots of alternative second displays too, from wireless via Chromecast to portable fold-up displays to enormous curved displays that gamers insist are essential to their immersive experience.
For this tutorial, I'm going to use a slim, portable ViewSonic 15″ LCD display and a Lenovo Chromebook with a 14″ display screen. To get started it's easy: Just plug the display into the Chromebook. Mine only has USB-C, but the ViewSonic works through a USB-C cable so here's what happens by default:
That's a pretty nice setup already, though typically people want to have the two screens independent, not mirroring each other. How do ya fix it? In Settings…
CHROMEOS DISPLAY SETTINGS
On your Chromebook, go to Settings, then choose "Device" from the left side:
Click or tap on "Displays" and you'll be in exactly the right place to customize your dual display experience in ChromeOS:
You can see from the checkbox that it's currently configured to "Mirror Built-in display". Uncheck that box and it's now a separate, independent display:
The subtle blue border shows the current computer display, so you can see the new second display is "to the left" of the main one. Why is that important? Because you will want to move your cursor to that side to get to the second display, then move it to the upper right side on the big display to get back to the Chromebook. You can now drag entire app windows over:
Mission accomplished, Mr. Hunt!
WHAT ABOUT ALL THOSE OTHER SETTINGS?
There's more you can do, however, to customize the experience. Scroll down in the Settings window and you'll notice that it's split into two "tabs", one for the Built-in display, the other for the external display (here identified as "VG1655"). On either, you can try experimenting with the "Display size" if you want to "zoom in" and make everything bigger, for example:
When I change the Display size on the external display, notice how the exact same view of YouTube in the browser expands to take up the entire display: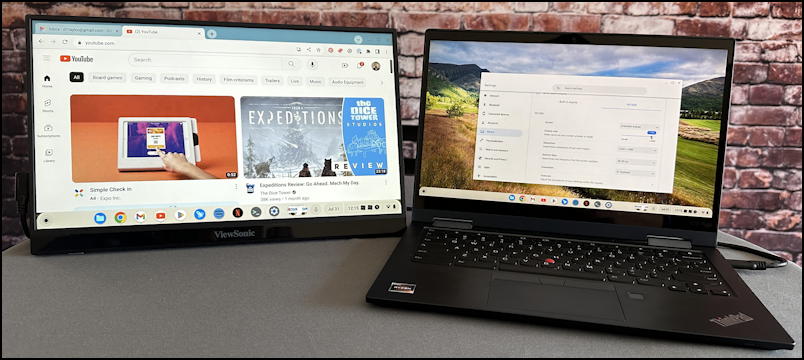 You can also change the display resolution too, something I generally set to the largest possible values that will work with the operating system. First, check out all the additional options for an external display:
Now click on "Resolution" and you'll see that there are probably a bewildering number of choices: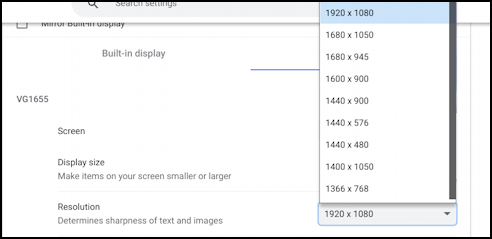 The math here is easy: The bigger the values, the smaller anything on the display will be shown. Want to get as much info on the screen as possible? Choose the biggest possible values – like 1920 x 1080 ("HD" TV dimensions) – or if you want to have everything bigger and easier to read, choose smaller values.
Note: Dimensions are also about ratios and math, so you'll find that some produce black bars along the top and bottom, or even along the sides. If you care, divide out the default resolution – 1920 x 1080 – then ensure that the ratio of a different resolution you choose is the same, so it'll still maximize the display screen. Or just experiment!
Finally, don't forget that you can rotate the second display too, offering the ability to have setups like this: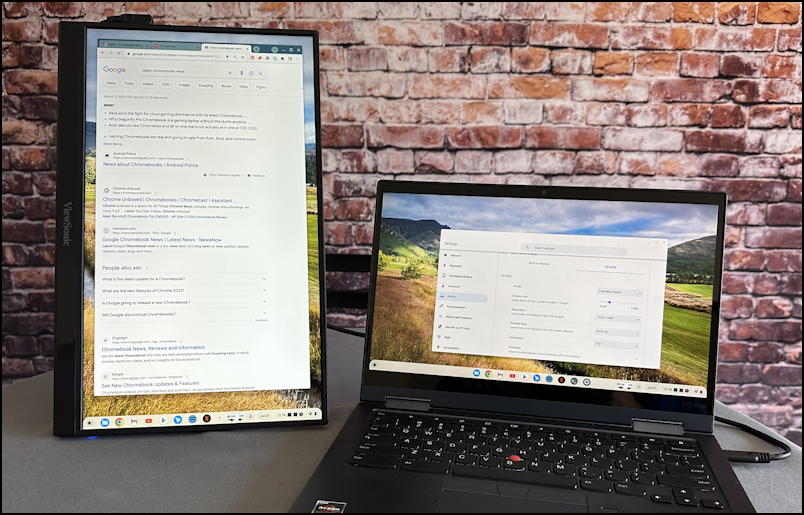 Not great for watching Netflix on the second display, but great for reading papers or doing searches, as shown. How do you change it? Pick a value other than 0º in the "Orientation" box:
Notice I have 270º specified, which makes it work perfectly. That's it, you should be up and running with that second monitor in no time!
Pro Tip: I've been writing about operating systems for many years. You can find a lot more useful tutorials about Chrome OS in my Chrome OS and Chromebook help library here on the site. Why not check it out while you're visiting?