I know how to pin a favorite program to the Taskbar in Windows 10, but how do I add it to the Start Menu? Appreciate a quick tutorial, if you can…
There are few things more controversial in the history of Windows than the Start Menu and its big brother the Start Screen. The concept was great, if you were on a tablet, but on a computer? That full page of app icons was quite disconcerting for the millions of people who had been using Microsoft Windows for years and years. It was scaled back to the Start Menu, but those app "tiles" remain and will survive the jump to Windows 11 in a few months too.
Once you have a tile on the Start Menu it's pretty easy to modify it, but adding a new program tile is not as obvious as it could be. Fortunately, I can show you the steps quickly and easily enough, so let's jump in and get those program tiles you seek on your Start Menu!
HOW TO MODIFY AN APP "TILE" ON THE START MENU
The logical place to start is with the Start Menu itself. Right click on any of the program or app tiles and a context menu pops up with some very helpful options:
As you can see, it offers the ability to "Unpin from Start", along with "Resize", some notification options accessible through "More", and a program "Uninstall" option. But how do you add a new tile?
I'll do so by adding a tile for the Brave web browser. Right-click on an empty space on the Start Menu? Nothing.
Let's take a slight detour on the way to a solution…
HOW TO ADD A PROGRAM TO THE TASKBAR
Fire up a program and you can hover over its button to get a thumbnail of the program window:

You've probably seen this millions of times. Not only that, but you also know that you can right-click on the program's entry on the Taskbar and get a context menu:
That's how you pin a program to the Taskbar (as I've done, above, with Chrome, Firefox and ExpressVPN, all shown to the left of the File Explorer shortcut). But how do you pin it to the Start Menu?
HOW TO PIN A PROGRAM TO THE WINDOWS 10 START MENU
Turns out that, quite unintuitively, you right-click on the program's name on the Apps list in the Start Menu itself!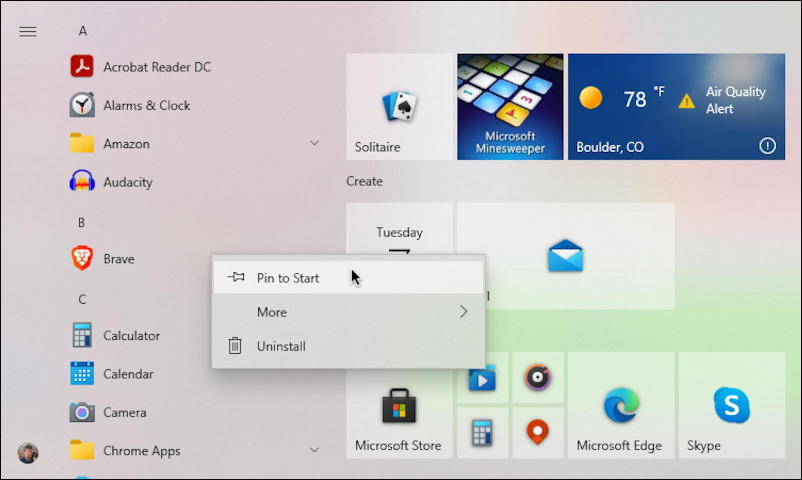 Seems in the pic like a floating menu not associated with the "Brave" entry, but try it yourself and you'll see how it ties together. In this instance, of course, it's the "Pin to Start" option you want to choose.
The program tile shows up on the Start Menu, but not necessarily in the spot you'd prefer: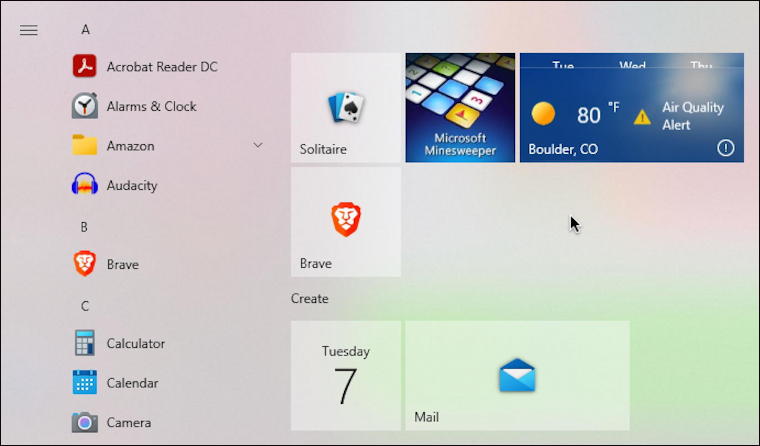 No worries. Turns out you can just click-and-drag tiles around to change their location. It's a matter of a second or two to get the Brave app tile in the correct spot: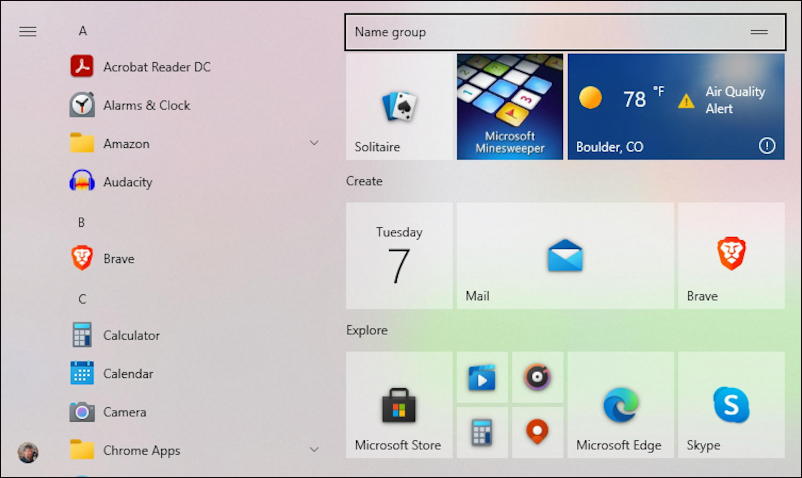 Mission accomplished. And now you too know how to customize that Start Menu!
Pro Tip: I've been writing about Windows for many years and have an extensive Windows 10 help area. Please check it out to find lots of additional tutorials and guides while you're here. Thanks!