I have a new Amazon Kindle and have figured out how to get to the books on the Prime Reading List each month, but how can I actually buy new ebooks and copy them onto the Kindle?
One of the great joys of the Amazon Kindle and similar ebook readers is that you can add new books with just a few taps and be reading them just a minute or two after being inspired to acquire them. The Kindle uses what it calls Whispernet and actually utilizes the Sprint/T-Mobile cellular network so you don't even need to be on wi-fi for it to work. No extra costs are involved, no sneaky charges on your cellular plan, it just works.
What this means is that your Kindle is magically able to communicate with Kindle HQ just about anywhere, from a moving train to a bus station, an airport lounge to a nice, shaded spot at the park. Just finished a book? No problem, you can browse the Kindle bookstore, pick out a favorite, and add it to your device, ready to read, with remarkably little fuss. Way less effort that driving to the local bookstore to pick up a paperback or hardback, that's for sure.
So how do you actually do it? Let's check it out. For this demo I'll use my Kindle Paperwhite…
FINDING CHEAP EBOOKS IN THE KINDLE STORE
Turn on your device and go to the home screen. It'll look like this: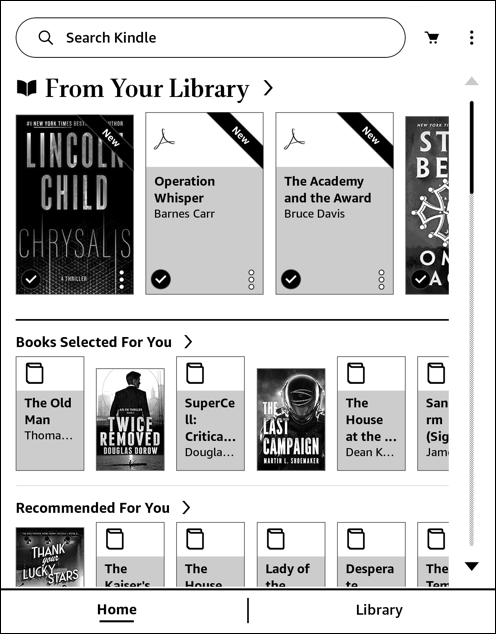 You can see that my library is in the top row, with the biggest book cover graphics (including a few pre-publication that don't yet have actual cover art). It's identified as "From Your Library". Everything else shown on this screen is an ebook that's for sale in the Kindle ebook library. Top row is "Books Selected For You", followed by "Recommended For You", and so on. Swipe from the bottom upward to scroll down and see more.
Tap on the shopping cart icon near the top right, however, and you'll go straight to the full Kindle Store area, without any confusion about which ebooks are yours and which are for sale…
The categories change – and all now have cover art to attract our attention – which makes this fun to browse. Instead, though, tap on the "•••" graphic on the very top right and you'll see that there are specific categories within the Kindle Store you can choose:
I always like to peruse the ebook deals since they can then sit on my Kindle for months, waiting for me to start reading them. A tap on "Deals" and a completely new set of ebooks show up:
Ooh, "Today only" deals sound interesting! A tap on "See more" brings up a numbered list of different ebooks that are on a one-day special pricing promotion:
Lots of options. 53 of them, in fact. None of these first four pique my interest, but a bit lower down there is a match. A tap and the entire screen offers up quite a bit more information on the title, including (finally!) its price:
The book is Bismarck: The Final Days of Germany's Greatest Battleship by Niklas Zetterling. Sounds intriguing, and for $3.99 I'll take a chance on it.
HOW TO ACTUALLY BUY A KINDLE EBOOK
This brings us to the actual purchase action, and it's easy: Just tap on the "Buy for $xx" button. No confirmation, no "are you sure?" just a one-tap purchase as made famous by Amazon.com. After a second or two, that button will change to:
Then it'll replace the entire screen with new information, at which point you'll know that you have completed the purchase:
Done. You just bought a new ebook through the Amazon Kindle Store. Well done.
Where is it? Go back to your home screen and it'll show up (once it's downloaded, which typically only takes 10-15 seconds):
Now I'm going to head out so I can grab a cup of tea and start reading Bismarck. Catch ya later…
Pro Tip: I've had Kindle devices for many years and have written lots of Amazon Kindle Help tutorials here on my site. Please take a few minutes to check them out!