Dave, a colleague told me that she was able to text message back and forth with me through her Web browser rather than having to tap on her Android phone. Want! How do I set this up for myself?
Apple has its iMessage ecosystem that makes it reasonably easy to have your Mac, iPad and iPhone all sync up with text messaging, but Google's done one better because not only can you have all your Android devices in sync, you can access Android Messages from any Web browser once you're logged in. Mac, Windows, even Linux systems can be part of your ecosystem in this scenario, which offers enormous flexibility. Pretty typical for Apple to be for Apple devices and Android to be for everything, however, but that's another story.
Setup is also pretty straightforward once you have access to a computer where you've logged in to your Gmail account (well, technically, your Google account, but if you're logged in and able to see your Gmail, you're good to proceed). You'll want to ensure that your Android phone is running the latest and greatest version of Android – Android 13 as of this writing (depending on your device) – and that it too is logged in to the same Google account. In other words, if they are both showing the same Gmail inbox, you're ready to proceed…
START ON YOUR ANDROID PHONE
Step one is to open up Messages on your Android phone. It's possible it will pop up a prompt to have you set up this sync feature:
If it doesn't, then tap on the three parallel lines icon on the top left and choose "Device pairing" to proceed. If you have the above prompt, tap on "Try it", while if you used the Device pairing option it'll take you straight here:
Now it's time to switch to your computer, whether it's a Mac, Windows, Chromebook, or even a Linux system.
CREATE A PAIRING QR CODE
Simply type in the URL messages.google.com/web on your computer and it will show you something very similar to this: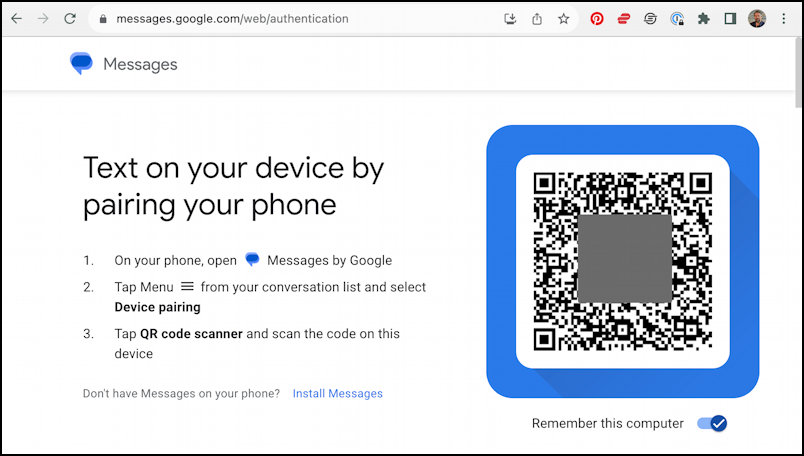 If yu aren't logged in, this is where Google will prompt you to log in. I have masked my QR code because I don't want you pairing with my account, of course!
Now, back on the Android phone, tap on the "QR code scanner" button, and point the camera at your computer screen. It will identify and scan the QR code and in a fraction of a second it'll pair and switch to:
Done. Now is when things get interesting…
MEANWHILE IN THE WEB BROWSER
On your computer, the browser has switched from showing the QR code to actually showing your Messages, as mirrored from the Android phone. First, it wants a few permissions:
Yes, you can get notifications right on your computer when someone texts you on your Android phone. you can leave your phone in your pocket, purse, even on a shelf 20 feet away, and still be right on top of your conversations!
I suggest you "Allow" notifications, then click "Got it" to remove the info notice about video calls within Messages (did you know you can do face-2-face video calls just like Apple FaceTime users??). I don't use this particular Android phone too often, but it shows my current message discussions right in the browser window – on my Mac system, no less:
I'll send a text message to myself – I haven't done so since December of last year! I'm probably wondering if I'm even still friends with myself! – by clicking on that entry on the left side. It then shows the discussion to date:
You can see that I'm poised to send a text message from my Android phone (which is known as "Harry Potter" to avoid confusion). The message says what's going on: "Hey Dave! I'm "texting" you from my Mac web browser, through my Android phone!". A click on the tiny arrow icon and it's sent.
NOTIFICATION ON MY IPHONE!
And boom! This shows up on my iPhone's lock screen:
I can then unlock my iPhone and send a response. It will show up both in the Web browser and on the Android phone both…
MESSAGE RECEIVED, WEB AND PHONE
In Chrome on the Mac system, this is what shows up:
And on the Android phone, a Google Pixel 7a, everything's perfectly mirrored too:
Perfect! Notice that Harry can respond from either his Web browser or his Android phone and everything will stay in sync. Better yet, the remote party won't have any indication of which device created the incoming messages, allowing for lots of flexibility. For convenience, I suggest that you bookmark the messages.google.com URL in your Browser and maybe even leave a tab open. Now you don't have to grab your phone any time a text message arrives. Nifty!
Power Tip: I've been writing about Android for many years and have an extensive Android help library here. Please check it out while you're visiting. Thanks!